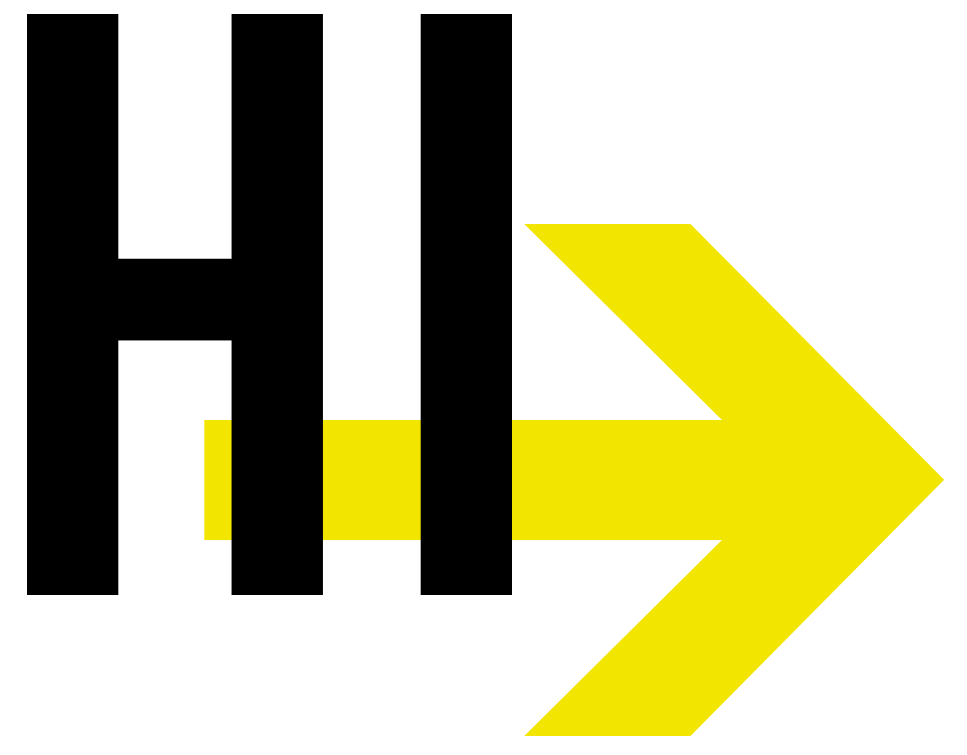 Right from the very first day she began her job as branch manager, she has been on first-name terms with her team. "Hi, I'm Julia" was the way she introduced herself at the first works council staff meeting. Much to the irritation of some of the other long-serving managers. And who knows: had they known she was going to be so informal, maybe they would have taken the young lady to one side and advised her to keep a greater distance between herself and her staff.
Fortunately, they couldn't. And the then 29-year-old obviously hit the right tone. Clear, firm, likeable and, as always, with a smile. She came across really well. Just as she had done three years previously. In December 2012, having just handed in her Master's dissertation to the University of Hamburg, Julia was celebrating Christmas with her family in Dortmund – and wanted to take a break having spent the last five years studying economics in Düsseldorf and Hamburg and done two long internships at Kühne und Nagel and RWE Power.
Things turned out differently though. Julia Zierow, as she was called back then, had not anticipated her future employer reacting quite so quickly: "I sent an unsolicited application to REMONDIS at the beginning of February 2013, had an interview on the 19th and started my job on 1st March." She still remembers the exact dates. Well-structured processes with positive results are simply her thing.
Even if she becomes thoughtful for a moment: "Looking back, I must say that after having got my Master's, I would have liked to take two or three months … – but I did get a week's skiing in. And then everything got under way," the now 35-year-old said laughing. She's obviously very happy with the way her career has gone to date.
She began at REMONDIS West in Bochum as a trainee. 'Born and bred' in Dortmund, her first job was just a short commute: "I was pretty lucky when I joined REMONDIS. My boss back then, Jürgen Mauthe, who also hired me, took me to every branch manager meeting right from the start. That meant that, even as a trainee, I was able to really get to know the business and meet the decision-makers in the company during my first year."
At the end of her first year as a trainee, during which she also worked at a number of REMONDIS sister companies, she then spent 18 months in logistics, the main subject of her university course and Master's dissertation. It also became very clear that she was more than willing to take on responsibility.
This also fitted in with the expectations of Jürgen Mauthe, who Julia sees as being her mentor – and someone she can share her love of football and her passion for BVB with. "He had so much confidence in me. He said she can do it and that really made me believe in myself," she said looking back. And so she applied for a vacant branch manager position, was even the preferred candidate of the incumbent manager – and took over responsibility.
And so Julia Hadrossek, as she is now called since her wedding in 2021, has been managing REMONDIS' branch in Coesfeld since 2016 (and, being a local Westphalian lady, knows exactly how to pronounce the name of the town correctly).
On top of this, Julia is also the managing director of a joint venture and, together with a colleague, of REMONDIS Münsterland since 2020. All in all, she is responsible for around 230 employees at five different business locations.

At the moment, she is one of a small group of women with such a position within the REMONDIS Group. "But things are changing," she pointed out. She likes being one of the first. Julia Hadrossek really enjoys leading the way and wishes to improve whatever situation she finds in front of her.
Asked whether the cliché that the recycling sector is a man's world is still true, she answered immediately: "Absolutely!" She seems to see this as a challenge though and is always asking herself: "What does our company look like to others, our public image? How do women see us?"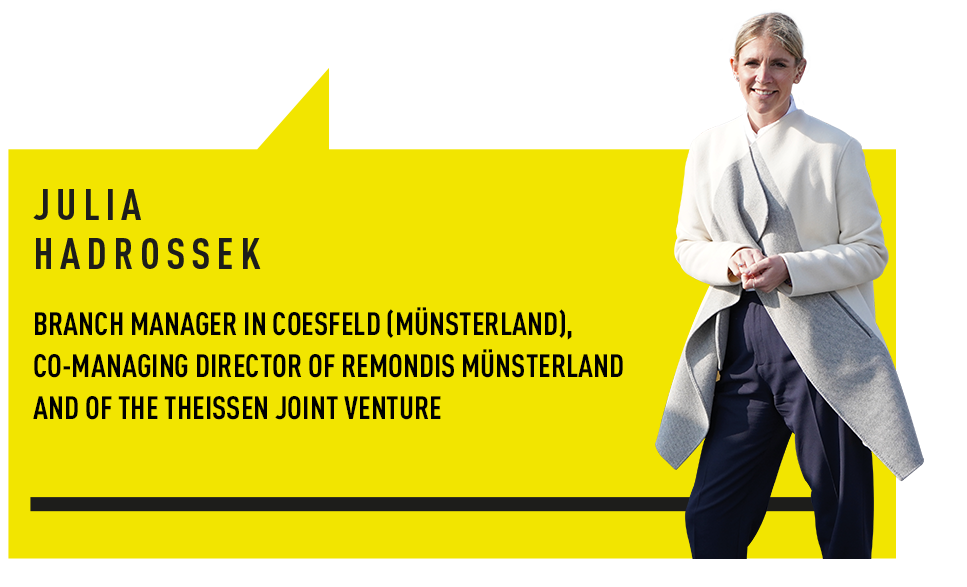 She finds it a shame that more women don't apply for the vacancies across the Group. Having said that, though, her attitude is always the same when it comes to hiring new staff: "I'm still a fan of selecting people according to their qualifications. We shouldn't take on staff to meet a specific quota."
She is banking on the situation changing bit by bit and is very optimistic: "I had a really young team when I started six years ago. They accepted me really quickly as their boss even though I was the same age. What I have learned from my time back then is that heterogeneous teams with different cultures and sexes work best."
Why? "Perhaps it is simply because women approach some things a little differently: their problem-solving skills and their analytical way of thinking and sometimes they have a little bit more empathy."
She was somewhat apprehensive about her first meeting with the works council in Coesfeld in 2016. But she approached it as she has done many other situations – consulting with others and then building up trust with dialogue and transparency. Over the years, she regularly joined the Coesfeld drivers and their team on the lorries to get to know them better as well as to be able to study the processes in more detail.
Her understanding of the work, attitude, safety awareness and the atmosphere among the staff have all proven her right – and the numbers speak for her as well. Apart from one small outlier, the branch's sickness absence rate of below 5% is very low for the industry and remained so even during the Covid pandemic.
"I have a super team behind me and they all pull together," Julia Hadrossek said beaming. And her wording sums up the situation perfectly: "It goes without saying that I like to be there right out in front trying out new things, checking out new segments we've not worked in before and introducing innovations into the business."
Her staff see her as being "ambitious" as one of them said. People trying to keep up with her certainly need to have plenty of stamina. Julia Hadrossek not only works quickly, she is also quick-witted – both in meetings and on the tennis court. And she is always heedful of those she is facing in both environments:
"I'm always open to begin with and try to communicate with everyone on an equal footing. I hold them all in high esteem, of course – whether they drive a digger or lead the district authority." And this was the attitude she had when she first stood in front of her team of staff and had to introduce herself. She knew instinctively: "Respect has nothing to do whether you address someone formally or call them by their first name."
"I hold everyone in high esteem, of course – whether they drive a digger or lead the district authority"
In 2016, Julia Hadrossek – just 30 years old – joined a small group of staff who had been selected to take part in the company's so-called 'management tour'. Regional managing directors and other top managers within the Group put forward the names of the second-tier managers they would like to see participating.
This 'tour' involves them taking part in further training courses and seminars that focus on the role of managers, on developing soft skills and on working with politicians and local authorities. And, of course, it's all about networking among each other. Still a young manager, Julia knows: "No one is a perfect manager. Which is why further training courses are so important. I play tennis and I would even say that I play well. I still take part in training sessions though."

And she is more than happy to pass on what she has learned to others. Just as she benefited from having a mentor when she joined the company, she is now constantly trying to help her young colleagues to further their careers. For example, with their university courses and Master's dissertations.
Julia leads her team out of conviction with transparency and trust. "The barriers between my closest team of commercial and scheduling employees are very, very low. We are on an equal footing when we discuss things without our division of roles becoming blurred." It is "super important" to her that her employees have the confidence to go to her if they have a question, that they trust her.
Which doesn't mean that she is not authoritative and cannot put her foot down. There have been situations where she has had to do this at the Coesfeld branch – but these are few and far between. What is much more important for her is making sure the projects are a success with her team behind her.
She has also had to make herself clear at meetings with people outside the company and represent her firm's interests. In such cases, Julia remains friendly and unambiguous, as she was a few years back when she took her courage in both hands and stood before the branch's workforce: "There are a few occasions when you need to sharpen your elbows."
As far as this 'home-grown' REMONDIS employee is concerned, results are important, not power play or meetings where people just wish to show off. "I get bored of meetings that don't produce results – that keep going round and round in circles without achieving anything tangible. Such things tire me out. My employees pick up on this as well," Julia Hadrossek explained quite openly.
The Coesfeld branch, the Theißen joint venture and REMONDIS Münsterland are all run as individual profit centres. Which means the numbers have to be right here as well. And this suits her down to the ground. "If you are good at what you do and the figures back you up then that really does spur you on. That may sound a bit bold of me – but I would be lying if I said something different," the 35-year-old is happy to admit.
And the figures do indeed back up her. This is also reflected in the management teams at REMONDIS West, the firm above hers, and at the parent company in Lünen. The Münsterland team have been running a good and successful business for many years now.
This is helped along by projects that Julia and her team carry out alongside their day-to-day work – projects that demand a great deal of them. At the end of 2020, for example, when REMONDIS was once again awarded the contract to collect light sales packaging via recycling bins and recycling sacks in the neighbouring district of Steinfurt. This work, however, should no longer by carried out by subcontractors but by the firm itself. Within just a few months, 20 new employees had to be found and shown how to do the work and a completely new business location had to be set up in Ibbenbüren.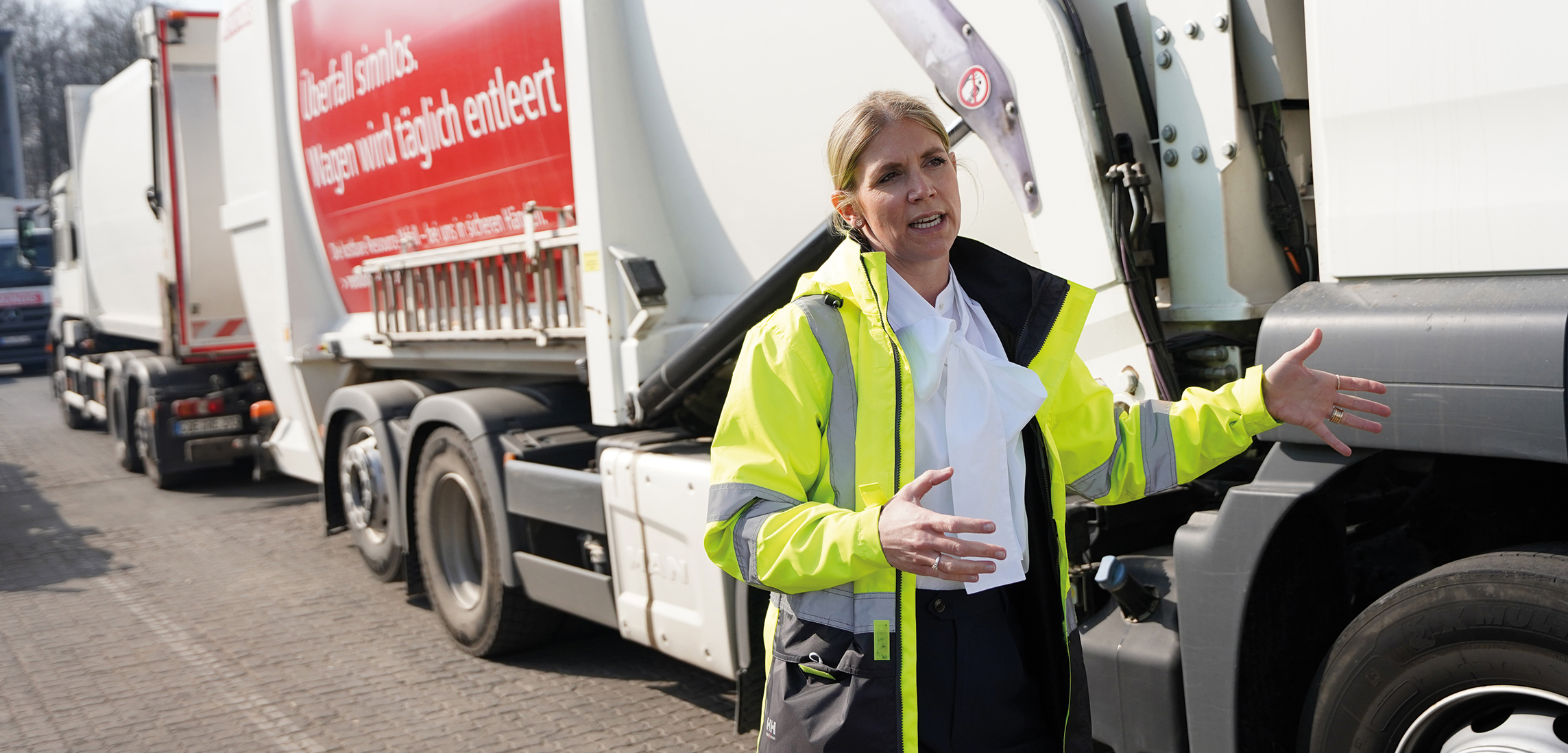 Working together with the then assistant to the managing director and now authorised signatory at REMONDIS Münsterland, she managed the project from the top. She did everything, including getting the necessary waste management permits which – as experts working in regulatory affairs know – are not easy to get from the city and district authorities. "Everything went smoothly," she commented modestly.
Corresponding with the authorities is a hobby horse of Julia which made the task easier, although she admits that this work used to be "really uncertain terrain" for her in the past. "I really loved getting stuck into the Federal Emissions Law and all the other ordinances. Who knows perhaps I would study law today," she says with a smile on her face.
There were also lots of laws and regulations involved when the joint venture Kreye was fully integrated into Theißen Entsorgung, where Julia Hadrossek is a co-managing director. The skip hire business Kreye joined the Group as a share deal via the Theißen joint venture in which REMONDIS West Region owns a 74.5% share. Julia is in charge of strategic matters here and travels to Rhede once a week to visit the company.
"At the end of the day, being successful is also really motivating. If we reach our goals or even exceed them, then that gives us that vital momentum."
Normally, though, she leaves her home in Dortmund at 7am to travel the 85 kilometres to Coesfeld so that she is at work by 8am. Then it's a question of reading through her emails, checking in with the scheduling department to find out if there are any staff absences and then spending a bit of time at her computer before walking round the site.
"I think my work is a healthy mixture of operational and strategic tasks." Every second or third day, she takes a look at the turn-over because, she stresses: "We are a Group that is certainly shaped by numbers, data and facts."
As the business figures are accounted for every single day at REMONDIS, the branch manager examines the previous day's statistics on a daily basis and looks at the input and output materials.
"This is more just to keep an eye on things nowadays. I have handed over tasks and responsibilities to my deputy as I have so many new projects now. This allows me to focus more on strategic matters: collaborating with the local and district authorities, tackling the challenges of energy supply and alternative fuels."
It is such projects that Julia particularly enjoys doing. Thinking outside the box, making the most of internal and external networks, driving forward innovations. "At the end of the day, being successful is also really motivating. If we reach our goals or even exceed them, then that gives us that vital momentum."
She also gets this from the second-most important fuel in this industry: "I certainly drank less coffee before I joined REMONDIS and I used to drink it with milk. Now I love black coffee. As do 95% of my colleagues here at the branch. We are very modest here at the company," she laughs, winking. Both her team and her bosses are well aware that she does not really mean this and that she is much more likely to be thinking about her next innovative projects. Right at the beginning of her career at REMONDIS, an employee commented quite openly: "We already know that you like to lead the statistics." She found it a little embarrassing to hear it being said quite so plainly. But the colleague was right; that is what she expects of herself – and also reflects the open way she leads her team.
The next works council staff meeting is being held soon: she will not have to start off her speech with "Hi, I'm Julia". Everyone working at the Münsterland businesses knows her. And presumably many others will get to meet her over the coming years – and, most probably, come to appreciate her as well.