Teaching road safety at primary schools
Members of Dortmund's police force recently teamed up with REMONDIS and DEKRA to visit primary schools in Lünen and Dortmund and teach the children there about a truck's blind spot areas. With the help of one of REMONDIS' skip trucks, the Year 4 pupils were able to see for themselves just how big the areas are that the drivers are unable to see and understand why pedestrians and cyclists should always stay behind rather than next to such vehicles.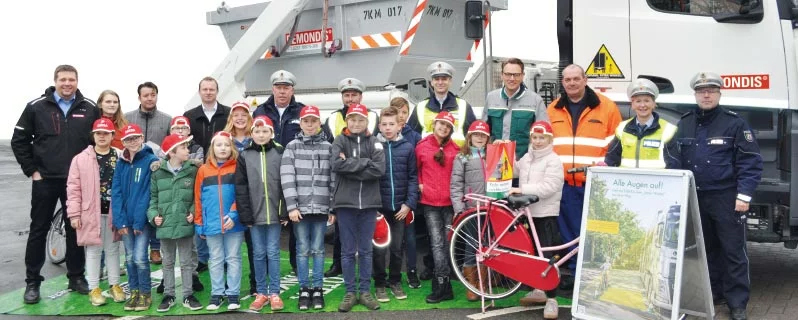 Children on the driver's seat
"As far as I'm concerned, this is a great way to round off our school cycling courses," explained Rainer Strehl, road safety officer and chief inspector of Dortmund's police force. "We want to prevent the most vulnerable road users from having an accident, which is why we go straight to the youngest people on our roads to make them more aware of road safety – especially of the dangers posed by lorries," he added. One after another, the children climbed into the cab of the skip truck to see the blind spots from a driver's perspective for themselves. They soon discovered that the blind spots were much bigger than they had thought: they were unable to see any of their fellow pupils standing in these areas from the driver's cab. "This is a huge light bulb moment for the kids and it is essential that they learn all about this as so many of them come to school by bike," said Ludger Focke, form teacher of class 4b at the Gottfriedschule primary school in Lünen.
Blind spot assist systems for trucks
All of the new trucks that have been ordered by REMONDIS since 2017 are equipped with the manufacturer's blind spot assist system to prevent fatal accidents. REMONDIS also arranged for one of their vacuum trucks, which has already been equipped with a blind spot assist system, to take part in these road safety events. "It goes without saying that we want the children to see the latest technology as well. Showing them these vehicles up close helps them to get a grasp of what is effectively an abstract problem," commented Tobias Dornhege, who is in charge of coordinating and purchasing these assist systems at REMONDIS. All of those involved in this initiative have, therefore, made the most of the opportunities available to them to promote road safety and are very pleased with the way it went. "Thanks to this initiative, we have helped to make our roads safer by making even more people aware of lorry drivers' blind spots – especially when the truck is turning a corner," concluded Rainer Strehl.
Image credits: image 1: Adobe Stock: Irina Schmidt; image 2: REMONDIS