Participants from over 20 countries
REMONDIS managers travelled to Germany from over 20 different countries to take part in the company's International Management Meeting, which was held at Wellings Parkhotel in Kamp-Lintfort from 14 to 16 October 2019. Once again, the event proved to be a great opportunity for them to discuss the recycling industry and the latest developments in their various countries. Right from the start, the motto of the meeting – "Make change happen" – emphasised the need for businesses to adapt to changing conditions as quickly and as effectively as possible. As had been the case in the past, the growing demands of climate change were something that united everyone, no matter where in the world they were based. The increasingly tough political landscape caused by the current trend towards populism and isolationism was also a topic that led to a lively discussion, which was held in German and English and moderated by REMONDIS press spokesperson Michael Schneider.

Kicking off the meeting with a tour
The international meeting began with a tour around the Cuno gas and steam turbine power plant in Herdecke. This power station has had a turbulent history and has been on the brink of closure several times. It has, however, succeeded in holding its own by swapping over to a gas firing system – an important step considering climate change and the country's decision to pull out of coal. Having seen this great example of a business successfully adapting to market changes, the group returned to Kamp-Lintfort, where REMONDIS board member Egbert Tölle held his opening address, officially welcoming the participants and outlining the growing challenges being faced by the Group's international branches. The keynote here: with all due respect for the latest political, cultural and economic challenges, it is vital to never lose sight of the company's long-term business success. Day 1 of the event was rounded off with two interesting speeches.
Carsten Fritsch, a commodity analyst at Commerzbank AG, first spoke about the development of international commodity markets. Prof. Enzo Weber, head of the 'Forecasts and Macroeconomic Analyses' research department at the Institute for Employment Research (IAB), then took a macroeconomic look at the development of the job market.
Much of the second day consisted of lively panel discussions that saw all of the participants joining in. A number of pressing topics were discussed such as the possible introduction of a dual system for collecting sales packaging in Russia and other countries based on the scheme currently used in Germany, in which REMONDIS plays an active role. The growing digitisation of the recycling industry was also talked through – with the introduction of Redooo in Australia and Turkey taken as a successful example.
It's all about communication. Mutual understanding and an analysis of best practice cases from the different countries will inspire the participants to further develop their own business.
Brexit was also discussed
It soon became clear that there could be no simple or standardised answers as to how REMONDIS should react to the latest political developments, such as Brexit. Business in general is becoming increasingly difficult in many countries and firms cannot simply wait for a shift in political attitude or for more favourable regulatory changes to be introduced. What is needed now is for companies to play an active role in reshaping the economic landscape and in adapting their business. The discussions continued over dinner, which was attended by REMONDIS board chair Ludger Rethmann, Thierry Mallet, board chair and CEO of the Transdev Group, and his colleagues from the board of directors and supervisory board, Antoine Colas, Henrik Behrens, Bruno Charrade, Marcos Garcia, Dr Werner Kook and Christian Schreyer. Once again, the International Management Meeting goals were more than met: networking, talking to one another and exchanging experiences with international colleagues. By seeing the bigger picture, REMONDIS will continue to be a success on the international stage as well.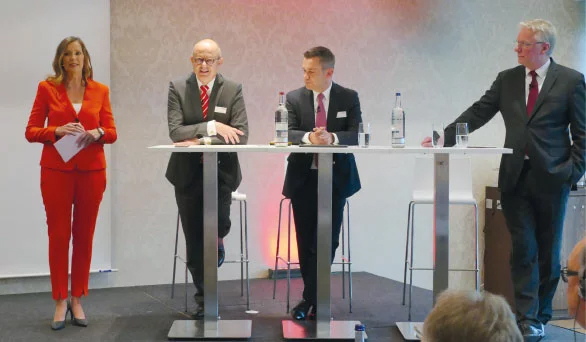 Panel discussions were also held besides the speeches
Image credits: © REMONDIS