Focusing on the customers' needs
One of the biggest challenges of our times is finding the best possible way to unite business efficiency with sustainability. Consumers nowadays no longer expect to simply receive a product or a service. They want to get them quickly and they want the whole process to be an enjoyable experience. Which is why an ever growing number of companies are turning to digital aids. The REMONDIS Group is there among them, offering many of its services at the click of a button.
REMONDIS' customer portal
All services at the click of a button
'Register once and you've got access to all the information you need for as long as you want it'. This statement is true for all of the REMONDIS regional companies' customers now that the new customer portal is up and running. More than 120 REMONDIS business locations are already offering the Group's digital customer services to their business customers. REMONDIS' customer portal is particularly useful for its small and medium-sized commercial, industrial and retail customers as it provides them with a paperless overview of their contract details, service locations, orders and invoices. Having signed up at kundenportal.remondis.de/start – a one-time procedure – they are not only able to log on to the portal as administrator but can also give as many of their staff access to the site as they want.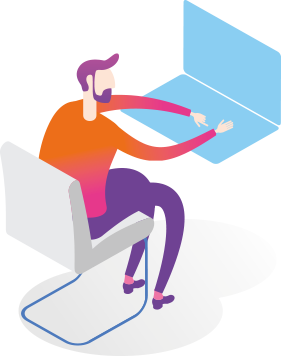 All documents available online
News updates regarding the customer portal – for example notifications about incoming invoices – are automatically sent to the group of recipients selected. If requested, the user can also receive these as a pdf. All of the documents can be viewed on the portal for 13 months and downloaded as needed. At the end of the thirteen months, they are then automatically deleted in accordance with data protection regulations.
Thanks to the customer portal, several million sheets of paper can be saved a year as invoices no longer need to be printed out and sent by post.
Customers can use the new portal to ask for the services – that have already been agreed on by contract – to be delivered whenever and as often as they like. If they need one of their bins to be emptied, exchanged or collected, they can request that this be done and select their preferred date with a click of their mouse. Their order is sent to the branch responsible which books the earliest possible date and uses the online portal to provide the customer with updates about the status of their order.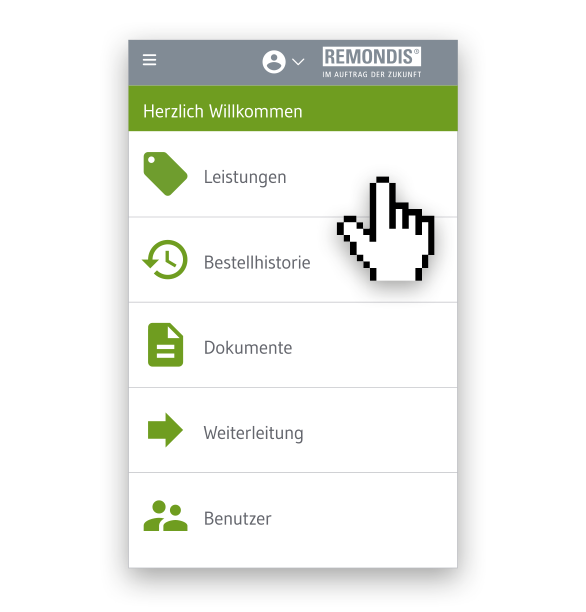 A new building site needs to have a standard set of bins? Users can now simply add new business locations via the customer portal themselves
Recycling services – straight into your shopping basket
The company's Container Shop offers a fast and simple solution for people and businesses who only wish to use the REMONDIS Group's services once or on an irregular basis. Having selected the category of waste material, the location and the type of container, users simply put the product they want to hire – whether it be a container for construction waste, a skip for garden waste, or a portable toilet – in their shopping basket and complete the order in the normal way. A reply is sent within 48 hours to confirm the dates. The product is then delivered on the day and for the period of time requested. Payment is made in advance when the container or skip is delivered or afterwards by invoice. Users can contact the company's branches directly if they have special requirements or need advice.

The remexit and granova apps
Sustainable building practices – for everyone
REMONDIS' subsidiary REMEX GmbH has developed not just one but two new apps to provide fast and easy access to information about whether recycled aggregate can be used for a particular building project. The remexit and granova apps inform the users about how recycled aggregate and IBA may be used in earthworks and road construction projects – both from a structural and environmental point of view. Those interested in this material must no longer spend hours researching the various rules and regulations regarding recycled aggregate. The service will, in particular, make work much easier for all those involved in public procurement projects as well as building contractors, planners and construction firms.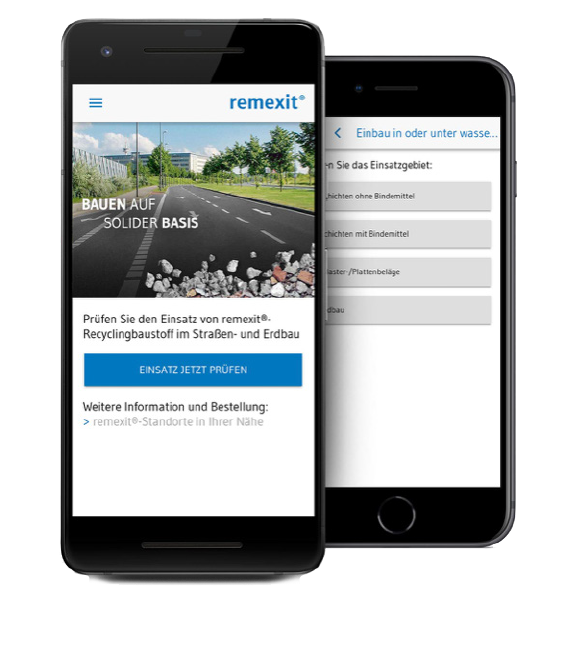 The integrated map viewer allows users to call up all the water protection zones in Germany. This information is crucial for determining whether recycled aggregate may be used or not. Having entered some facts about the project (such as the location and planned design, precise details about the intended use), the users are then sent clearly set out information about whether they are permitted to use recycled aggregate. This is divided up into categories of material and includes a list of safety measures as well as the basic requirements for working with recycled aggregate.
The Umwelt Control Labor (UCL) app
Analysing, measuring, calibrating – with real-time results
No matter whether it involves waste, drinking water, exhaust air or other substances, the demand for reliable analytical data has never been greater or more urgent than it is today. For years now, Umwelt Control Labor – or simply UCL – has been held in high regard across a whole range of industries where it is known as being an independent provider of reliable services thanks to its state-of-the-art laboratories and its full range of technologies.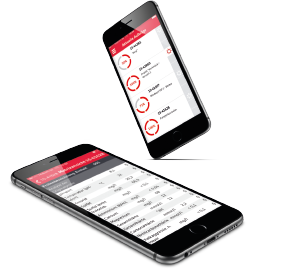 Customers have benefited from UCL's digital offering for a number of years. This REMONDIS subsidiary operates an app that allows customers to call up the status of their projects and view the findings of UCL's analysis work whenever and wherever they wish. Besides being able to view the latest and archived laboratory results, UCL's customers can also compare them to specific ceiling values or archived analyses via their smartphone or tablet. If requested, they are automatically notified when projects, samples and parameters have been completed. UCL's service app is available in both the App Store and Google Play Store.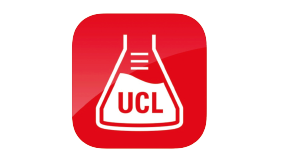 Truck drivers: job application via chat message
Staff recruitment is also becoming increasingly digitised. This service is proving to be especially important for finding new truck drivers. The Group's remondis-fahrer.de website provides a quick and simple route for people to join this profession. The website's integrated chat function has made the application process even easier. A chat window automatically appears as soon as the website is called up and – if the applicant wishes it to – immediately passes on a short version of their application.
Less than two minutes are needed to answer a few pertinent questions (such as driving licence, name and email address) and then this 'abridged' application is sent to the HR department in the relevant region. Applicants receive an email immediately confirming that their application has arrived and that they will be contacted in person within the next few days. Applicants can, however, take the more traditional route of looking for a job by viewing the vacancies via a search window or on a digital map. Their full application can be sent online using the website's form or via Xing. HGV drivers, therefore, no longer have to face a complicated search for the right job nor do they have to find out if they have the right driving licence or not.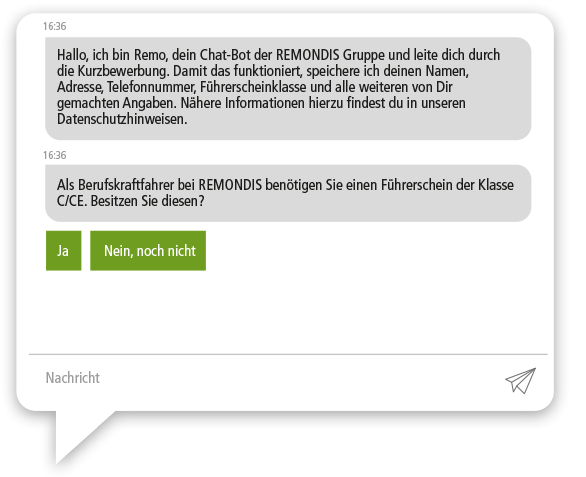 Behind the scenes of the REMONDIS Group
The #remondis_karriere Instagram Channel – a recent addition to REMONDIS' digital offering – also provides an insight into the everyday work of the many different professions available at the Group. A variety of authentic stories by and about the people working in the company's many different divisions show – live and in colour – just how diverse the corporate culture at REMONDIS is.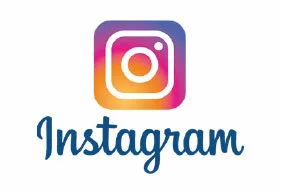 Image credits: images 1, 2: Adobe Stock: vladgrin