Following the RETHMANN Group's acquisition of shares in the international mobility company Transdev at the end of last year, both companies spent the beginning of 2019 taking every opportunity to get to know each other. Managers from REMONDIS, SARIA, Rhenus and Transdev have been meeting each other in many regions around the world to discuss business, take tours around each other's facilities and look at the possible ways they might be able to collaborate. The new RETHMANN representatives appointed to the TRANSDEV Group's board of directors also began a tour in the spring that took them to cities across five continents, a number of which have been described in more detail below:
Vice President of Transdev and board chairman of REMONDIS, Ludger Rethmann, travelled to Santiago de Chile at the beginning of May. His priority here was to take a closer look at Transdev's organisation in the Chilean capital, which includes 800 public transport buses and a B2B shuttle service for numerous airlines and other business partners.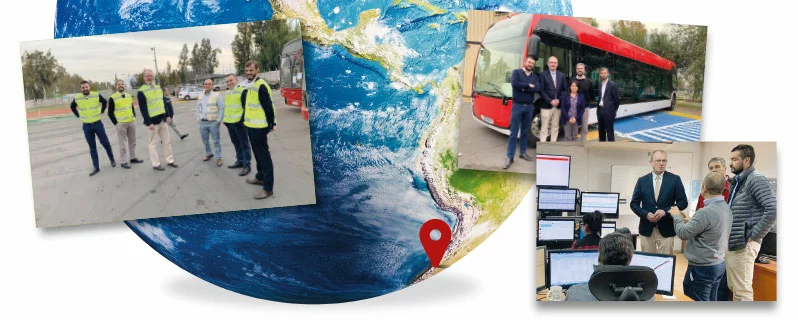 Vice President of Transdev and Board Chairman of REMONDIS, Ludger Rethmann, visited Transdev in Santiago de Chile
Dr Werner Kook (REMONDIS), Jean-Louis Hurel (REMONDIS) and Virginie Fernandés (CDC) spent time in the USA inspecting Transdev's activities in the country, primarily those in and around New York City. Their discussions focused on getting to know each other as well as to swap experiences of the mobility services across the whole of North America. Transdev has over 20,000 employees in the United States and Canada and is held in high regard by both its public sector and commercial clients. More than 200 towns and districts currently use Transdev's public transport services.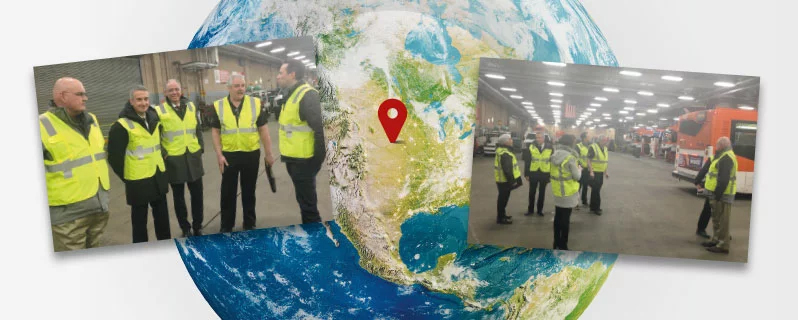 Dr Werner Kook (REMONDIS), Jean-Louis Hurel (REMONDIS) and Virginie Fernandés (CDC) learned more about Transdev's New York operations and North American activities
REMONDIS board member Egbert Tölle flew to Australia and New Zealand to learn more about the company's road and rail operations in Auckland, Perth, Melbourne and Wellington. Accompanied by Luke Agati, Transdev's managing director responsible for Australia and New Zealand, he made the most of this opportunity to meet the staff and tour their depots, workshops, railway stations and training centres. One of the highlights of this trip was their visit to see the ferries and trams in Sydney. With a combined workforce of just under 6,000 employees, Transdev provides over 145 million passenger trips in the two countries every year – a number that can be expected to grow following the company's various acquisitions. The Transdev and REMONDIS teams made the very most of this time to discuss business and explore ways of working together to create a win-win situation.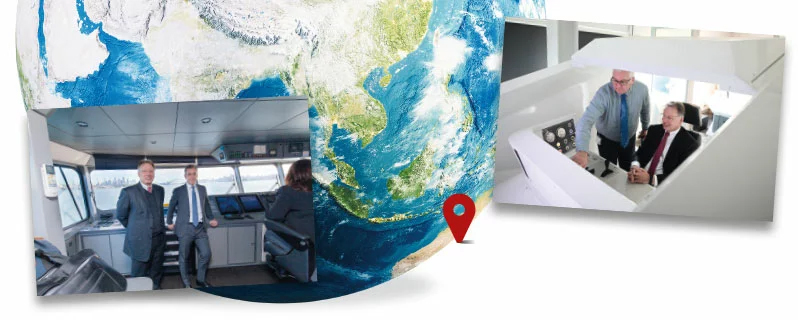 REMONDIS Board Member Egbert Tölle visited a number of locations during his trip to Australia and New Zealand, including a training centre with a tram simulator in Auckland
Transdev manager Louis-Guillaume Francois presented the company's operations in Mumbai to Vivek and Parikshit Arya, Rhenus' managing directors and joint venture partners in India, as well as to Dr Winno Freiherr von Wangenheim (REMONDIS). Transdev helped build Line 1 of Mumbai's metro system (an extremely important service for the approx. 30 million inhabitants living in the city) and operated a BOT model as the joint venture partner. They were also responsible for the maintenance and repair work for many years. At peak times, the line carries up to 1.7 million people a day.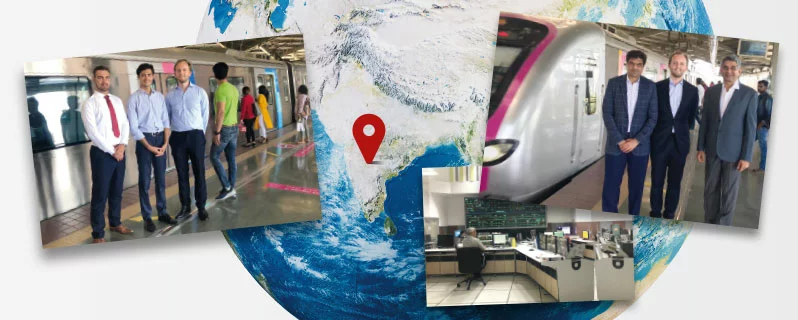 Dr Winno Freiherr von Wangenheim (REMONDIS) and Rhenus Managing Directors, Vivek and Parikshit Arya, took a closer look at Transdev's activities in Mumbai
Patrick Dargel, RHENUS' managing director in South Korea, and Dr Winno Freiherr von Wangenheim met Transdev's Korean team led by Christophe Beuillé. The metro is by far the most popular form of transport (39%) in the country's capital city, Seoul. As in Mumbai, Transdev set up the metro's most important line (Line 9) here in 2007 and has been responsible for operating the line and servicing and repairing the trains as part of a joint venture for over ten years now. At times, this 30km line has transported almost 500,000 passengers a day.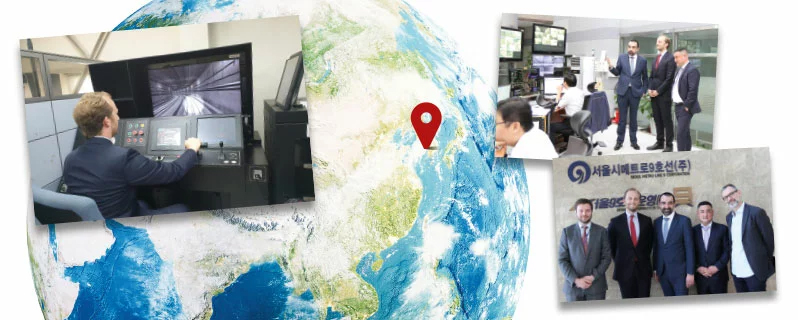 Dr Winno Freiherr von Wangenheim visited Korea to meet Transdev's Seoul-based team, which is led by Christophe Beuillé
Belgium, Netherlands, France
Honorary chairman of the supervisory board of the RETHMANN Group, Norbert Rethmann, travelled to a number of cities in the Netherlands, Belgium and France to find out more about Transdev's activities in these countries. His itinerary included, for example, the Dutch towns of Apeldoorn, Arnhem and Eindhoven. Eindhoven is well known for running one of the world's cleanest bus services. The city is Europe's centre of excellence for electromobility, although the buses there are run on biogas in cooperation with REMONDIS. Norbert Rethmann then went to Rouen to visit the 'autonomous lab' and see for himself how self-drive vehicles have already been integrated into the town's public transport system. The final stop of his trip took him to Transdev's "Grand Est" region that includes Alsace, Lorraine, Champagne and the Ardennes. The Transdev Group employs 34,000 people in France alone.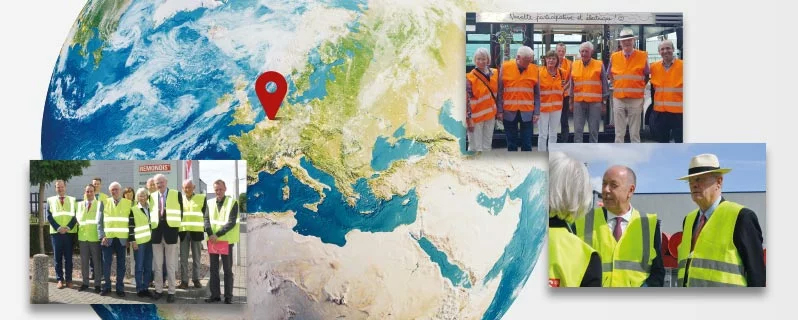 Norbert Rethmann, Honorary Chairman of the Supervisory Board of the RETHMANN Group, travelled to the Netherlands, Belgium and France to learn more about Transdev's operations in these countries

people are employed by the Transdev Group in France alone.
Plans are to steadily intensify business operations
Both companies plan to promote and intensify the contact between the REMONDIS, Rhenus, SARIA and Transdev employees. There are already many areas, especially in the public sector, where they can collaborate to offer an even better range of services – to the benefit of both the partners and their customers.
Image credits: image 1: Adobe Stock: 1xpert; images 2–16: REMONDIS