The SARIA Group moved into their new head office in September – a building which is also home to the RETHMANN Group's administration offices. The newly renovated square in front of the building has now been named after the former long-standing chairman of the board of directors and supervisory board Norbert Rethmann, who is today the honorary chairman of the supervisory board of the RETHMANN Group. The official naming ceremony was attended by the Mayor of Selm, Mario Löhr, as well as by members of the Group's supervisory and management boards.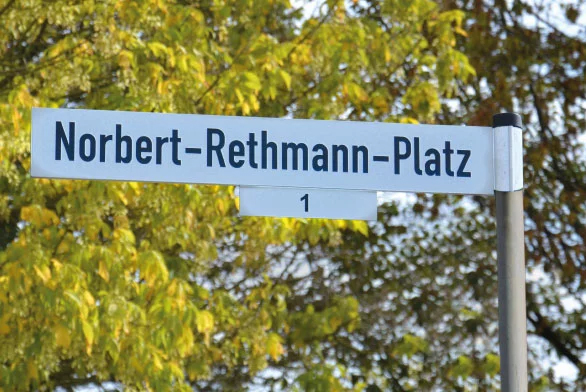 Naming ceremony held by the mayor
The RETHMANN Group's head office has been located on Werner Straße in Selm for decades now. The "Norbert-Rethmann-Platz" [Norbert Rethmann Square] next to the new head office building has now been officially named by the Mayor of Selm, Mario Löhr. During his speech, he made special mention to the close ties that both Norbert Rethmann and the Group have to Selm: "Social responsibility has always been one of your priorities. You have never forgotten your home town – helping us, for example, to keep the important landmark Burg Botzlar [Botzlar Castle]. Having had the pleasure of being able to give you the Freedom of the City back in 2015 in recognition of your great commitment to Selm, it is now a great honour to present you with the Norbert-Rethmann-Platz street sign on behalf of Selm council."
Norbert Rethmann was visibly moved by this gesture and thanked all those attending: "This is a huge honour for me. Selm is my home and – even if my wife and I now live for the most part in Mecklenburg-Vorpommern and I spend much time travelling – we still have very close ties to Selm and the surrounding region. It means a great deal to me to know that this feeling is mutual." He thanked his wife, sons and his incredibly dedicated employees for their support, all of whom, he said looking back, have worked so hard to help develop and grow the company.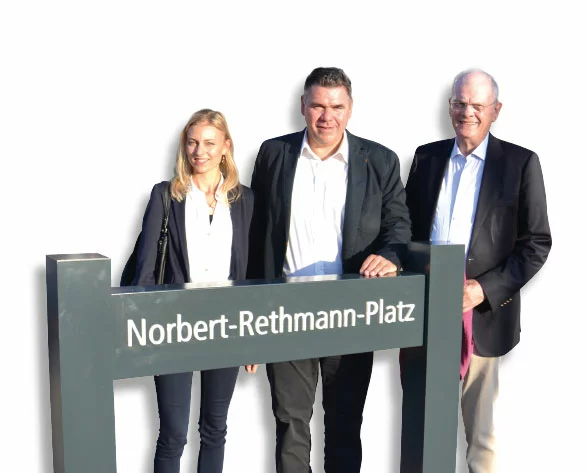 It was a great pleasure for Norbert Rethmann (right) to take part in the naming ceremony held by Julia Löhr and Mario Löhr, Mayor of Selm (left to right)
Image credits: images 1–3: © REMONDIS