Industry is exciting and not far away! Especially for young people, there are often varied and well-paid jobs in their own region. industry@work has set itself the task of making the companies in and around Dortmund, Germany, better known and arousing interest in working in industry. This is also made visible by the photo competition that industry@work calls on trainees from the companies to take part in every year – in 2021 under the motto "Industry takes responsibility: show us how sustainable your industrial company is". Three trainees from REMONDIS Medison GmbH in Lünen finally won the vote.
REMONDIS Medison reliably takes care of all the tasks involved – from collection and transport to disposal and processing. The aim is to produce raw materials and products from more and more sensitive waste that can be fed back into the global economic and production cycle. In medical waste disposal, this applies, among other things, to photochemical waste and waste containing precious metals. But of course, in the case of medical waste in particular, there are various substances for which the focus is on safe disposal – something that the Corona pandemic has once again clearly brought to our attention.
Whether syringes, chemicals, cytostatics, electrical equipment, pathological or (highly) infectious waste: All types of waste generated in hospitals and medical facilities are disposed of using state-of-the-art plant technology. In accordance with the waste hierarchy of the "Kreislaufwirtschaftsgesetz" (KrWG, recycling law), recycling has priority whenever possible. Only if recycling is not possible the waste is disposed of safely and in an environmentally friendly manner. The processing and disposal facilities are located in Germany and Europe.
You can find more information about the company here.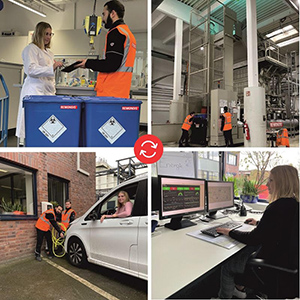 With this photo collage, the three trainees have provided an insight into their everyday lives at REMONDIS Medison
With their submitted photos, the trainees from the fields of professional driver & forwarding agent prove what sustainable measures their training company in Lünen implements. REMONDIS Medison GmbH is active in an exciting and, above all, relevant field of business – medical waste management. Congratulations to the three trainees for making REMONDIS Medison's work accessible to a wider public in this way.
Further information about industry@work in general and the photo competition in particular (in German) can be found here.

The trainees at REMONDIS Medison GmbH were awarded a winner's certificate and prize money by the Dortmund Chamber of Industry and Commerce for their commitment. Nick Neidl (left) and Wulf-Christian Ehrich (2nd from left) from the IHK and Astrid Cöppencastrop, REMONDIS Medison (right), were delighted with the three apprentices.

Image credits: image 1-3: © REMONDIS