A man with great dedication
Mr Wolfgang Steinberg passed away suddenly aged 70 on 27 October 2020. A long-standing member of the RETHMANN Group's Group works council, he had been involved in many different projects, always steadfastly pursuing his goal to positively help shape the development of the company. Ludger Rethmann, board chairman of the REMONDIS Group, was deeply shocked by the news: "We have lost a much appreciated and highly respected partner. His opinion was always extremely important to us. Our thoughts are, in particular, with his two sons." Norbert Rethmann, honorary chairman of the supervisory board of the RETHMANN Group, remembered: "I first met Wolfgang Steinberg in 1972 when he joined Rethmann Städtereinigung – as the company was called back then – as a qualified wholesale specialist. I always very much valued him and all he did on the works council. While dealing with the issues of the employees, Mr Steinberg never lost track of the company's perspective either. He always had a balanced view of company interests and the workforce's interests."
His greatest challenge as a member of the works council
Wolfgang Steinberg's people focus was also evident when he was asked about what his biggest professional challenge had been as a member of the works council: "The most turbulent period that I experienced in my job was the time after the acquisition of RWE Umwelt in February 2005. The people had to go along with the integration of such a large organisation. Employees, who had been competitors on the market for many, many years, suddenly found themselves having to work together in the same company. People always imagine this process to be easier than it actually is. Our task was to create an environment that enabled all employees to do their job well."
A wise leader
Wolfgang Steinberg was a member of the union bargaining committee, on the district board of the ÖTV/Verdi union in Hamm and, from 2007 onwards, an alternating board chairman of BG Verkehr, the employers' liability insurance association for transportation and traffic. "We have lost a wise and self-assured leader, who advocated tirelessly for the well-being of all those covered by our insurance scheme. Our deepest sympathy goes out to his family," said Klaus Peter Röskes, board chair of BG Verkehr, who represents employers. "We shall always remember Wolfgang Steinberg as a board chairman who unfailingly managed to drive forward occupational safety by working cooperatively with the employers' side," commented Sabine Kudzielka, chair of BG Verkehr's management board.
A local economy expert
Besides working for the RETHMANN Group, Wolfgang Steinberg also became a member of the Sparkasse Lünen bank's supervisory board and risk committee in 2014 and later of the Sparkasse an der Lippe bank's board as well. His extensive expertise earned him great respect on both boards and his in-depth knowledge of the local economy often proved to be of great use in decision-making processes. Mr Steinberg's calm manner was also much appreciated as a member of the board of trustees of the Sparkasse an der Lippe bank's sports foundation. Both the Sparkasse an der Lippe and its sports foundation will always hold his memory in honour.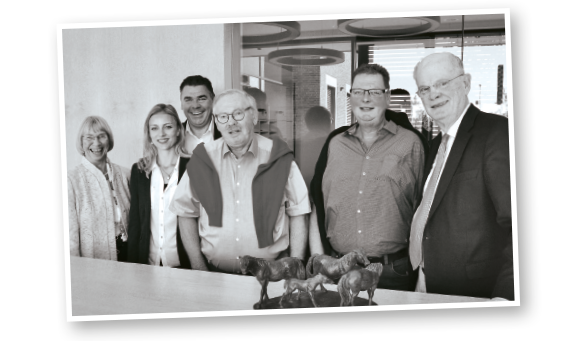 Wolfgang Steinberg visiting Wamckow, Norbert Rethmann's adopted home town, in 2019; (from left to right) Irmgard Rethmann, Julia and Mario Löhr, former mayor of Selm and today District Administrator for the District of Unna, Wolfgang Steinberg, Ulrich Stallmann, Chair of the Group works council, and Norbert Rethmann, Honorary Chairman of the Supervisory Board of the REMONDIS Group
Also involved in local politics
Furthermore, Wolfgang Steinberg was actively involved in local politics and held a seat on the supervisory boards of a number of municipal businesses, including Gemeinschafts-Müllverbrennungsanlage Oberhausen, Wirtschaftsbetriebe Oberhausen, Wirtschaftsbetriebe Lünen and Stadtwerke Selm. He took up his position on the Group works council when it was founded in 1994 and handed over the baton to his successor Ulrich Stallmann in 2018, after 24 years of being in this role. Wolfgang Steinberg continued supporting the business, advising REMONDIS' regional company, REMONDIS West, on occupational safety issues.
We shall never forget Mr Steinberg and shall always hold his memory in honour.
The RETMANN Group's management team, works council and staff & the Rethmann family
Image credits: image 1: © Klaus Mischke, image 2: © REMONDIS