REMONDIS began setting up a Learning Management System (LMS) for its workforce back in 2017. With the course contents able to be accessed anywhere – even from home – e-learning is a particularly attractive option for a company with around 800 business locations worldwide and many employees working in the field.
9,000 employees registered
At present, approx. 9,000 of the Group's employees have registered to use the system and, in 2020, they successfully completed around 17,500 courses. With strict Covid restrictions in place, this system has played an essential role in ensuring that practically all of REMONDIS' divisions have been able to continue to offer their staff further training courses. A new, mobile TV studio has provided trainers and other staff groups with a further opportunity to teach content. It has also helped to make the training opportunities even more attractive.
The company has been using mastersolution's mobile TV studio since 2020. Packed securely in a transport box, it can, in principle, be used wherever it is needed. It has already been deployed for staff meetings so that employees working in the field or at more remote locations can easily be reached. Other areas of use include presentations given for further training courses and sales seminars as well as for customers, who are unable to be visited at the moment. The sound and picture provide that human touch that is all too often lacking during virtual meetings. It is even possible to film events live. One of the biggest advantages of this studio system is its professional technology that enables pictures, sound and inserts (for example of slides) to be shown in TV quality – thus creating a highly professional effect. It also enables employees to have the Lippe Plant as their backdrop during online meetings when they are working from home.
115 courses are currently being offered on the e-learning platform; these include purely web-based teaching content as well as courses involving a mixture of digital learning and classroom attendance
A coach helps people to use the equipment
At the heart of this system is a special, state-of-the-art laptop containing professional software that not only enables sound and image to be simultaneously mixed with, for example, different backdrops but also for the results to be checked and corrected immediately. The equipment includes, of course, a camera, several microphones, lighting, a teleprompter and a green screen that makes it possible for the backdrop to depict other backgrounds or graphics. REMONDIS is offering the mobile TV studio with a coach to encourage people with little video experience to try it out.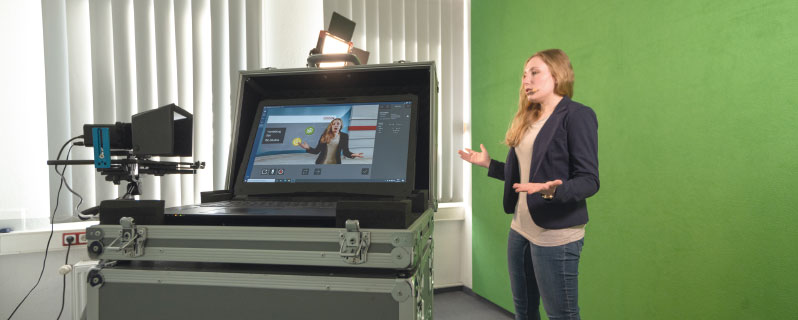 The mobile TV studio in action
Learning Management System continues to grow
There are, of course, a multitude of interfaces between this new studio and REMONDIS' Learning Management System as they complement each other perfectly. The studio recordings can be embedded in the LMS. The LMS platform itself provides more than just e-learning as it offers purely web-based teaching content as well as courses that involve a mixture of digital learning and classroom attendance. What's more, the system can also be used to manage courses that only involve in-person events – for example, to send out invites, handle the registration process and issue certificates of attendance.
Working together with the service provider, mastersolution, a mobile TV studio was able to be created for all kinds of presentations.
Around 115 courses are currently being offered via this system – approximately 60% more than just two years ago. Some of these are mandatory instruction courses covering obligatory and sometimes recurring subjects, such as health and safety topics. In such cases, REMONDIS and its subsidiaries must make sure their staff attend the course, document this and be able to provide proof of attendance. The system automatically sends invitations to the members of staff when it is their turn to attend such a course.
E-learning is becoming more and more popular
The company's traineeship and management training programmes, both of which involve a mixture of face-to-screen and face-to-face learning, are targeted at specific groups of users. The system, however, also focuses on more general courses to enable all employees to enhance their professional and personal skills, such as IT, teamwork and communication skills. Plans are for the staff to be able to use courses from an open portfolio in the future. With technology advancing at such a rapid rate, e-learning is becoming an ever more important teaching method. REMONDIS is driving forward its e-learning programme as it sees it as an efficient way to train and further train its employees as well as to remain competitive and promote lifelong learning. Yvonne Schmidt and Jennifer van Bernum are there to answer any questions REMONDIS employees may have. They are inviting everyone to join in: "Both the mobile TV studio and the learning management platform should pique our employees' curiosity and inspire creativity. They can try out new channels of communication, further hone their skills and make the most of these great opportunities."
Image credits: image 1: Adobe Stock: 222790831, creator: SasinParaksa & © REMONDIS; image 2–5: © REMONDIS