Presented with the Lower Saxony Social Award
"What I really like here is the way everyone looks out for each other." Thomas Kussin is proud when he talks about his work. Proud to be part of the team. REMONDIS Industrie Service GmbH in Bramsche has been employing people with disabilities since 2018 and has also been presented with the Lower Saxony Social Award for its inclusive work. As far as Thomas is concerned, the biggest award for him is having found a job in a friendly environment that offers him long-term prospects.
Before joining REMONDIS in 2019, Thomas had tried out many different jobs. At these other places, however, he did not get the support he needed and his hard work was often not appreciated. As the 45-year-old is only able to use one of his hands, he was often told that he was too slow. "I was constantly having to stand up for myself," he said talking about his past. All that, though, is now behind him.
In Bramsche, Thomas (everyone calls him Tommy at REMONDIS) works in the sorting facility at the aerosol can recycling facility. He very quickly realised just how important his work is for the circular economy – as aerosol cans and gas cartridges can only be recycled if they are separated according to type. A multi-stage process is used at the plant, therefore, to separate the aluminium and tinplate as well as the propellants and liquids. The propellants are then used as a source of energy and the residual liquids are sent on for thermal treatment. A special pallet lifter was brought in so that Thomas could work one-handed. And the car-sharing programme has also helped make things easier. No one is left behind here.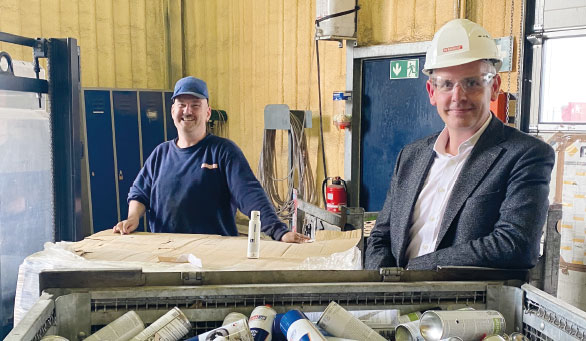 Team support is the name of the game here: employee Thomas Kussin (l.) and branch manager Christian Deing
"We hope that we will gain the attention of other businesses and that they, too, will start looking at inclusion."
Christian Deing, Branch Manager at REMONDIS Industrie Service in Bramsche
Inclusion – a win-win situation
Five employees with a learning or physical disability currently work in Bramsche and together they cover one full-time job. A win-win situation: the company no longer needs to use a temping agency and the often socially disadvantaged employees are given the opportunity to have an inclusion job and become financially independent.
For the most part, they have Uwe Haake to thank for this opportunity. Formerly the REMONDIS Group's disability officer (he retired in June), he personally took a great interest in this project. Haake himself was in charge of introducing inclusion into the company's ongoing operations, for making all parties aware of what was involved and for getting institutions in the district on board, such as the District of Osnabrück's social committee and specialist integration office. "We hope that we will gain the attention of other businesses and that they, too, will start looking at inclusion," commented branch manager Christian Deing.
Image credits: image 1–2: © REMONDIS