Several dismantling centres in Germany
REMONDIS Electrorecycling GmbH is building a new facility at the Lippe Plant in Lünen that will be dedicated to dismantling cooling appliances. The company currently operates three WEEE dismantling centres in Germany – at its sites in Lünen, Berlin and Buseck. Recycling discarded cooling appliances is one of REMONDIS Electrorecycling's core areas of expertise. With its present facility in Lünen having been in operation for quite a while now, the decision was made recently to both modernise and extend it. By doing so, the Lippe Plant will become one of most modern and most important plants for dismantling and recycling fridges and freezers. The new facility is expected to be commissioned during the third quarter of 2021.
32,000 tonnes processed in Lünen alone every year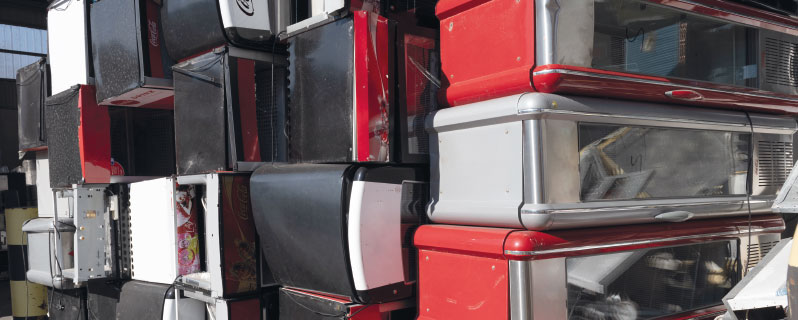 In 2019, the company collected a total of 86,000 tonnes of cooling appliances, around 60% of which were processed in its own facilities. Its dismantling centre in Lünen, which began operations back in 2006, handles approx. 32,000 tonnes of waste electrical and electronic equipment (WEEE) every year. The technology being used to dismantle cooling appliances is no longer up to date and is being stretched to its limits. The plant is, therefore, now to be completely modernised. This step will ensure that it remains competitive in the future, that unnecessary truck journeys are avoided and that all statutory requirements regarding the correct removal and disposal of blowing agents, such as CFCs (chlorofluorocarbons) and pentane, are met – all of which will help to curb climate change.
Excellent recycling rates & eco-friendly de-gassing
Once the new facility is up and running, the company will be able to fully recycle a much larger number of appliances using state-of-the-art technology. What's more, it can expect a growing volume of input material thanks to the Lippe Plant and the infrastructure it offers. Located on the edge of the Ruhr region and within the catchment area of the Netherlands, the Lippe Plant – Europe's largest industrial recycling centre – receives a continuous flow of materials that are transformed into high quality recycled raw materials using climate-friendly technologies.
The small appliance recycling operations will be relocated to Eindhoven when the fridge/freezer dismantling plant in Lünen is modernised and extended.

A new plastics processing plant was also built next to REMONDIS Electrorecycling's dismantling centre in Lünen in 2019 – reducing transport requirements and enabling the very most to be made of the raw materials recovered from the cooling appliances. With a capacity of ca. 20,000 tonnes a year, the new fridge/freezer recycling plant in Lünen will be the most modern of its kind in Europe and will achieve excellent recovery and recycling rates. One special feature of the facility will be a novel special matrix to degas the appliances using mixing units – a particularly environmentally friendly method. This technology has already been installed at REMONDIS' dismantling centre in the French city of Troyes and both WEEE experts and inspectors have been delighted with the high volumes of materials that can be recovered for reuse. This modernisation measure reflects the ongoing further development work being carried out at REMONDIS' Lippe Plant, underlining its status as the biggest and most modern industrial recycling centre in Europe.
No empty runs between Eindhoven and Lünen
The modernisation of the WEEE recycling plant in Lünen will also see its dismantling line for small electronic appliances being taken apart so that it can be installed at the company's new facility in Eindhoven. Lorries transporting such small appliances to Eindhoven will bring back fridges and freezers collected via the Dutch Wecycle scheme to Lünen to keep transport requirements as low as possible.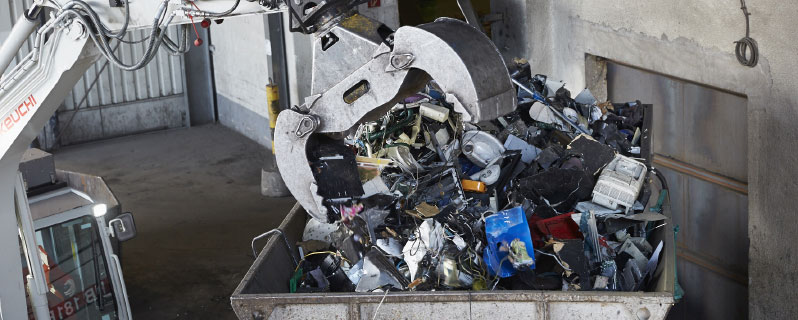 Image credits: image 1–2: © REMONDIS