A high percentage of recycled aggregate
The government-supported project to extend the North Container Terminal in Cologne for transhipping goods between rail and road began in the spring of last year on behalf of Häfen- und Güterverkehr Köln AG (HGK). Around 75% of the 76,000 tonnes of aggregate needed was covered by recycled aggregate. This, plus the fact that B+R, the supplier of this material, was located so close to the site, has made the undertaking a showcase project for the whole of the logistics sector – both for reducing carbon emissions and for demonstrating sustainable procurement practices.

High requirements regarding the subsurface
The actual construction work involved building more than 8,000m² container storage space, ca. 22,000m² roads, 2,735m railway tracks and 7 railroad switches as well as crane rails built on bored piles for two cranes. "One of the special features of this project was the extremely high requirements regarding the subsurface. It must be able to cope with very heavy loads as around ten trains a day will be loading and unloading containers there in the future," explained senior site manager Fabian Kronenberger from Schnorpfeil, the firm carrying out the work.
All in all, B+R Köln supplied 56,000t recycled aggregate, 17,500t natural aggregate and ca. 2,500t top soil.
The spotlight was also turned on the subject of sustainability when selecting the materials: "As the subsurface will be covered in concrete and/or tarmac and the site is not in a water protection zone, it made sense to deploy recycled aggregate – both from a business as well as from an environmental point of view as this helps conserve natural resources," Fabian Kronenberger continued. Another even more compelling argument was that this material is just as good if not better than natural aggregate. In the future, 130,000 loading units or 208,000 standard containers will be handled at the new terminal.
Contract awarded to REMEX's firm B+R
In the end, B+R Köln beat the other companies looking to win the project because it was not only in a position to supply all the primary and secondary aggregate required, it was also able to handle the excavated earth. "We had supplied the first loads of aggregate within just 14 days of being awarded the contract. Our recycling plant is a mere 500m away from the site – as the crow flies. This means, of course, that we are perfectly placed to provide just-in-time deliveries," said Frank Grasmehr, managing director of B+R in Cologne. The recycled aggregate has been used in a number of sections, for example for the frost blanket and gravel subgrade under the roads, paths and container storage areas.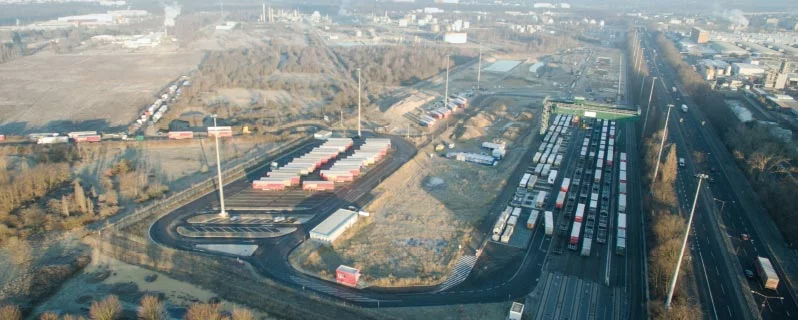 Having used over 75% of recycled aggregate, the extension of the terminal has become a showcase project for the logistics sector
"One of the special features of this project was the extremely high requirements regarding the subsurface."
Fabian Kronenberger, Senior Site Manager Schnorpfeil