If you haven't studied chemistry or geology then you might be surprised to learn that gypsum is not simply gypsum. Its scientific name is calcium sulphate dihydrate and it is a genuine all-rounder: available in a whole range of chemical compositions with different bonding capacities, it can be used for a wide variety of applications in the chemicals, ceramic and food industries as well as in the medical and construction sectors. Which makes the recycling of this material – something that is of increasing importance as there is a growing shortage of gypsum – truly challenging. While it may now be standard practice to recycle plasterboard, this is not the case for other gypsum-based products. CASEA, a REMONDIS subsidiary, is leading the way here and developing new recycling processes.
In 2020, CASEA commissioned a gypsum recycling plant in Dorste (a town in the German state of Lower Saxony) that is able to handle significant volumes of materials and be used for a variety of processes. Calcium sulphate is needed by the ceramic industry and dentistry for making moulds and plaster casts. Plaster moulds and plaster casts are used, for example, to produce bathroom ceramics, clay roof tiles, vases and porcelain products as well as to make dental casts. CASEA takes back discarded and used casts and then processes them mechanically in its own plant.
This is not a simple process. The old plaster casts and pieces of plaster moulds that are sent to the company are not all of the same colour and may contain metal or plastic pieces of different sizes and composition. The materials, therefore, must first be carefully assessed as soon as they arrive at the facility.
And CASEA's experts have been facing even greater challenges since the company was given a permit at the beginning of 2023 to process old materials from other manufacturers. While accepting more materials makes it possible for the company to increase its volumes and make the most of its plant's capacity, it also makes it even more important to assess the incoming products to identify the exact composition of the materials from the other manufacturers as well.
The Nordhausen University of Applied Sciences, the University of Weimar and the University of Clausthal-Zellerfeld are all supporting CASEA in its efforts to extend its recycling offering. Their goal is to drive forward the recycling of gypsum-based products as well as to identify further uses for the recycled raw materials.
"By taking samples at regular intervals and testing them in the lab, we make sure that the material can be returned and reused in production processes."
Andreas Hübner, Technical Managing Director at CASEA
But back to the technology: once the incoming material has been assessed, it is placed in a so-called 'impact crusher'. This has an upper deck with a perforated plate and a lower deck with a wire mesh – a particularly good combination for recycling products containing large amounts of fine material. The material enters the crusher via the vibrator chute and then falls into the discharge chute. A permanent magnet is used here to remove any metals that may be in the material stream.
The crushed material is then transported on a conveyor belt to the mobile coarse screening unit. This screening unit has two screening decks and enables the materials to be separated into three different sizes, each of which can be used for different applications.
Moreover, a so-called 'air classifier' has also been integrated into the plant's system. This technology makes the most of air flow and gravity to remove any light plastic pieces that are in the plaster casts from the heavy plaster.
The final stage is to check the quality of the materials, as Andreas Hübner, Technical Managing Director at CASEA, explained: "By taking samples at regular intervals and testing them in the lab, we make sure that the material can be returned and reused in production processes."
Carsten Ketteler and Andreas Hübner, Managing Directors CASEA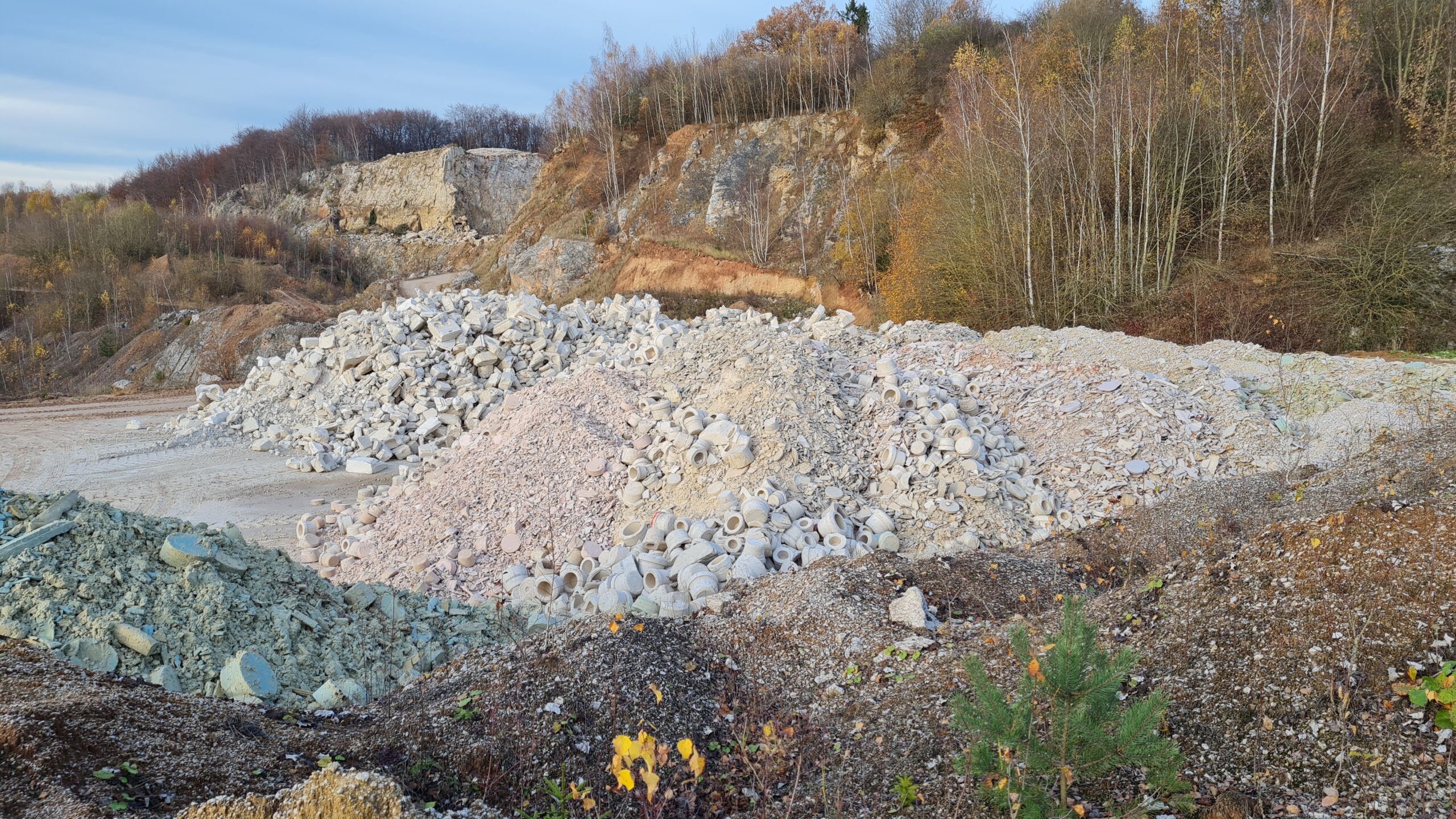 Gypsum is becoming scarce
It often used to be said that large volumes of gypsum were available. Which may lead some to ask why such complex recycling processes are being deployed, especially as this also involves a lot of logistical and organisational work.
On the one hand, the same is true for gypsum recycling as for many other types of recycling processes. In the majority of cases, their energy and environmental footprints are better than the footprints of sites manufacturing products using virgin or even imported materials. Germany needs around 10 million tonnes of gypsum every year. In 2021, around 50% came from the flue gas desulphurisation plants at coal-fired power stations, 40% from domestic quarries and 10% from imports.
The various sources of gypsum, however, are coming under pressure. Carsten Ketteler, Commercial Managing Director at CASEA, highlighted this issue: "With Germany transitioning towards green energy, we're no longer able to get hold of the same volumes of gypsum from the flue gas desulphurisation plants at coal-fired power stations as we did in the past; and these volumes are likely to continue to decrease. This means that recycling will become a further means of supplying gypsum and it's our goal to drive this sector forward." CASEA is making the most of the REMONDIS network to increase volumes here. It is already successfully collaborating with REMONDIS' Mittelrhein branch. For one thing is clear: even more gypsum-based products should be recycled in Dorste in the future.

CASEA is the centre of the REMONDIS Group's gypsum activities. Quarrying gypsum and manufacturing gypsum-based products, it has a history stretching back over 150 years. The company operates four plants in Germany and one in Spain, has 200 employees, sells around one million tonnes of gypsum every year and had a turnover of approx. 80 million euros in 2022.
By supplying its own raw materials, CASEA is able to offer a range of different quality gypsum-based products at home and abroad. These include natural gypsum and FGD gypsum as well as natural anhydrite and thermal and synthetic anhydrite.
Find out more about the company here.
Image credits: image 1: © Kroesing Media Group // Dietrich Kühne; image 2-4: © CASEA