Today, the official inauguration took place in Singen (Hohentwiel), Germany, following the renovation of the site: REMONDIS has invested in modernising a recycling plant here and has created a new depot and transhipment point. RETERRA Hegau-Bodensee GmbH, a wholly owned subsidiary of REMONDIS GmbH & Co. KG, Southern Region, has completely rebuilt the composting plant over the last few years and added a highly efficient biogas plant. At the same time, REMONDIS Süd has built a new administration, workshop and logistics site for its Singen branch. All of this has now been officially reopened.
The modernised plant contributes to the fact that material cycles from waste can be closed much better in the Singen area and the regional energy supply is secured: Approximately 50,000 t/a of biowaste from regional households can now be processed in the fermentation plant. The biogas produced here is converted into electricity in two large combined heat and power plants. This sustainable electricity production is enough for about one third of the households in Singen and makes the city a bit more independent of fossil and international energy sources. The fermentation plant also produces high-quality liquid fertilisers and quality compost for regional agriculture. This increases soil fertility and water absorption capacity and saves the use of mineral fertilisers. In addition to the fermentation plant, there is a tunnel composting plant for biowaste. Up to 35,000 t/a of biowaste can be treated there. In a third area, about 15,000 t/a of organic waste are composted. This produces valuable organic-mineral fertilisers for agriculture and high-quality fine compost for use in gardening and landscaping or for the production of substrate soil. In total, up to 87,500 t of organic waste can be treated at the site each year. RETERRA employs a total of 23 and one trainee here.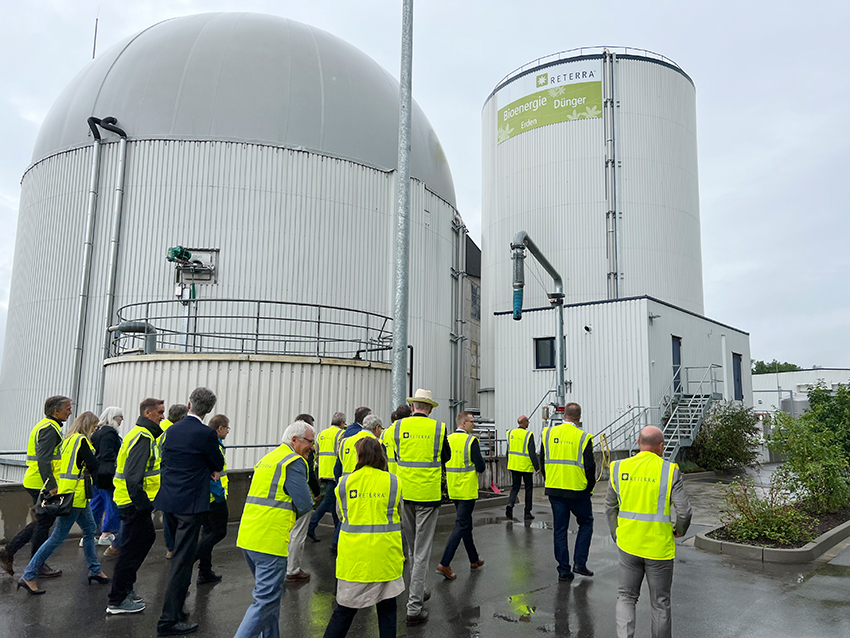 During a tour, the guests at the opening event got to know the new facilities and the individual process steps in more detail
Parallel to optimising the recycling of organic and bio waste, REMONDIS Süd has found a new location for its branch in Singen. Previously based in Radolfzell, the move to Singen took place this year. A new administration building, a workshop and a transhipment area for the locally collected waste fractions from both households and commercial and industrial businesses were built here. This business unit collects and transports about 60,000 t of various types of waste per year and handles them at the facility in Singen. In the meantime, the company has grown to 65 employees and 35 trucks. The new location creates more handling capacities and greater flexibility, and above all a high degree of waste disposal security for local commercial and industrial companies.
Opening by representatives of industry and politics
The inauguration of the modernisations took place with around 200 guests from industry and politics. After the welcome by Eckhard Vogt and Ulrich Steinborn, both Managing Directors of RETERRA Hegau-Bodensee, current issues regarding product manufacturing and energy production were highlighted in a panel discussion.
Participants in the discussion were Dr Andre Baumann, State Secretary in the Ministry for the Environment, Climate Protection and Energy Sector, Bernd Häusler, Lord Mayor of the City of Singen, Harald Nops, Head of Department of the District of Constance, Aloys Oechtering, RETERRA Division Manager, and Norbert Rethmann, Honorary Chairman of the Supervisory Board of the RETHMANN Group.
Following the discussion, the guests were able to get to know the new plants and individual process steps better during a tour.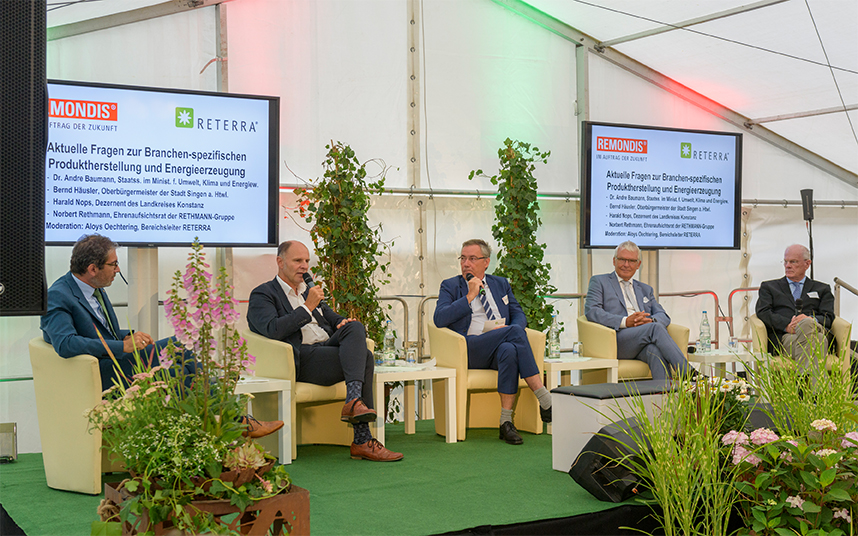 From left: Dr Andre Baumann, Bernd Häusler, Aloys Oechtering, Harald Nops and Norbert Rethmann discussed current issues regarding product manufacturing and energy production
Image credits: © Frank Müller