Three strong partners have joined forces to agree on a cooperation for more sustainability in the reuse of recyclates: Gramß, REBHAN and REMONDIS. The joint project focuses on intensifying the use of recycled plastics – especially HDPE and PP from households and offices (PCR – post-consumer recycled). The focus is above all on grey recyclate, which is currently still being used rather hesitantly in the packaging sector. REMONDIS collects, sorts and recycles plastic packaging into a freely tested HDPE or PP recyclate. The "Certificates of Conformity" for cosmetic applications for rinse-off and leave-on products are particularly important here.
Three colour batches are separated when sorting the pure plastics: White and natural materials are processed individually, and all other coloured materials are processed together into a grey regranulate. Customers – especially in the cosmetics industry – are particularly interested in the white and natural-coloured granulates, which are, however, much rarer and more expensive than the grey ones. In addition, the proportion of grey recyclate increases with each reprocessing cycle of the used bottles. This is exactly the point at which the project partners are working to increase the use of the equally high-quality grey material and make it more popular.
How does grey become colourful?
REBHAN has dealt intensively with the topic "How does grey become colourful?" and will present proof to the public at the COSMETIC BUSINESS in Munich (MOC 1-2 June 2022, Hall 4, Stand B04/C03) that visually convincing packaging in light colour nuances is also possible with grey recyclate. The sample bottles from REBHAN and matching closures from Gramß presented here are in the colours pastel pink, blue and green. To illustrate the design and sustainability options of the samples made of mono-material, they were produced in different blends with virgin material, i.e. with 20%, 30% or 50% recycled material. Increasing the recycled content leads to a dampening of the radiance, which can, however, be compensated by an increased admixture of colour batches. Attractive design and sustainable use of resources are no longer a contradiction!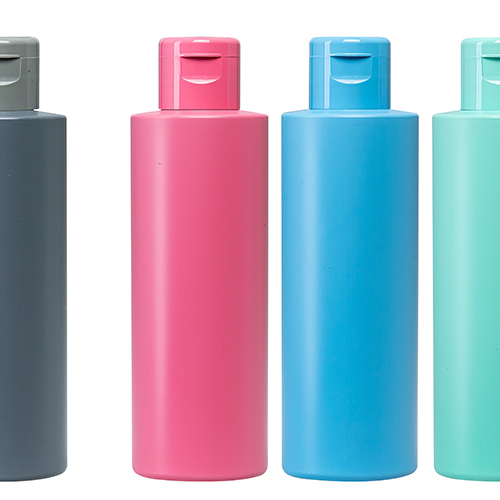 The cooperation between Gramß, REBHAN and REMONDIS also opens up new possibilities for those customers who reject grey as a packaging colour and want to present their products in bright colours. The decision between two extreme approaches – sustainability + design deficits versus top design + virgin material – is no longer necessary. The decision in favour of a more environmentally conscious packaging also goes hand in hand with significant cost and availability advantages – the grey recyclate is significantly cheaper and less scarce than the regranulates in white or natural.
Image credits: image 1: © REBHAN