Strengthening its market position
CASEA GmbH has succeeded in expanding its gypsum production operations following its acquisition of Gypsum Plus, a gypsum producer in Navarra (Spain), last November. With the volumes of gypsum needed by the European construction sector steadily growing year on year, this purchase will further strengthen the company's position on the market.

Consumption of gypsum is steadily growing
Germany alone consumes around ten million tonnes of gypsum a year – a figure that is expected to have increased to approx. twelve million tonnes by 2035. Roughly 55% of the ten million tonnes of gypsum used across the country is FGD gypsum, a product generated by flue gas desulphurisation systems at coal-fired power stations. Both the transition away from fossil fuels and the phasing out of coal-fired power stations will mean that there will be less FGD gypsum available to meet this high demand. CASEA is already producing alternative goods, such as recycled plaster from the Group. However: "We see the acquisition in Spain as being an investment in the future. It will help us ensure that we can continue to deliver the raw materials needed and is a further step towards internationalising the sector, a development that began a while back, so that the European markets can continue to be supplied with high quality gypsum-based products," explained Carsten Ketteler, managing director of CASEA. "At the same time, the newly acquired business will make sure that our new facility at the Lippe Plant has access to the long-term supplies it needs," he continued.
CASEA unites the REMONDIS Group's gypsum activities in a business that focuses on the sustainable use of raw materials.
This acquisition of Gypsum Plus and its site, which covers more than 100ha and has over 20 million tonnes of gypsum resources, will certainly cover the long-term raw material requirements of the new Lünen facility and any extensions it may make to its capacity. With the current development of the FGD gypsum market in mind, the new plant will immediately begin supplying a product made from natural gypsum as soon as it is commissioned.
Gypsum-based products for many applications
Around 25% of CASEA's products are already being sold outside Germany. Besides a few more exotic destinations such as South Korea, Mexico, South Africa and Malaysia – where high quality gypsum-based products are needed to produce food and animal feed or used as moulding plaster and binding agents by the construction chemicals industry – the majority of the company's products are sold to Benelux, Ireland, Italy and Denmark as well as to France, Spain and Portugal. CASEA's management team believe that this acquisition will open up some opportunities to extend the company's position on the market, in particular in the last three countries named.
CASEA's specialty gypsum-based products and calcium sulphate screed binders are in particularly high demand both in Germany and across Europe.
At the moment, there are eight people working at the new site in Cintruénigo in the Navarra mountains. There are plenty of possibilities, however, to extend the site's current 140,000-tonne capacity. "The plant will start supplying our new facility in Lünen this summer. We have ascertained a number of other potential business opportunities in the areas of dentistry, screed binders and construction chemicals," commented Andreas Hübner, who is also a managing director at CASEA. A new sales employee – one with in-depth know-how and many years' experience of the gypsum industry – will be joining the team at Gypsum Plus in May to help them further expand their sales activities.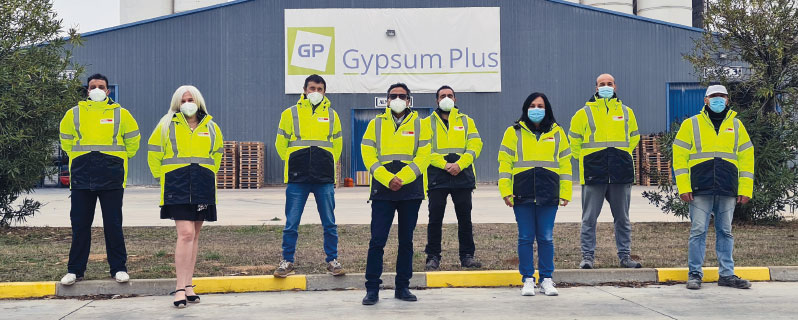 The Gypsum Plus team in Spain
Image credits: image 1: Adobe Stock: 306338413, creator: dule964; image 2: © REMONDIS