The current global political situation with the continuing pandemic-related breakdowns in global supply chains, the struggle to find economic solutions to climate change and, last but not least, the increasing shortage of raw materials due to war, is once again placing greater focus on the environmental service branch. Material recycling and plastics recycling in particular hold considerable potential for ensuring the supply of raw materials in the face of interrupted supply chains and planetary limitations, while at the same time protecting the climate and resources.
The targeted promotion of plastics recycling requires a bundle of measures that can simultaneously ensure economic stability and achieve the set climate and resource targets. The overall economic goal must be to make the product label "Made in Germany" a synonym for real sustainability worldwide. To achieve this, it is necessary that the issue of resources – as is the case with renewable energies – is now given the legal status of being of "overriding public interest".
Design for recycling and high use of recycled materials required
Werner & Mertz and REMONDIS are calling on politicians to provide the right incentives to ensure that sustainable production in the sense of design for recycling and the highest possible use of recycled materials is placed in a better position on the market than non-sustainable products and packaging. To this end, it is necessary to implement political instruments with a real incentive effect. The plastic tax is a sensible approach if – unlike current practice – it is equipped with a corresponding steering effect. This means that it should only be levied on the distributors of environmentally harmful virgin material, while post-consumer recyclables must be tax-exempt. Complementary to this, a targeted use of the tax revenue would be helpful. This could be achieved by converting it into an earmarked levy that is distributed primarily to the distributors of recyclable packaging. If such a conversion should not be feasible for legal reasons, the same effect could be achieved through a corresponding fund, for which corresponding scenarios already exist at UBA and the Central Packaging Register Office.
The two companies have now joined forces under the umbrella of the "Recyclat-Initiative" to demonstrate how plastic cycles can be fully closed using practical application examples. The common goal is to establish sustainable material cycles and to use the recyclable material from the source "yellow bag" for this purpose.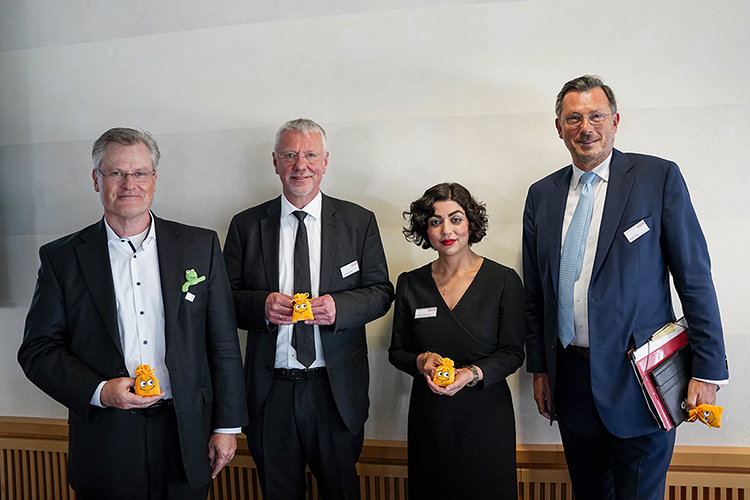 From left: Reinhard Schneider, Managing Partner of Werner & Mertz, Michael Schneider, Press Spokesperson REMONDIS, Dr. Nabila Rabanizada, Technical Manager Plastics Recycling REMONDIS, and Herwart Wilms, Managing Director REMONDIS
During a joint press conference at IFAT, Reinhard Schneider, Managing Partner of Werner & Mertz, Herwart Wilms, Managing Director of REMONDIS, and Dr Nabila Rabanizada, Technical Manager for plastics recycling at REMONDIS, explained the path taken by the raw material from the yellow bag via the further developed mechanical processing back into the production cycle and into new sustainable packaging.
The panel participants also reiterated their demand for improved political framework conditions in the EU.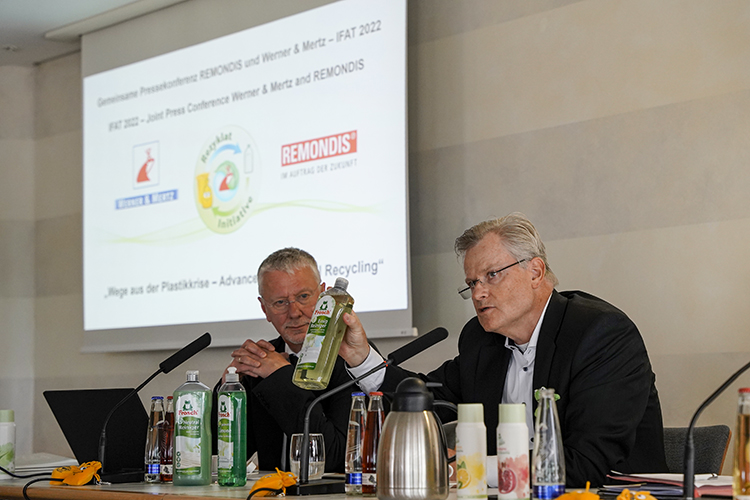 "The 'Recyclat-Initiative' of Werner & Mertz has proven that high-quality recyclate can be obtained from household collection. In order to compensate for the continuing lower prices for virgin material and to trigger high-quality applications for recycled raw materials in the sense of closed loops, I am campaigning for the introduction of a plastic tax on virgin material."
Reinhard Schneider, Managing Partner of Werner & Mertz
Herwart Wilms, Managing Director of REMONDIS, added in this context that the introduction of a polluter-pays tax on non-recycled old plastic packaging, the so-called "plastic tax", could only have the desired steering effect if it was used in a targeted manner: "In order to promote the recycling of plastics more strongly and make it a successful model with a worldwide exemplary character, the tax would have to be converted into a purpose-bound levy. Only in this way could sustainable production be promoted in a targeted way instead of using the tax money for other tasks."
While the largely loss-free recycling of raw materials such as glass, metal and paper has been established practice since the beginning of the circular economy in the early 1970s, plastics have so far been considered a rather poorly recyclable material. Especially in countries where neither functioning collection systems nor sorting and recycling capacities exist, plastic waste increasingly pollutes soils and waters.
→ Both cooperation partners are working together to further optimise plastics recycling in Germany and Europe and to develop it into one of the key solutions for overcoming the global plastics crisis.
As early as 2016, the Recyclate Initiative succeeded in producing bottles with 100% rHDPE from household collections such as the yellow bag. In 2021, it was then possible for the first time to increase the proportion of recycled plastics from the yellow bag from 20 % to 50 % for PET bottles consisting entirely of used plastic. This step was made possible by improved, automated sorting using state-of-the-art near-infrared technology.
By making targeted investments in new sorting and recycling technology, REMONDIS has created the technical prerequisites for a further increase in the use of recyclates by making targeted investments in new sorting and recycling technology at its sites in Erftstadt and Lünen.
The importance of this project is shown by the findings of the Special Working Group on the Use of Recycled Material (RESAG) of the Conference of Environment Ministers, which consists of over 120 experts from the fields of business and research. The panel recently came to the clear conclusion that the ecological dimension of plastics recycling is considerable. According to this, each tonne of recycled plastic avoids between 1.4 and 3.2 tonnes of C02 equivalents compared to virgin material. This means that even today, the use of recycled materials avoids up to 6.1 million tonnes of C02 equivalents in Germany. This is roughly equivalent to two to three times the amount of greenhouse gases produced by all domestic air traffic in Germany.

Image credits: image 1: © Werner & Mertz; image 2-3: © REMONDIS