Iodine is now being recovered in Brunsbüttel, Germany. REMONDIS SAVA GmbH, a subsidiary of REMONDIS Industrie Service, had been working on a process to separate iodine from the flue gases of hazardous waste incineration for some time. The plant, which was specially constructed for this purpose, has now been officially opened on 25 May 2023. Another important step for the circular economy, because the process helps to preserve valuable raw materials and conserve natural resources.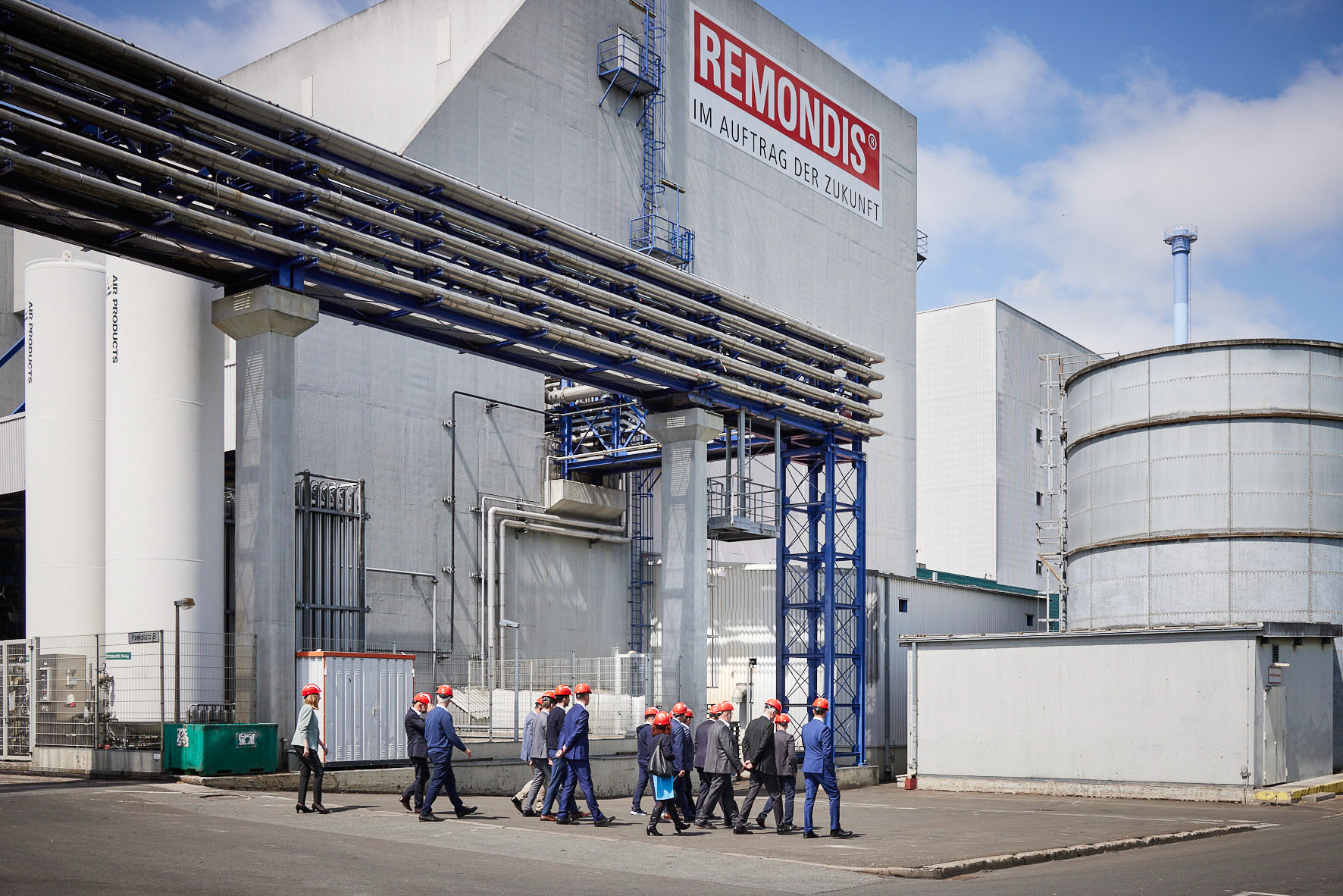 From now on, iodine will be recovered at the hazardous waste incineration plant in Brunsbüttel. At the inauguration ceremony, those present were able to get an impression of it
Isolate recyclables from hazardous waste
REMONDIS SAVA's hazardous waste incineration plant in Brunsbüttel makes an important contribution to the safe thermal treatment of hazardous waste. This waste sometimes contains valuable components which, however, have so far only been recovered to a small extent – steel scrap, for example. It also contains iodine in low concentrations, which has so far been bound in the filter dust and then stored in cost-intensive underground landfills. This means that iodine is lost to the economic cycle.
Iodine – rare, but widely used
Yet iodine is an important trace element that is widely used – whether as an admixture in table salt, in the production of medicines or in the chemical industry. In nature, iodine is relatively widespread in soils, rocks or waters, but even here it is only in small traces. The demand is correspondingly high. For the circular economy, it is therefore all the more important to find solutions on how to isolate the iodine quantities from the waste and process them in such a way that the valuable element can be kept in the cycle.
In cooperation with REC53 GmbH in Marbach a. Neckar, REMONDIS SAVA finally developed a process for recovering iodine from hazardous waste. An innovative method which is now being operated on an industrial scale in the recovery plant. The construction of the plant was funded by the Business Development and Technology Transfer Corporation of Schleswig-Holstein (WTSH).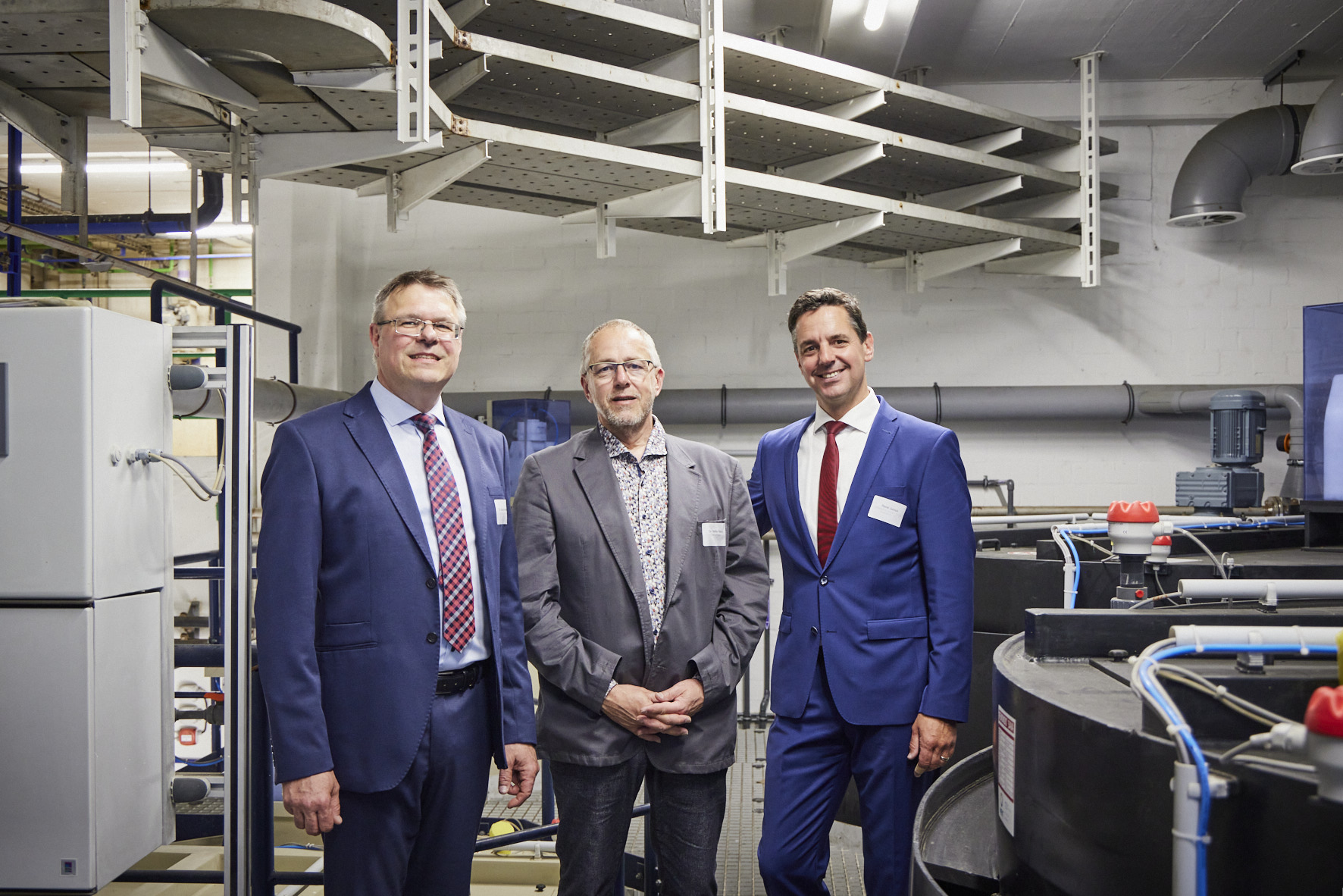 From left: Dr. Martin Kemmler (REMONDIS SAVA GmbH), Dr. Steffen Reich (REC53 GmbH) and René Jurock (REMONDIS Industrie Service GmbH & Co. KG)
In a downstream stage, the iodine is separated from the flue gas and concentrated. The iodine concentrates are stored as an aqueous solution in a product storage tank and finally delivered to industry as a raw material. Depending on the iodine content in the waste, the new plant can extract 50 tonnes or more of iodine per year. In addition, iodine is separated in the plant with zero emissions, low energy and no waste water, thus also saving CO2.
Opening of the new facility
In the presence of numerous guests from the industry as well as long-standing partners, the new plant was now opened for operation on an industrial scale. Norbert Rethmann, Honorary Chairman of the Supervisory Board of the RETHMANN Group, was also among the guests. Those present were able to take a tour of the plant and see for themselves how this valuable element will be recovered from the hazardous waste here in Brunsbüttel in the future, thus closing a further raw material cycle.
With this project, REMONDIS SAVA, together with its cooperation partner REC53, is making a valuable contribution to recovering raw materials in the spirit of a future-oriented recycling economy.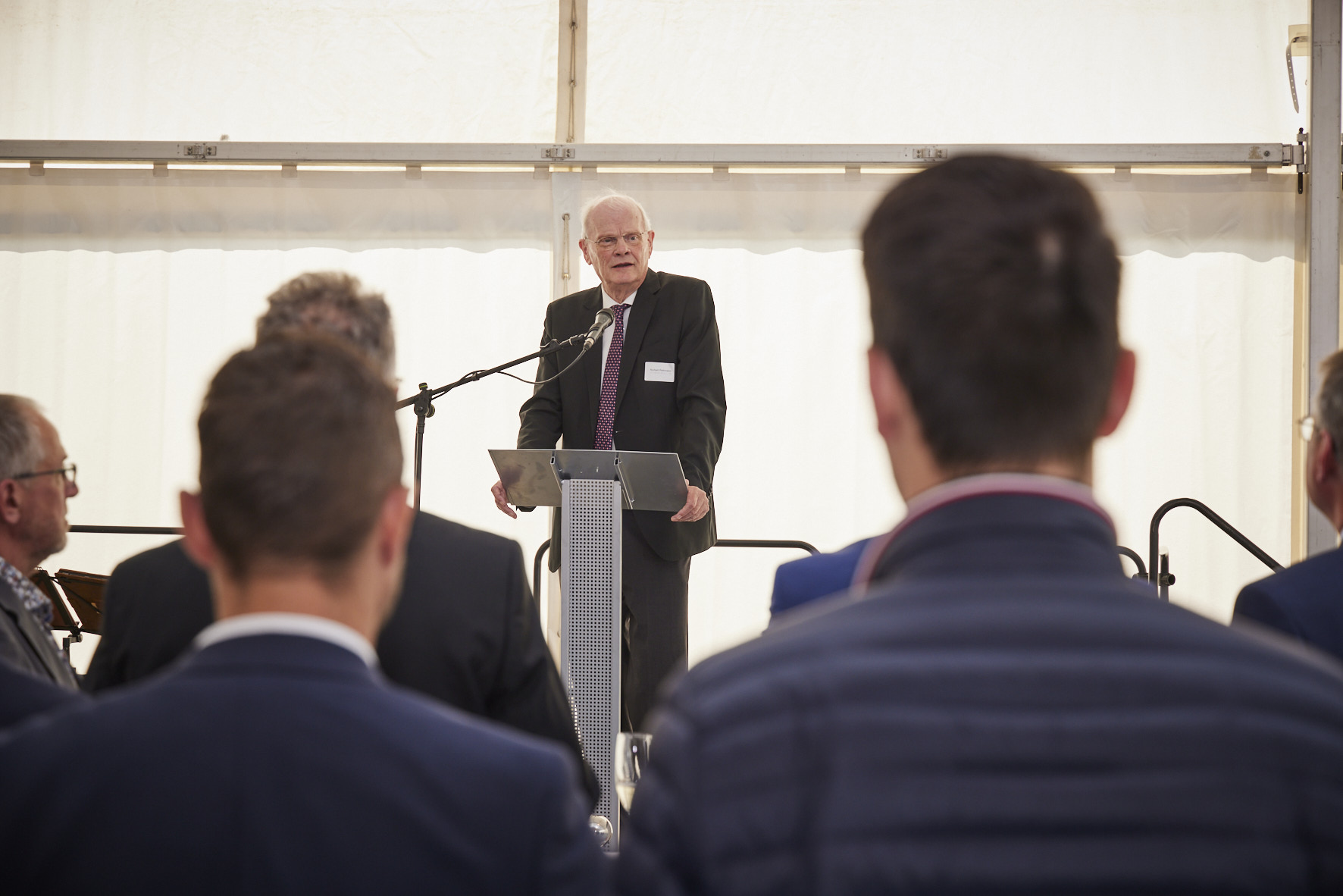 Norbert Rethmann, Honorary Chairman of the Supervisory Board of the RETHMANN Group, congratulated those involved on the opening of the new recovery plant
Strengthening Brunsbüttel as a business location
"As the operator of a plant for the thermal treatment of hazardous waste, we make an immense contribution to safety and sustainability," says Dr Martin Kemmler, Managing Director of REMONDIS SAVA. "In doing so, we always want to develop our technology further and adapt it to the challenges of the future. We are very proud to be able to drive forward the circular economy here at the Brunsbüttel site by developing the iodine recovery process."
Martin Schmedtje, Mayor of Brunsbüttel, said: "There has been a long-standing and trusting cooperation between the City of Brunsbüttel and REMONDIS SAVA. I am, therefore, even more pleased that the new recovery plant will strengthen Brunsbüttel as a business location with a further innovation. I wish all those involved every success with the commissioning of the plant and its further development in the future!"
Image credits: © REMONDIS