A prime example of eco-friendly resource recovery and recycling
AVR's new organic waste digester and multi-stage recycling concept most certainly meet all sustainability and efficiency criteria. This plant is also a prime example of environmentally friendly resource recovery and recycling that unites regional climate protection with a robust and profitable business. "In the past, rubbish was simply rubbish. For a long while now, though, waste materials have been an important source of energy," commented Undersecretary Baumann from the Ministry of the Environment during the official opening of the plant in September. "Germany has so few natural resources of its own. Our country has deliberately chosen to collect recyclables and recover the raw materials for re-use or to generate energy and consequently to use modern technology to transform waste into climate-friendly energy. This is a path that is both logical and future-proof."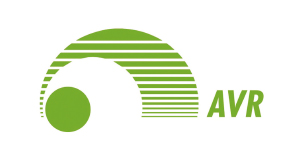 A flagship project for the state
All the people involved in the project – the Sinsheim-based AVR Group and its partner REMONDIS, the various political bodies and, in particular, District Administrator Stefan Dallinger – consider AVR's new organic waste digester in Sinsheim to be a flagship project for the whole of this German state. "An important step towards switching the region's energy supply from fossils to renewables has become a reality today. AVR's organic waste digester provides a reliable and long-term waste management solution for the Rhine-Neckar district and helps us get that much closer to achieving our political goals of protecting our climate and setting up our own energy supplies in our region," the District Administrator said as he thanked all those involved in the project and praised their successful teamwork.
"An important step towards switching the region's energy supply from fossils to renewables has become a reality."
Stefan Dallinger, District Administrator
Groundbreaking ceremony on 22 February 2018
The first sod was cut on 22 February 2018 after months of intensive planning work, complex public procurement processes, painstaking profitability calculations and finally adding some strategic finishing touches. The construction work was then carried out over the following months – just in time so to speak – so that the first trial runs were able to be held on schedule in the spring of 2019. AVR and MVV fed their environmentally friendly biogas into the natural gas network for the very first time on 19 July 2019. Every year, the new AVR plant will treat and dry around 60,000 tonnes of biogenic waste, which will then be marketed by AVR BioTerra GmbH & Co.KG as quality-assured, certified compost. This compost is of particularly high quality thanks to its high fertiliser value, its ability to promote the formation of humus and its high plant compatibility. Local farmers now have access to a long-term supply of sustainable organic fertiliser that can also be used as an alternative to peat by both hobby gardeners and commercial gardening businesses.
REMONDIS is AVR BioTerra GmbH & Co. KG's partner. This family-run company was awarded the contract after winning a Europe-wide tender in the spring of 2017. REMONDIS owns a 49% share in AVR BioTerra GmbH & Co. KG and organised the construction of the organic waste digester as the general contractor to ensure the project would be completed within the planned budget. 51% of AVR BioTerra GmbH & Co. KG remains in the hands of the Rhine-Neckar district authorities.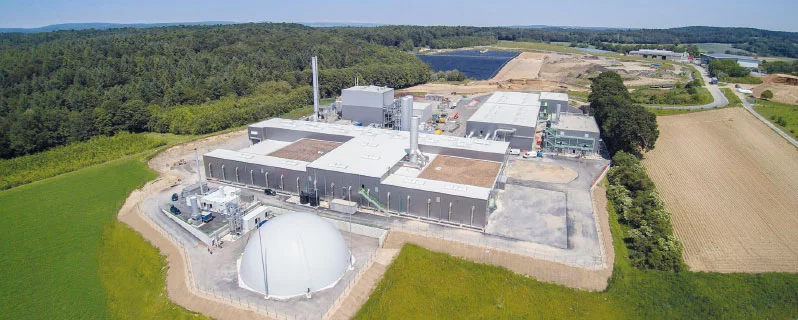 The new, state-of-the-art biomass digester plant went into operation on 19 July 2019
Turning biogas into biomethane
The raw biogas produced by the digester is sent by AVR BioTerra GmbH & Co. KG to its sister company AVR BioGas GmbH. After the gas has undergone a preliminary cleaning process, it is first transformed into biomethane before being fed into the natural gas network. AVR BioGas GmbH is responsible for the preliminary cleaning and processing stages as well as for marketing the biogas. Each year, the plant will produce around 40 million kilowatt hours of biogas – sufficient quantities to cover the annual requirements of approx. 2,700 households. By preparing and supplying this biogas, the plant provides the region with a flexible and decentralised source of renewable energy that can be supplied exactly where and when it is needed. With its current structure, the natural gas network has access to a huge gas storage facility, something that will become ever more important as the country switches from fossil to renewable energy.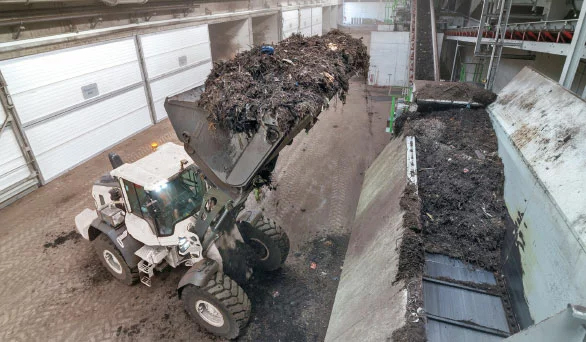 Around 60,000 tonnes of biogenic waste can be treated in the plant every year
An additional gas storage tank
What's more, a 5,000m³ biogas storage tank is also available to compensate for any variations in the volumes of gas being produced and/or fed into the network at the site. The chances of AVR's organic waste digester actually suffering a failure are practically zero as all of its main components have redundant internal components for safety reasons. Not to mention the fact that the whole of the plant is fully enclosed. The negative pressure and numerous biofilter systems make sure that unpleasant smells are not released into the atmosphere.
The new organic waste digester and its supply of biomethane is a further important step towards helping Germany switch from fossil to renewable energy.
AVR BioGas GmbH is owned by the Mannheim-based energy supplier MVV Energie AG (41.5%), Stadtwerke Sinsheim Versorgungs GmbH & Co. KG (7.5%) and AVR Energie GmbH (51%). During the opening ceremony, managing director Peter Mülbaier thanked all the partners, stakeholders and employees and gave special mention to REMONDIS' style of conducting business which, he said, was "constructive and cooperative at all times".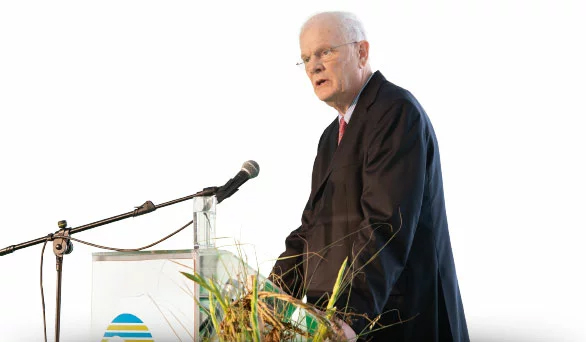 Norbert Rethmann, Honorary Chairman of the Supervisory Board of the RETHMANN Group, holding his speech during the official opening of the plant
Total effective area of the biomass digester plant: ca. 22,000 m2
The plant consists of:
a building for accepting the material & removing any contaminants

a bunker/building for temporarily storing the material

the double digester (each chamber: 2,250m3) for producing methane

the double digestate conditioner/dryer for drying the liquid digestate

a total of 13 tunnels and three identically built storage tunnels for turning the material into compost