A successful PPP: a look back and a look ahead
Wirtschaftsbetriebe Oberhausen (WBO) was founded 25 years ago. Right from the start, this firm was set up as a partnership between the city and a private sector partner; today, the city council owns a 51% share in the business and REMONDIS a 49% share. In an interview, WBO managing directors Karsten Woidtke and Andreas Kußel discuss why this public private partnership has been such a success and look ahead at its future prospects.

REMONDIS AKTUELL: It was quite a sensation 25 years ago for private sector and public sector partners to own a firm together – especially in the Ruhr region. How would you sum the business up?
Kußel: From a business point of view, a real success: the company has been permanently in the black since 1999. We moved all our operations to a single site back in 2001 to prevent things having to be done twice. We have access to the whole of REMONDIS' network when it comes to processing the collected materials – from recycling, to incineration, all the way through to the safe treatment of hazardous waste. This ensures that we can run a stable and cost-effective business. And, of course, we benefit from REMONDIS' purchasing power as a major buyer when we need to procure new equipment such as vehicles and machinery.
Woidtke: The transfer of know-how is certainly another of the partnership's strengths. We can take a look at the processes and services being performed by our sister companies in the REMONDIS network and benefit from their experiences. This has enabled us to offer new services over the last two decades, such as the gradual introduction of separate collection schemes for recyclables. Equally, these companies have benefited from WBO's experiences as well.
Still a really good team after 25 years: five WBO dustmen who make sure that Oberhausen remains clean and tidy every single day
REMONDIS AKTUELL: So this transfer of know-how is not a one-off event but an ongoing process?
Woidtke: Sure. Just think of the ever-growing demands on businesses to grow sustainability and strengthen the circular economy. The waste management sector is a very important player here. We need to keep on learning and it's simply not possible for us to test everything ourselves.
REMONDIS AKTUELL: And what do the WBO employees think of this collaboration?
Kußel: We often get positive feedback from our staff. They benefit, for example, from the extensive range of further training and qualification courses and from the opportunities they have to talk to and exchange know-how with REMONDIS' experts. This helps us to be an even more attractive employer. We've been offering secure jobs for many years now and have only just recently increased the size of our workforce.
REMONDIS AKTUELL: What challenges will WBO have to face in the future?
Woidtke: As far as our customers are concerned – i.e. the residents of Oberhausen – this will mean continuing to ensure that fees remain stable, that the city remains clean and that we further grow our efforts to protect natural resources and be even more sustainable.
Kußel: And for the company, there's the whole question of digitisation, which is leading to many changes at WBO as well. And, of course, our task will be to continue to deliver an economically viable performance and to make sure it remains this way – despite having to face new challenges. This is something that we've always managed to do.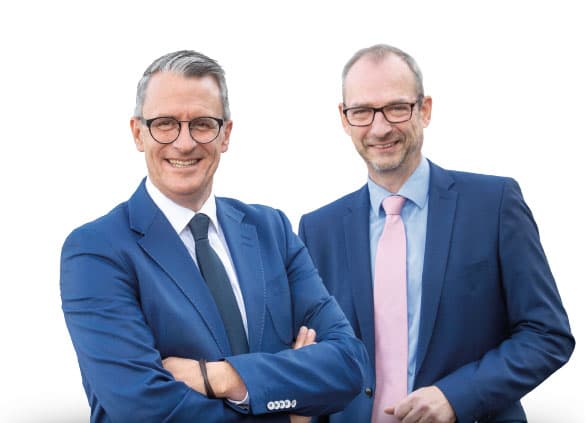 WBO's two managing directors: Karsten Woidtke, responsible for the operational side of the business, and Andreas Kußel, who is in charge of WBO's commercial activities (from left to right)
WBO is responsible for waste management, city cleaning tasks and the town's drainage systems as well as for sewer and road building projects. Around 410 employees deliver these services to the approx. 210,000 people living in Oberhausen, a city situated in the west of Germany's Ruhr region. In 2020, the company collected 88,000 tonnes of household waste and 23,000 tonnes of recyclables. WBO is in charge of almost 590 kilometres of roads and 570 kilometres of sewer pipes. The company currently offers 24 apprenticeship jobs and takes on around 90% of their apprentices at the end of their course.
Image credits: image 1–4: © WBO