Switchover part of a renewed contract
Replacing recycling sacks with recycling bins across a rural district as large as the Mecklenburg Lake District [Mecklenburgische Seenplatte] while still carrying out normal refuse collection operations – this is certainly a considerable logistical challenge. REMONDIS Seenplatte Logistik GmbH has now successfully completed this task. Previously responsible for collecting the recycling sacks in this tourist region north of Berlin, the company was once again awarded a contract for this area for 2021 to 2023 following the latest tender process. This time, their new assignment has involved an additional undertaking: changing the collection system over to recycling bins.

Helping to keep streets tidier
The district authorities are, therefore, promoting the current trend towards recycling bins – a development that is primarily being supported by environmental politicians as they believe this will improve collection rates and, consequently, recycling rates. Recycling bins also help to give streets a more orderly appearance, especially in a unique natural landscape such as the Mecklenburg Lake District. All too often, rural regions see their recycling sacks being blown around by the wind or ripped open by wild animals. With the district generating around 10,500 tonnes of old packaging a year, the whole region – and the many tourists travelling there from across the whole of Germany – will now benefit from having these materials collected in solid bins.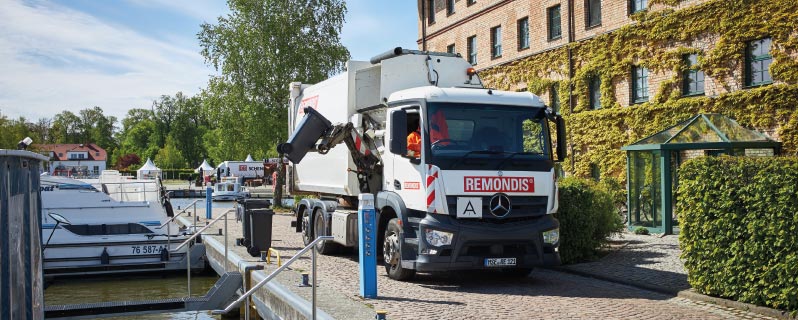 10,500 t of old packaging will be collected every year in a cleaner and more efficient way now that solid bins are being used
The district authorities and their procurement office set the course for this transformation in May 2020 and awarded the contract to REMONDIS at the beginning of September 2020. Which meant there was little time left to supply all the households with the new bins. Most projects like this allow for a 12-month transition period. The Mecklenburgische Seenplatte district authorities, however, wished the handover of the new bins to have been completed within ten weeks.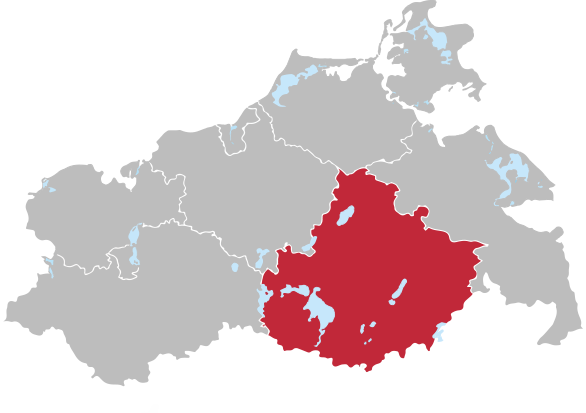 Three different bin sizes
The company's first task involved working out how many bins would be needed for each building (according to the number of households and residents living in them) and then getting hold of them so that they could be distributed across the region. They also had to decide which size of bin (120, 240 or 1,100 litre bin) should be handed out. REMONDIS used both the large amount of data at its disposal and its extensive experience of such matters to allocate the bins. The amount of residual waste generated by the different households was also factored in to help them decide which size should be distributed. With the time frame being so tight, it was simply not possible to ask each household what kind of bin they would like to have.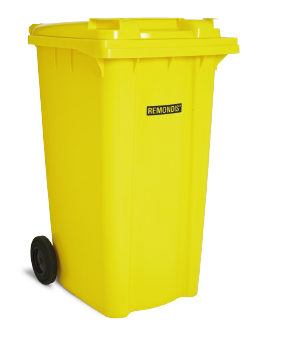 "We received a comparatively low number of complaints and requests for a different sized bin – confirmation, I believe, that we took the right approach."
Florian Roesberg, Managing Director of REMONDIS Seenplatte Logistik GmbH
Having a strong network helps
REMONDIS called on external service providers from its network to support them in this logistical endeavour. The first 70,000 smaller 120 and 240 litre bins were provided by the company Craemer and delivered to the private households within a very short period of time. REMONDIS itself supplied the large wheelie bins required by housing complexes and recycling collection points. It is practically impossible to carry out such a task without there being complaints.
The few that did come in were processed quickly by REMONDIS to ensure both the local residents and the district authorities were pleased with the results. With this work completed by the end of last year according to schedule, old packaging across the district is now being collected every fortnight in recycling bins rather than recycling sacks as planned. Last year, the company needed 19 vehicles and 39 employees to collect this material stream. This has now increased to 24 vehicles and 44 members of staff. Both the district authorities and REMONDIS have high hopes that this move will improve collection rates. Roesberg continued: "Outthrow material is one of our biggest challenges. Any material that doesn't belong in the bin has to be removed and this is additional work for the downstream sorting and recycling plants. In this age of increasing environmental awareness, we are all being called on to take a closer look at and take greater responsibility for our own actions."
With the Mecklenburg Lake District covering almost 5,500 square metres, the district authorities are responsible for the largest administrative district by surface area in Germany. A popular tourist destination, this region is home to 250,000+ inhabitants, the majority of whom live in and around the towns of Neubrandenburg, Neustrelitz, Demmin and Waren. With a population density of below 50 inhabitants per square metre, the district is one of the most sparsely populated regions in Germany.
Image credits: image 1–3: © REMONDIS