REMONDIS already has a range of alternative fuel concepts
Across Germany, local and city authorities have found themselves facing a new challenge this year. The Federal Ministry of Transport (BMVI) has transposed the EU's new directive on the promotion of clean and energy-efficient road transport vehicles (Clean Vehicles Directive) word for word into German law (Saubere-Fahrzeuge-Beschaffungs-Gesetz / Clean Vehicle Procurement Act). This aims to increase the efforts made by councils to decarbonise and boost the demand for clean vehicles. This new law covers a wide range of public services – including, of course, refuse collection. For many years now, REMONDIS has been offering district and city authorities a variety of logistics solutions to enable them to lower their emissions – solutions that also involve various kinds of alternative fuels. The cities of Cologne, Frankfurt and Münster are already leading by example – each with their own specific focus and always with a bespoke system to meet their particular urban logistical requirements.
Biogas filling station commissioned in Cologne – CO2 emissions cut by 21,000t
Thanks to a partnership between Abfallwirtschaftsbetriebe Köln GmbH (AWB), AVG Kompostierung GmbH (AVG), GVG Rhein-Erft, REMONDIS Rhineland and RheinEnergie AG, there will be around 100 commercial vehicles travelling on Cologne's roads next year that will be run on climate-neutral biogas. For this to happen, a new biogas filling station has been commissioned on AVG's premises in the north of Cologne. In the future, this new filling station will supply REMONDIS and AWB's vehicles with green fuel. What makes this so special is that the refuse collection vehicles collect and transport the raw material needed to produce their own fuel: organic waste. Fully closing a local material stream. This food and garden refuse is taken to the composting plant run by AVG. Some of the material is first transferred to the neighbouring digester plant where, in the absence of air, it is used to produce biomethane. This process takes around two weeks and the biogas can then be fed into the gas network and used to fill the refuse collection trucks' tanks. Any remaining digestate is transferred back to the composting plant where it is transformed into high quality compost, primarily for the agricultural sector.
Over a ten-year period, the new filling station will reduce carbon emissions by around 21,000 tonnes and slash fine particulate emissions by almost 95%. At the same time, the vehicles will be much quieter than the lorries run on conventional fuels – cutting noise levels by an impressive five decibels (A).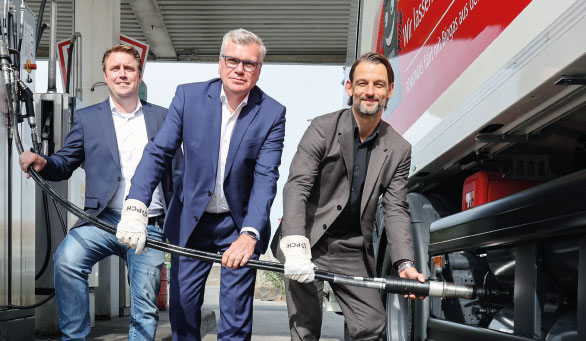 Michael Lindner, REMONDIS, Achim Südmeier, RheinEnergie, and William Wolfgramm, Head of Cologne's Department for the Environment, Climate and Real Estate (from left to right), were all delighted to be able to open the new biogas filling station in Cologne
Frankfurt: 30% less energy and CO2 with the help of hydrogen from thermal treatment
Having carried out a variety of trials, FES Frankfurter Entsorgungs- und Service GmbH has decided to purchase eight electric refuse collection trucks. The company, a joint venture between the City of Frankfurt and REMONDIS, announced in October that it had put in an order with Mercedes-Benz for the vehicles. The eEconic lorries are due to be delivered at the end of 2022. Prior to this, the Frankfurt firm had tested a pilot vehicle run on natural gas and electricity as part of its refuse collection fleet for two years and had the results evaluated by scientists. "The trial results were good. FES will not be continuing this project, however, as the manufacturer has decided not to pursue this concept," explained FES managing director Dirk Remmert. Rosemarie Heilig, head of the City's environmental department and chair of FES' supervisory board, was delighted with the course that has now been set: "This makes Frankfurt one of the first cities in Germany to systematically switch over its commercial fleet to e-mobility to reduce harmful emissions.
Thanks to its companies such as FES, the City is acting as a role model when it comes to transitioning towards climate-friendly transport and mobility. And these modern waste collection trucks will play an important role in this." Dirk Remmert took a look ahead: FES will, over the medium term, be looking at using fuel cells in its heavy vehicles. "We will be working with our partner Mainova here so that the hydrogen we need for the fuel cells will, for the most part, be net zero as it will come from thermally treating residual waste at the waste incineration plant." Moreover, FES' Euro 5 vehicles will continue to be run on Saria's biodiesel until they are decommissioned. The manufacturer Mercedes has not yet received a permit for their use as Euro 4 vehicles.
Net zero in 2030? Biogas allows clean refuse collections in Münster here and now
Two of the eight vehicles in REMONDIS' fleet in Münster are now being run on biogas. "We are doing this to move forward our sustainability efforts," commented Thorsten Feldt, managing director of REMONDIS Region West. The aim of this pilot project is to look at how more climate-friendly fuels can be deployed in Münster's refuse collection system. The company decided to use biogas because hydrogen and e-mobility are simply not efficient enough for such large vehicles and such large volumes of waste. "Electric trucks can't carry as much material – their load is about 30% smaller," Feldt explained. What's more, it would be difficult for the vehicles to collect the waste and complete the 30-100km routes. Using biogas is the right solution as a climate-friendly alternative to diesel – and is available right now unlike hydrogen and electric engines. A maximum 10 minutes are needed to fill a truck's tank with gas. Both of REMONDIS' new collection vehicles can hold 120 kilograms of natural gas and they have already been put to work. Moreover, Münster is situated right in the middle of an extensive agricultural and cultivated landscape. The neighbouring district of Coesfeld, for example, has the highest organic waste collection rates across the whole of Germany – which means there is plenty of biogas for the Münsterland region as well.
Plans were made for this pilot test at the beginning of the year. Both trucks have now been delivered and the results will be evaluated over the coming months. If the trials go well, then REMONDIS shall gradually switch over its Münsterland fleet to climate-friendly vehicles. After all, Münster plans to be net zero by 2030 – and REMONDIS is providing a number of solutions to help it reach its goal. Besides working in this area with the City of Münster, REMONDIS is also continuing this project with the District of Coesfeld. A total of six biogas-run vehicles have already been ordered for the district and they should be out and about on the roads in 2022.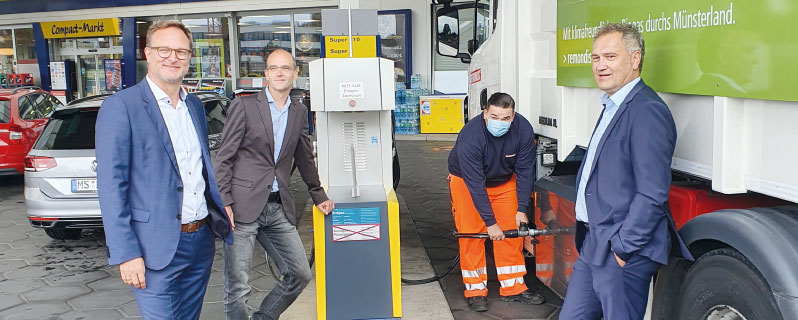 The new vehicles being filled up at a nearby Westfalen filling station. Thorsten Feldt (REMONDIS, left), Ralf Mertins (Stadtwerke, 2nd left) and Andre Stracke (Westfalen filling station, right) are looking forward to seeing the results of the pilot tests
Image credits: image 1: Fotolia: rclassen; image 2: © Martina Goyert; image 3: © REMONDIS