Abfallwirtschaft und Stadtreinigung Freiburg GmbH (ASF), a public private partnership between the City of Freiburg and REMONDIS, began using two fuel cell vehicles to collect paper and organic waste in the summer of 2021. These replaced two diesel-run refuse collection trucks and have cut carbon emissions by up to 60 tonnes a year.
Even though it is the heavy-duty vehicles that are responsible for around 30% of CO2 emissions in the transport sector and consequently for aggravating climate change, research work into finding alternative kinds of fuel for this type of vehicle has more or less been neglected in the past. Hydrogen fuel cell vehicles, however, are now market ready, making it possible for ASF to further expand its fleet of electric vehicles and use them in the area of refuse collection as well. The majority of the 15 vehicles it already has that are run on green fuel are used by its street cleaning teams.
"This is a significant milestone along our path towards achieving net zero mobility. By the end of 2023, there will be a total of 14 refuse collection trucks on Freiburg's roads using this climate-friendly technology. Making up 64% of the fleet, there will be more of them collecting municipal waste than diesel-run vehicles," commented Michael Broglin, Managing Director of ASF.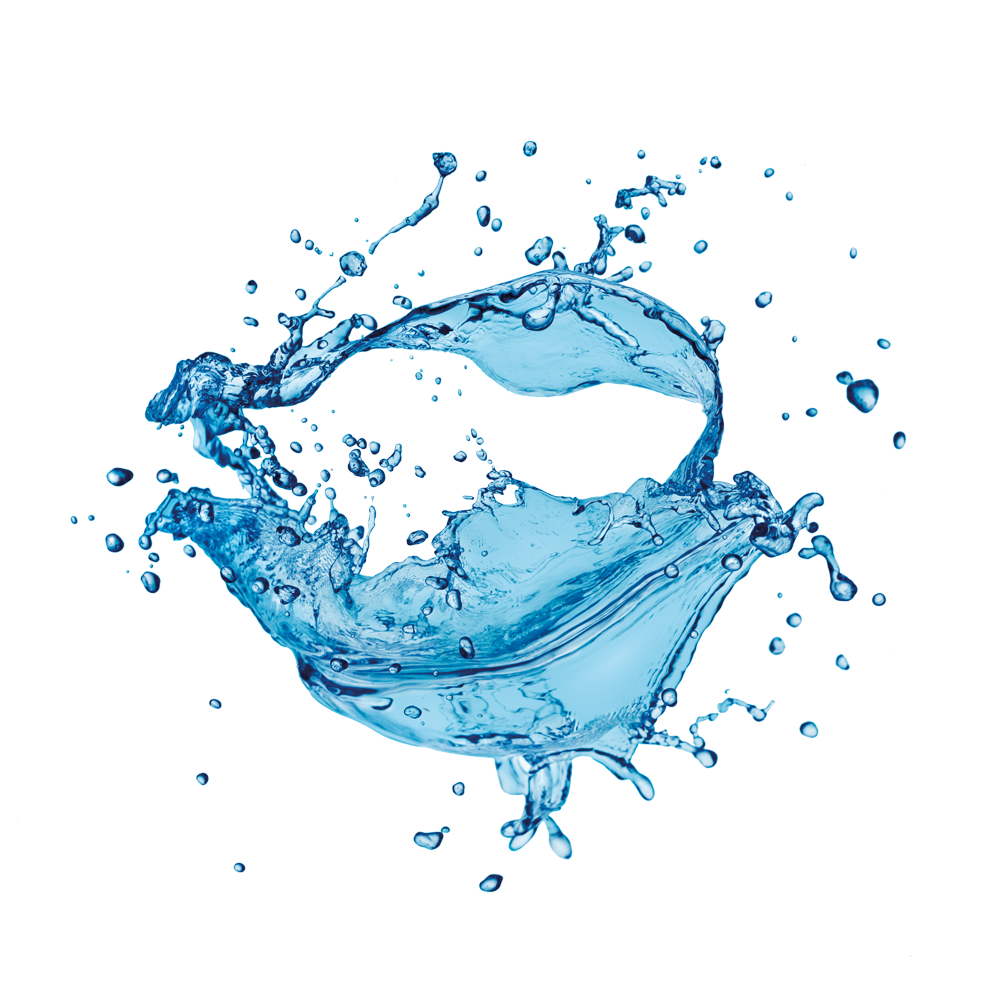 Recharging without a plug
Just like conventional EVs, fuel cell vehicles are also run with an electric motor, have zero emissions and are very quiet. Unlike pure EVs, however, the chemical reaction caused by the hydrogen mixing with oxygen means that fuel cell vehicles produce the electricity they need while they are being driven – and do not have to be recharged via an electrical socket. This extends their range and makes them more flexible. The installed battery system also stores the energy generated from regenerative braking, which also partly recharges the battery – a big advantage in today's stop-and-go urban traffic. The significance of Freiburg's technology switch was underlined by the state secretary from Baden-Württemberg's Ministry of the Environment, Dr André Baumann: "Road transport is one of our biggest causes of concern when it comes to tackling climate change in our country: its greenhouse gas emissions are high and have, unfortunately, even gone up over the last few years. Things must change here if we are to reach our climate goals. One of the central questions here is what fuel the vehicles of the future will be using. Hydrogen is a very good solution for buses, lorries and other vehicles that must deliver a high performance, range and flexibility of use. Which is why I am delighted that the City of Freiburg has taken the right decision to head down this sustainable path."
"Freiburg will then have one of the largest fleets of refuse collection vehicles run on alternative fuels and will play a pioneering role in this area."
Martin Horn, Mayor of Freiburg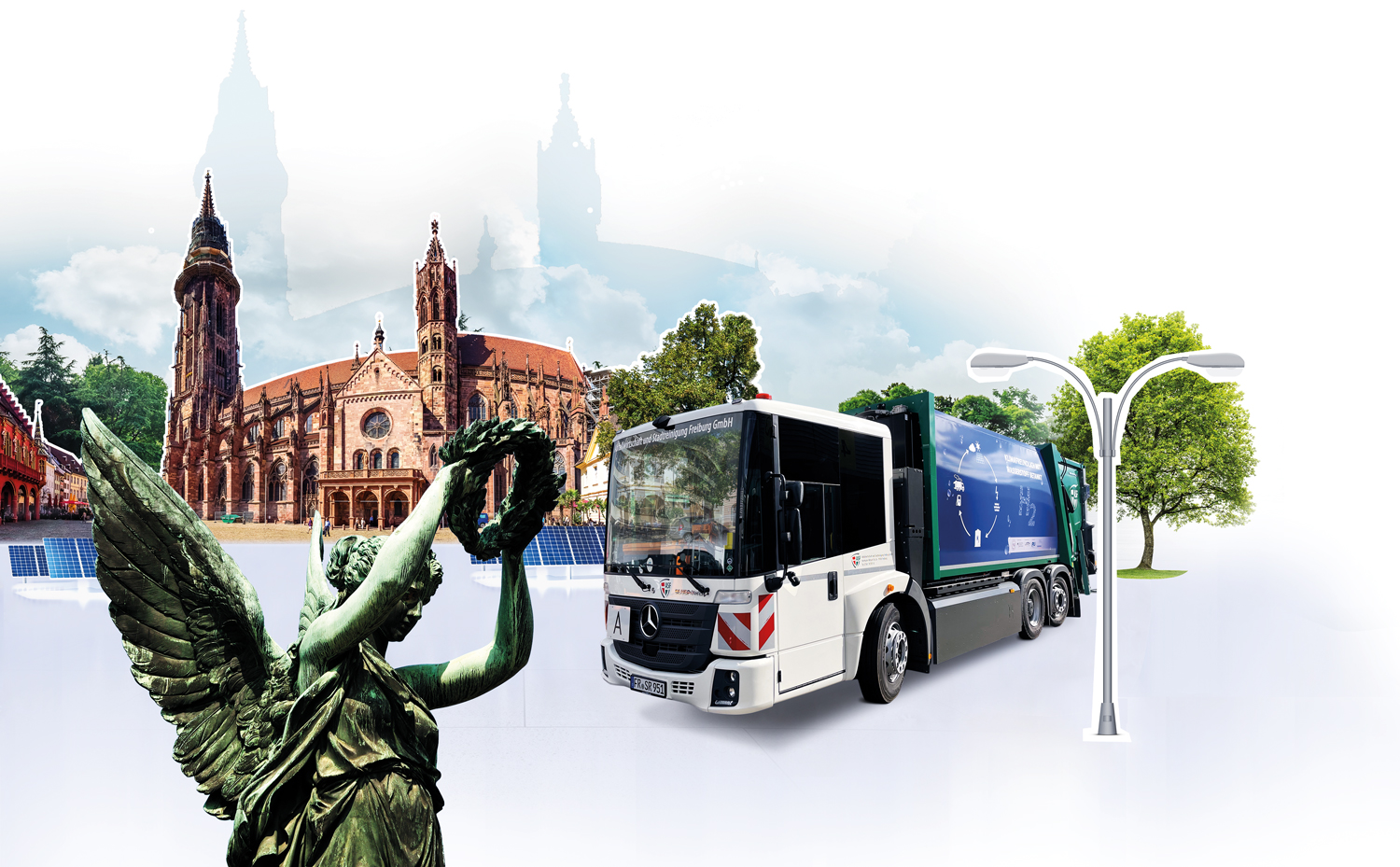 The first two hydrogen-run refuse collection vehicles were financed with the help of federal funding. This meant that 75% of the costs for procuring the two vehicles (which amounted to around 1,440,000 euros (net) in total) were covered by grants. A grant amounting to ca. 925,000 euros (net) was given as part of the "Clean Air 2017-2020" programme set up by the BMVD [Federal Ministry for Digital and Transport]. The funding guidelines are coordinated by NOW GmbH and implemented by PtJ, the project management agency. An additional subsidy amounting to 150,000 euros (net) was provided by the innovation fund run by badenova AG & Co. KG.
"14 new refuse collection trucks will soon be carrying out their duties in Freiburg – quietly and free of emissions. The BMVD is providing over 8 million euros in support of the project," explained Steffen Bilger, Parliamentary State Secretary at the BMVD. "Hydrogen and fuel cell technology is a key future technology for both the economy and mobility in Germany. Which is why we have also set this out in the Government's National Hydrogen Strategy. When it comes to transport, hydrogen is a sensible addition to the performance and range-restricted battery-run EVs and will help us achieve our climate goals." Mayor of Freiburg Martin Horn was delighted to see ASF's fleet switching over to green technology: "Freiburg will then have one of the largest fleets of refuse collection vehicles run on alternative fuels and will play a pioneering role in this area. This will make a big contribution towards ensuring the City of Freiburg reaches its climate goals."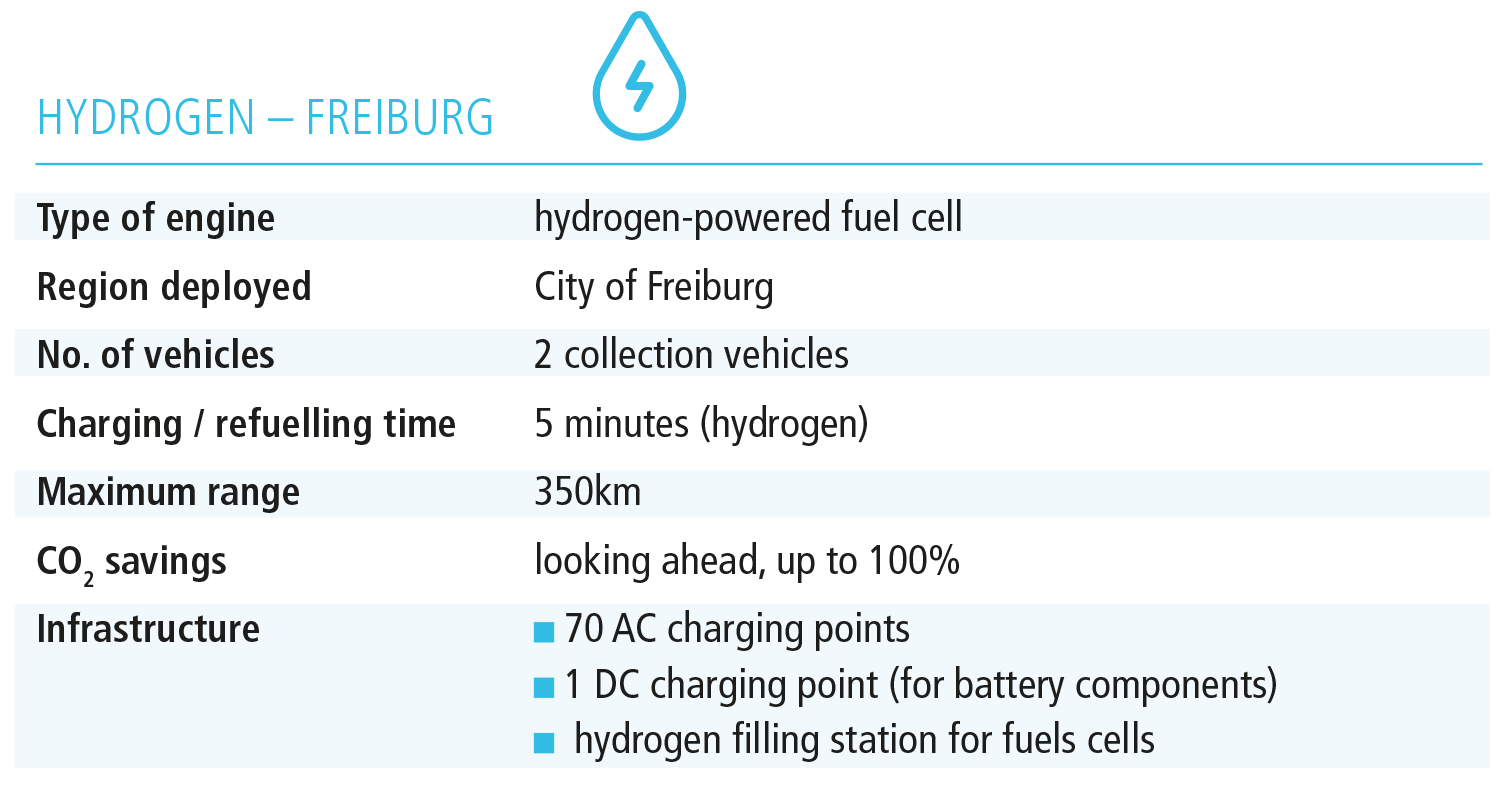 Image credits: image 1: Adobe Stock: PhotoGranary; image 2: Adobe Stock: Alexstar; image 3: Adobe Stock: VITAMIN, Adobe Stock: LiliGraphie, Adobe Stock: ABCDstock, Adobe Stock: Bill Ernest, Adobe Stock: Sina Ettmer, Adobe Stock: AA+W