Pilot project is showing what's possible
The first all-electric, battery-run refuse collection truck has been out and about on the City of Bremerhaven's roads since the end of October. This vehicle is being sponsored by the "BEAR" project [Battery-run waste collections with robotic support] as part of the Energy and Climate Fund run by the Federal Ministry for the Environment, Nature Conservation and Nuclear Safety. This pilot project represents a major step towards achieving a zero-carbon waste collection service in Bremerhaven as well as towards tackling climate change.

A fast rechargeable battery pack
"Together with the manufacturer FAUN's help, we are fulfilling the target of the BEAR project – namely to develop and operate an all-electric, battery-run refuse collection truck – in the best possible way," explained Dr Addissou Makonnen, managing director of BEG. "The auxiliary systems in the vehicle, such as the air conditioning, power assisted steering, compressed air supply system and on-board power supply, have also been replaced with electric-powered systems," he added. The truck can reach speeds of 80 km/h and is fed the energy it needs – for the engine, bodywork and lifter – from a fast rechargeable battery pack. The company has installed a high performance rapid charger unit, which is being supplied with electricity straight from the waste incineration plant.
Prototype to be tested for 12 months
This prototype vehicle is to be trialled in Bremerhaven for at least twelve months. Data will be recorded throughout the test period to see how cost effective and reliable it is as well as to measure the impact it has on the climate and environment. Afterwards, the project findings should then be transferred to larger electric commercial vehicles being used in other areas such as inner-city logistics. "By the end of the twelve months, we are hoping to be able to make a valid and verifiable statement about how batteries should be designed in such vehicles. The goal should be for the batteries to be used for at least eight years," Dr Makonnen continued. A general tool for planning battery capacity is to be developed with this goal in mind.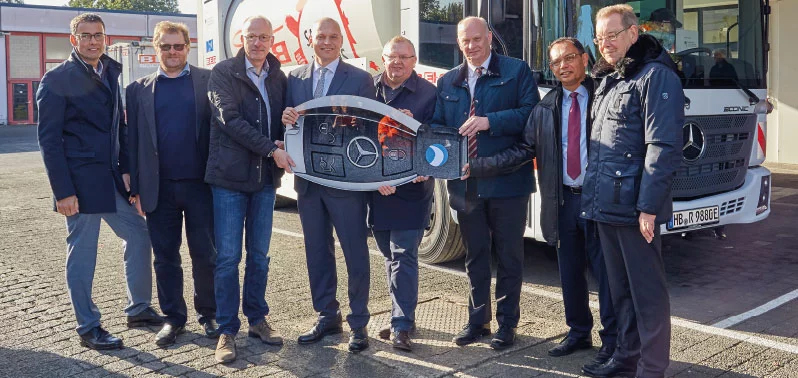 The keys were handed over to BEG managing directors Stefan Ketteler (3rd right) and Dr Adissou Makonnen (2nd right) during an official ceremony
"Together with the manufacturer FAUN's help, we are fulfilling the target of the BEAR project – namely to develop and operate an all-electric, battery-run refuse collection truck – in the best possible way."
Dr Addissou Makonnen, Managing Director of BEG
REMONDIS is testing all alternative types of fuels
REMONDIS is trialling other carbon-neutral waste collection technologies besides e-mobility. Last year, for example, it and its cooperation partners GVG Rhein-Erft, Zukunft Erdgas and IVECO launched a pilot project to test biogas-fuelled vehicles in and around the City of Cologne. At the moment, this zero-carbon fleet, which currently consists of six vehicles, is being deployed in Pulheim and Erftstadt – and has a number of plus points over a conventional diesel-run fleet: both its long-term potential to improve air quality (it emits practically no particulate matter or NOX emissions) and the fact that it is so much quieter give every indication that zero-carbon mobility is possible. Greater volumes of biomass can be expected in the future now that German law has made it obligatory for organic waste to be collected separately. This, of course, is another argument for further developing the concept of biogas-fuelled trucks. The fleet's tanks are being filled with this climate friendly fuel at a new natural gas pump in Hürth and the time needed to do this is not much longer than would be needed to fill a diesel tank. This is one of the REMONDIS Group's pioneering projects and it has attracted much interest both from other regions and from the company's partners.
BEG has been using two electric Smart cars and running a number of charging points since 2013.
Düsseldorf-based Awista, a public private partnership between the city council and REMONDIS, have for example already purchased three biogas-fuelled refuse collection trucks.
Hydrogen is also an option
What's more, the idea of using surplus wind energy in the future to produce carbon-neutral hydrogen is also being looked into, especially in the north of Germany. This would mean that a zero-carbon waste collection service could also be provided by fuel-cell vehicles. For this to be possible, however, vehicle manufacturers would have to change the technology in their waste collection trucks and wind-gas plants must be installed to cover this demand for carbon-neutral hydrogen.
Either way, it is possible to set up carbon-neutral waste collection systems in Germany. Greater political will and more initiatives from politicians will be needed, however, if these systems are to be expanded to cover the whole of the country. Local and district authorities must deliberately choose and promote alternative fuels and give them a better standing in their public procurement projects. Being an expert for carbon-neutral waste collection logistics, REMONDIS is there to help and support them with its dedicated staff and practical know-how.
Founded in 2003, BEG is a public private partnership between the City of Bremerhaven and REMONDIS.
Image credits: © REMONDIS