A well-established process
Sludge dewatering has established itself as a useful alternative to liquid disposal systems. The very most can be made of the cost-effective and environmental benefits of sludge dewatering when both the services and the equipment have been perfectly adapted to meet the requirements of a project. FILTRATEC is currently setting up a future-oriented solution at the Chemelot Industrial Park in the Netherlands – clearly showing just what is possible in this field of business.

Focusing on customer requirements
Chemelot is one of the largest industrial parks in the Netherlands. Home to around 60 companies and 8,000 employees, it is an important economic driving force in Limburg Province and beyond. Sitech Services B.V. is the park's official service partner and offers a wide range of services that also covers the site's infrastructure. For decades now, it has been working with FILTRATEC in the area of sludge dewatering – a collaboration that has always been shaped by innovations and full-service solutions.
FILTRATEC specialises in sludge dewatering, solids/liquid separation, product filtration and sludge and wastewater treatment.
FILTRATEC dewaters all of the industrial sludge produced at the park for Sitech. To be able to do this, it currently deploys a stationary membrane filter press that is capable of handling large volumes of material. The facility, which was set up in 2012 and built by FILTRATEC specifically for Chemelot, is operated 24/7, 365 days a year. Its bespoke design combines both the company's many years' experience of filtration services and its findings from carrying out extensive trials. By adapting the facility to the exact requirements of the industrial park, it is able to achieve excellent solid/liquid separation results – i.e. a filter cake with a high dry residue content and a solids-free filtrate. This means – for both Sitech and Chemelot – that the amount of solids left over which have to be sent for disposal is kept to an absolute minimum.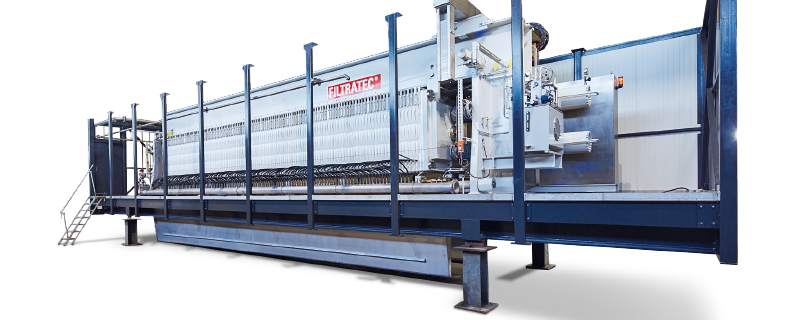 The new large-scale press will be able to process up to 600 tonnes of thin sludge every day. The result: 100 tonnes of filter cake, reducing the weight of the material by one-sixth
New large-scale press will double capacity
Having performed such successful work, FILTRATEC has now been given the task of extending its sludge dewatering activities at the park. Besides expanding the scope of services, this project also centres on a second filter press, which will also be designed as a membrane unit. Both presses will be used side by side next year – and will be located in the same area, as the existing plant was designed so that a second system could be added should it be needed.
The sludge dewatering capacities available to the industrial park will have been almost doubled once this new large-scale press is up and running. The size and scale of the new facility take future growth into account. Having said that, though, the extra capacity that is expected to be needed in the future will be useful right from the start. It means the units will be able to cope with any unexpected volumes caused by a sudden increase in sludge production. In the past, mobile units have had to be brought in to treat this additional material. What's more, by doubling the capacity of the units, the company will be able to provide an even more reliable service.
Using filtration to reduce the volume of material cuts both waste management and transport costs.
"The industrial-scale sludge dewatering system at Chemelot Industrial Park is an excellent example of how collaboration work can help develop and move projects forward so they are fit for the future."
Gerd Brückerhoff, Managing Director of FILTRATEC Mobile Schlammentwässerung GmbH
With over 40 years' experience, FILTRATEC has in-depth expertise in both developing and building practical mobile and stationary filtration units. The equipment, which has often been specifically developed to meet individual customer requirements, is part of the service package and remains the property of FILTRATEC. This means, of course, that its industrial and municipal customers do not have the financial burden of having to invest in their own equipment, Furthermore, it increases transparency and makes it easier for their clients to plan their costs.
FILTRATEC will operate both filtration units at the Chemelot Industrial Park for ten years via its Dutch subsidiary FILTRATEC B.V. FILTRATEC has been operating in the Netherlands for around 30 years now. The country is one of the most important foreign markets for this filtration specialist, which delivers its services across the whole of Europe. Besides using filter presses, the firm's sludge dewatering division also deploys decanters, including gas-tight three-phase decanters for separating combustible and/or harmful substances. In many cases, FILTRATEC is also involved in manufacturing processes. For example, in the field of metal production where this specialist is able to deliver speciality product filtration solutions so that even aggressive and acidic substances can be filtered.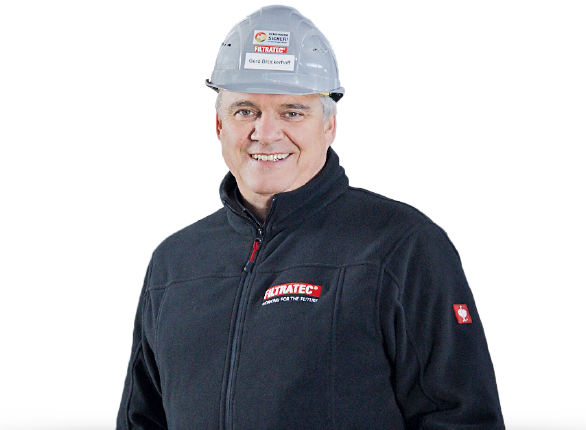 The units, designed by the company's own engineering department, are built, connected and assembled at FILTRATEC's head office in Voerde, a town in the Lower Rhine region.
Sitech and FILTRATEC – a partnership lasting over 25 years

A contract is awarded to ABR, which later merges with FILTRATEC; deployment of a mobile chamber filter press (beginning of the 90s)

A treatment facility is set up consisting of two mobile chamber filter presses and a diverse range of additional equipment; total chamber volume: 4.6m³

A concept is drawn up for a stationary dewatering plant with a membrane filter press

Commissioning of the filtration plant with a membrane filter press; chamber volume: 6.2m³

Construction of a further additional membrane filter press to grow capacity

Scheduled commissioning of the second membrane filter press; total chamber volume: 12.4m³