Award presented during the Münchner Gefahrgut-Tage
The trade magazine 'Gefahr/gut' [Hazard/good(s)] recently named REMONDIS Industrie Service the winner of its 2019 Innovation Prize for developing the RETRON transport container system. Jörg Fiebach, deputy head of the Munich Fire Brigade, handed over the award to the company during a special ceremony held on 27th May at the 29th 'Münchner Gefahrgut-Tage' [Munich Hazardous Goods Transportation Days]. The Innovation Prize, which was launched by the 'Gefahr/gut' magazine back in 2003, is presented to one company each year for developing an innovative solution that makes the transport of hazardous goods safer.

Praise for the prizewinners
"Our priority as firefighters is to prevent dangerous situations from happening at all," explained Jörg Fiebach during the awards ceremony, adding, "Transporting damaged lithium-ion batteries is particularly hazardous because of the risk of a thermal chain reaction." The best way to prevent such fires starting in the first place is to separate damaged batteries and transport them using a safe and secure system. This year's prizewinner has done some outstanding work in this area.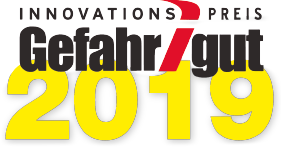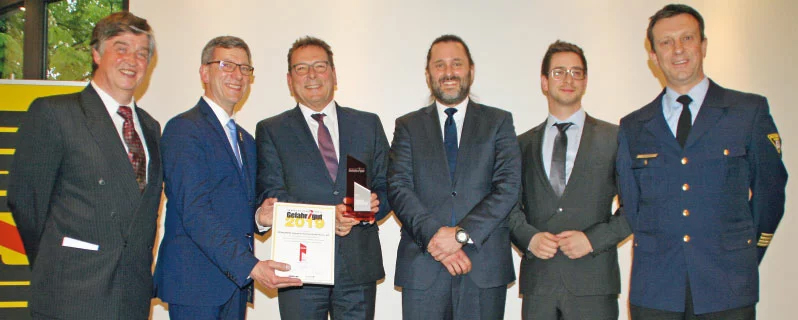 Rudolf Gebhardt, Editor at the 'Gefahr/gut' magazine, Frank Rex, Jury Spokesperson, Robert Sonnenschein, Managing Director at REMONDIS Industrie Service, Christian Kürpick, Project Manager at REMONDIS Industrie Service, Lukas Fast, REMONDIS Industrie Service, and Jörg Fiebach, Deputy Head of Munich Fire Brigade (from left)
UN-approved steel containers
The RETRON system uses a hazardous waste container made of high-grade steel that has been specifically designed to deal with the danger of battery fires. These steel containers have been issued the necessary approval allowing them to be used for transporting goods presenting high danger (Packing Group I) and are lined with an inner layer of insulation material. If the batteries do cause a fire, then the insulation ensures that the temperature of the outer walls remains below 100°C. Furthermore, the containers are also equipped with textile bags for holding the batteries, packing material containing rock wool and a relief valve for channelling off any fire gases.
A full service concept from just one company
"The company has developed a full service concept for storing, transporting and processing damaged lithium batteries," jury member Frank Rex, a hazmat specialist on the Lower Saxony police force, said during his speech introducing the prizewinner. He continued, "The system meets all the stipulations set out in the Battery Law regarding the take-back of old batteries. The jury was truly impressed."
Watch this video to find out more about the RETRON system's special features
The RETRON team is also in the process of working on a container for transporting large traction batteries weighing up to 800 kilogrammes. This project is currently in its prototype phase.