RETRON began as a REMONDIS Industrie Service project in Stuttgart eight years ago. At the time, there were no safe systems around to transport large, damaged lithium-ion batteries to recycling plants by road. Today, RETRON is preparing to enter several different European markets.
This system for storing and transporting lithium-ion batteries safely has been a company in its own right since January and is operating in a rapidly growing market.
Some customers have said to us: "Do I really need one of those?" That's just what people said when seatbelts and airbags were first added to cars.
Mr Sonnenschein, let's jump straight in and take a look at your latest products: your RETRON shop and your RETRON BOX. Who exactly are they targeted at?
Robert Sonnenschein: There are almost ten million e-bikes on the roads in Germany alone. And I'm not sure whether even half of the owners of these bikes are aware of the risks posed by lithium-ion batteries. To say nothing of the huge volumes of old mobile phones, thermometers and single-use e-cigarettes. Damaged or broken batteries really are very dangerous.
Which makes almost every household a potential customer…
Robert Sonnenschein: …and the same is true, for example, for bike-friendly hotels. If they store their guests' e-bikes in their bike storeroom and fail to make the batteries safe, then they are putting their whole hotel at risk.
The RETRON BOX is also of interest to tradespeople: the 'Berufsgenossenschaft' [employers' liability insurance association] recommends that businesses should have a suitable storage container in their vans if they have to transport batteries, for example batteries used in cordless screwdrivers or digital measuring equipment.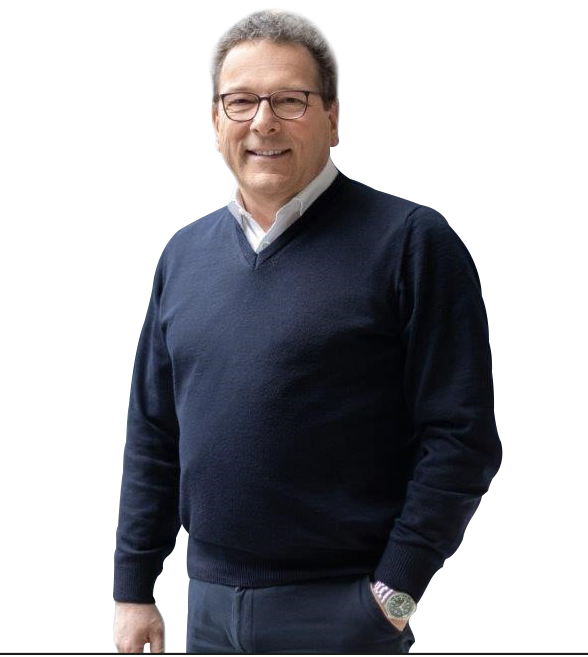 Robert Sonnenschein, managing director RETRON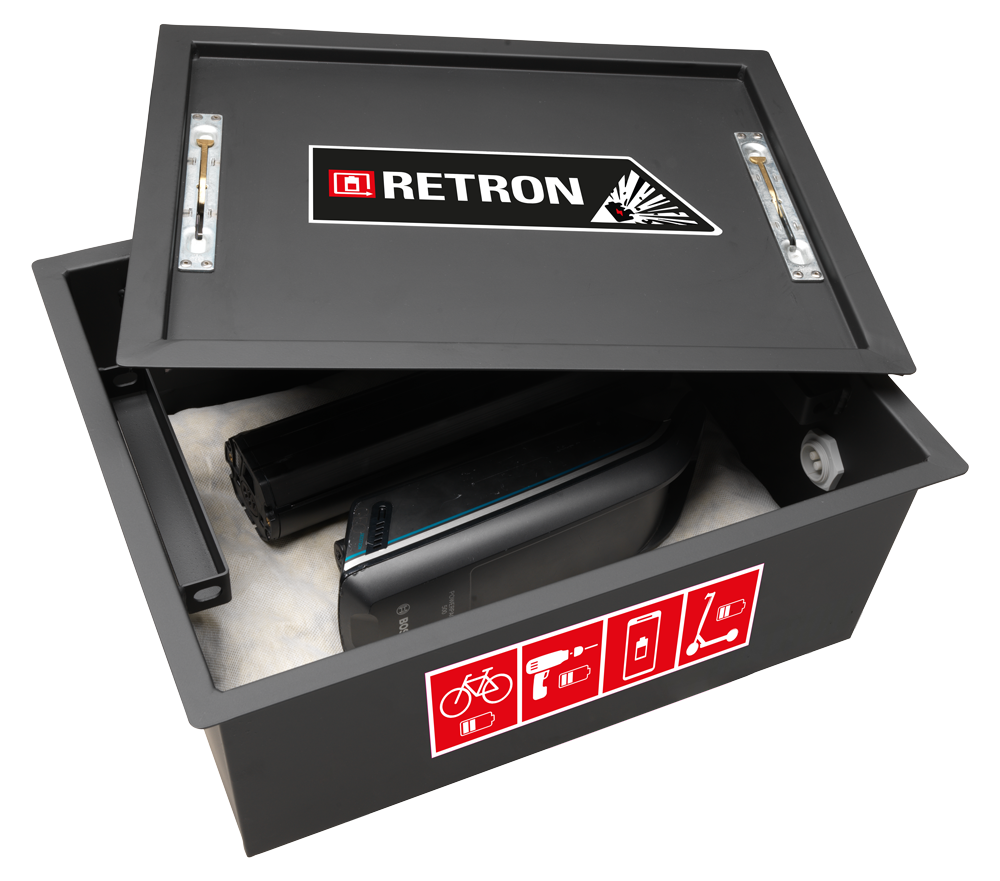 The RETRON BOX has a capacity of 35 litres, making it ideal for households and tradespeople. Weighing just 9 kilos, it also has the necessary UN approval allowing it to be used to transport dangerous goods
How exactly does the box keep people safe?
Robert Sonnenschein: In most cases, you can't actually see if a battery is damaged or broken. In this state, though, they are a real risk and can cause explosions and fires and reach very high temperatures. Unfortunately, we can read all about such events in the news almost every day. A battery fire can produce hydrofluoric acid – a highly caustic and truly dangerous substance that can cause burns to a person's skin and lungs.
Just like the other RETRON containers, the RETRON BOX provides a protective storage space surrounded in steel. It protects the immediate environment from flames, which means it is a way of preventing fires. The box has sufficient space to safely store and transport, for example, two e-bike batteries.
Who can access the shop to buy the RETRON BOX?
Robert Sonnenschein: Absolutely everyone. Our sister company Rhenus is responsible for organising the delivery. Looking ahead, we would like to open up the shop for all our products, including all spare parts.
The first target group was commercial customers…
Robert Sonnenschein: …and we were able to offer them a wide range of services from the start: contracts to pick up full containers, to exchange containers and to hire out containers. In some cases, the contracts run for several years and our customers use the containers as a safe storage space. Our list of customers covers a whole range of sectors – from garages to logistics businesses, from chemical firms to e-scooter suppliers.
What happens when a RETRON container is full or a customer wishes their container to be picked up or exchanged for a new one?
Robert Sonnenschein: Our container system has been set up at a number of REMONDIS Industrie Service's hazardous waste facilities, which means we have access to all their expertise. They have over 50 locations across Germany and have extensive experience of handling hazardous waste and transporting dangerous goods. This is where the deep discharge takes place and where the batteries are dismantled. Our plan is to have our own recycling plant with the capacity to handle 20,000 tonnes in the coming years. What's more, we also work closely with our sister company TSR in Austria and the Czech Republic. And we're in the process of setting up and developing a nationwide system of lithium-ion battery services in Switzerland and France.
From vacuum cleaner batteries to 700kg car batteries. RETRON already hires out 1,500 containers to enable batteries to be stored and returned. The company takes back over 1,000 tonnes of damaged lithium-ion batteries every year and returns the valuable metals from the batteries to market as recycled materials. Volumes that continue to steadily grow.
Practically all of the batteries are transported today by road. The RETRON containers, however, have also been approved by BAM [Federal Institute for Materials Research and Testing] as a means of transporting goods by rail and boat.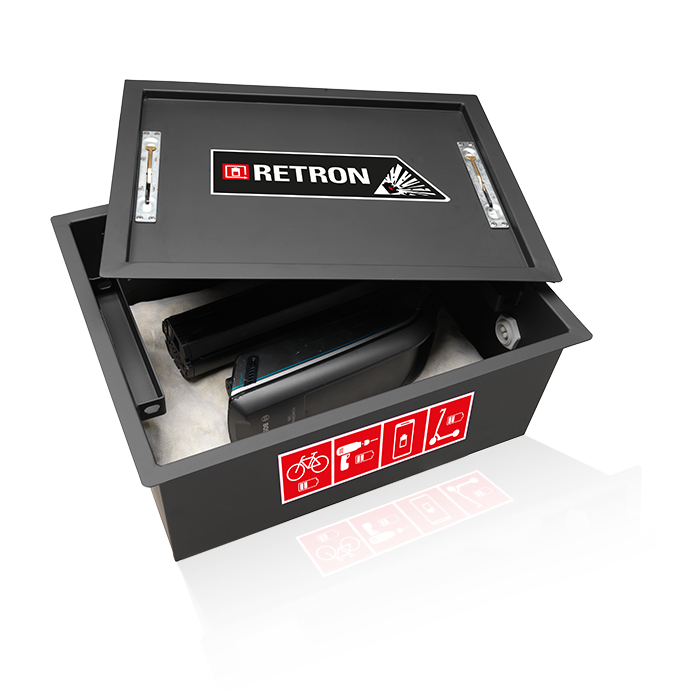 So you've already crossed the border out of Germany and into other European countries…
Robert Sonnenschein: Yes, we have. And, of course, we'd like to expand even more within Europe. At the end of the day, the number of lithium-ion batteries being sold on the market is growing all the time – just look at the impact of e-mobility.
Then RETRON will have lots to do in the future as well. How come this system is called RETRON?
Robert Sonnenschein: 'RE', of course, stands for REMONDIS as with the other companies in our group. 'TRON' is derived from a synonym for 'electric'. It's as simple as that. That, too, was decided on during a team meeting and discussed with a group of experts. After that we immediately had the name protected.
And who came up with the idea of offering a safe transport system for damaged lithium-ion batteries?
Robert Sonnenschein: That was a product of our team as well. Around eight years ago, we were sitting together with some colleagues and looking for a suitable and safe way to transport damaged lithium-ion batteries from A to B. Being a qualified mechanical and process engineer, I had great fun trying to find the best solution.
Founded in January 2023 and based in Lünen, RETRON GmbH currently has ten employees. It acts as the umbrella organisation and the head of the system; the operational services are delivered by sister companies from within the REMONDIS Group. With its business expanding, RETRON is also looking to take on new staff – to grow both its sales team and its office team.
The team is headed by Managing Director Robert Sonnenschein. The 60-year-old comes from Essen and has worked for the REMONDIS Group since 2006, first as a branch manager at REMONDIS Industrie Service, and then as Managing Director from 2013. A keen sailor and skier, he has some big ambitions when it comes to his hobbies as well: "I'd love to go heli-skiing in Canada – now that really would put a smile on my face." His job for the time being, though, is to continue to drive forward the RETRON business.