This year, Hamburger Bahnhof – Museum für Gegenwart – Berlin shows the "Church for Sale" exhibition with important works from the Nationalgalerie Collection and the Haubrok Collection. One of the overarching themes of the special show is the competition for inner-city space. A competition that until recently also called into question the future of the museum building. To illustrate this, an installation was created for the special exhibition. As a metal wall about ten metres high, it runs like a knife blade from the outside towards the façade and crosses the entire building.
Working material becomes an object
This highly visible installation was designed by the artists and architects Brandlhuber and Zorzi. XERVON Gerüstbau was responsible for the realisation, using a modular scaffolding system that supports cassettes that are usually used for enclosures. In order to transform the working material into an object, special know-how was required in every respect. For example, the components, which were used at the request of the artists, had to be cleaned in such a way that their surfaces, which had been marbled by wind and weather, were preserved. During the construction, the steel plates had to be mounted with a direct connection to the floor. In addition, no wooden components were allowed to be used for the load-bearing scaffolding and the anchoring to the steel structure was barely allowed to be visible. The result was a noble, shimmering object whose appearance hardly resembles regular scaffolding.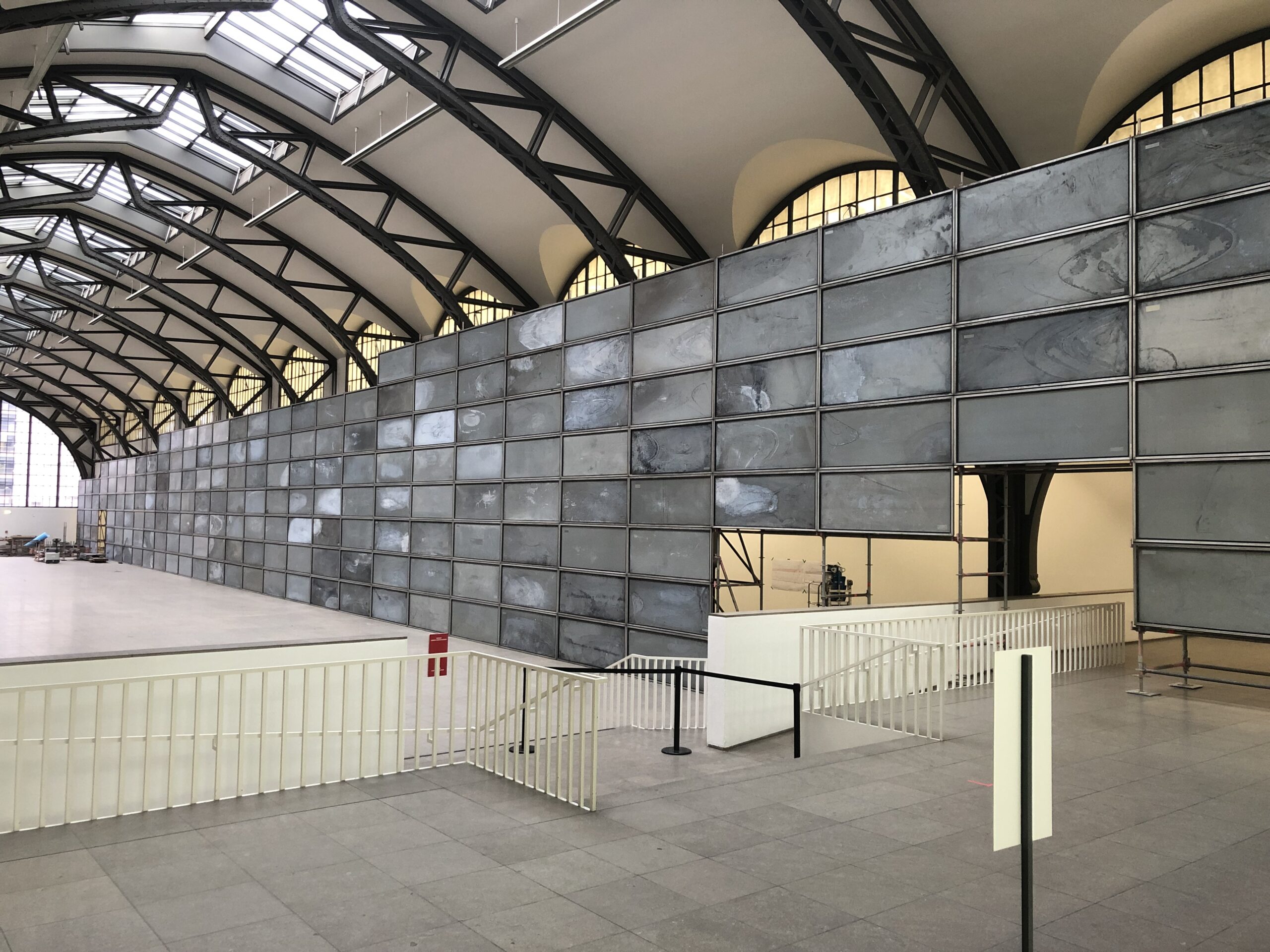 Immense construction whose appearance hardly resembles regular scaffolding
Reference to the development plan
Arno Brandlhuber and his architectural practice b+ on the aim and message of the installation: "The architecture conceived by b+ (Arno Brandlhuber, Florian Jaritz, Gregor Zorzi) addresses the issues of the exhibition by making critical reference to the development plan approved for the area around the museum and the, as yet, not fully resolved future for the ensemble of buildings dedicated to art. It follows the construction line of the development plan and translates this two-dimensional line into a three-dimensional wall that cuts the Historic Hall in two along its north-south axis."
More pictures can be found on the b+ website. Information on the planning office accompanying the construction can be found here.
Image credits: image 1: © XERVON