Climate neutrality by 2035 – that is the ambitious goal of the city of Freiburg, Germany. Abfallwirtschaft und Stadtreinigung Freiburg GmbH (ASF), a public private partnership between the City of Freiburg and REMONDIS, plans to have emission-free municipal waste collection as early as 2030. An important piece of the puzzle on this path is hydrogen technology. ASF has already been using three fuel cell vehicles since 2021 and has gained a lot of positive experience. Now six more are being added.
Use of alternative fuels is increasing
As early as June, the new fuel cell-powered vehicles will expand the ASF fleet and collect biowaste, waste paper, lightweight packaging (yellow bag), residual waste and bulky waste. By replacing the nine diesel-powered vehicles, up to 270 tonnes of CO2 can be saved annually.
This means that 41 percent of the municipal vehicle fleet is powered by alternative fuels. With this rate, Freiburg is in first place in a nationwide comparison of waste management companies.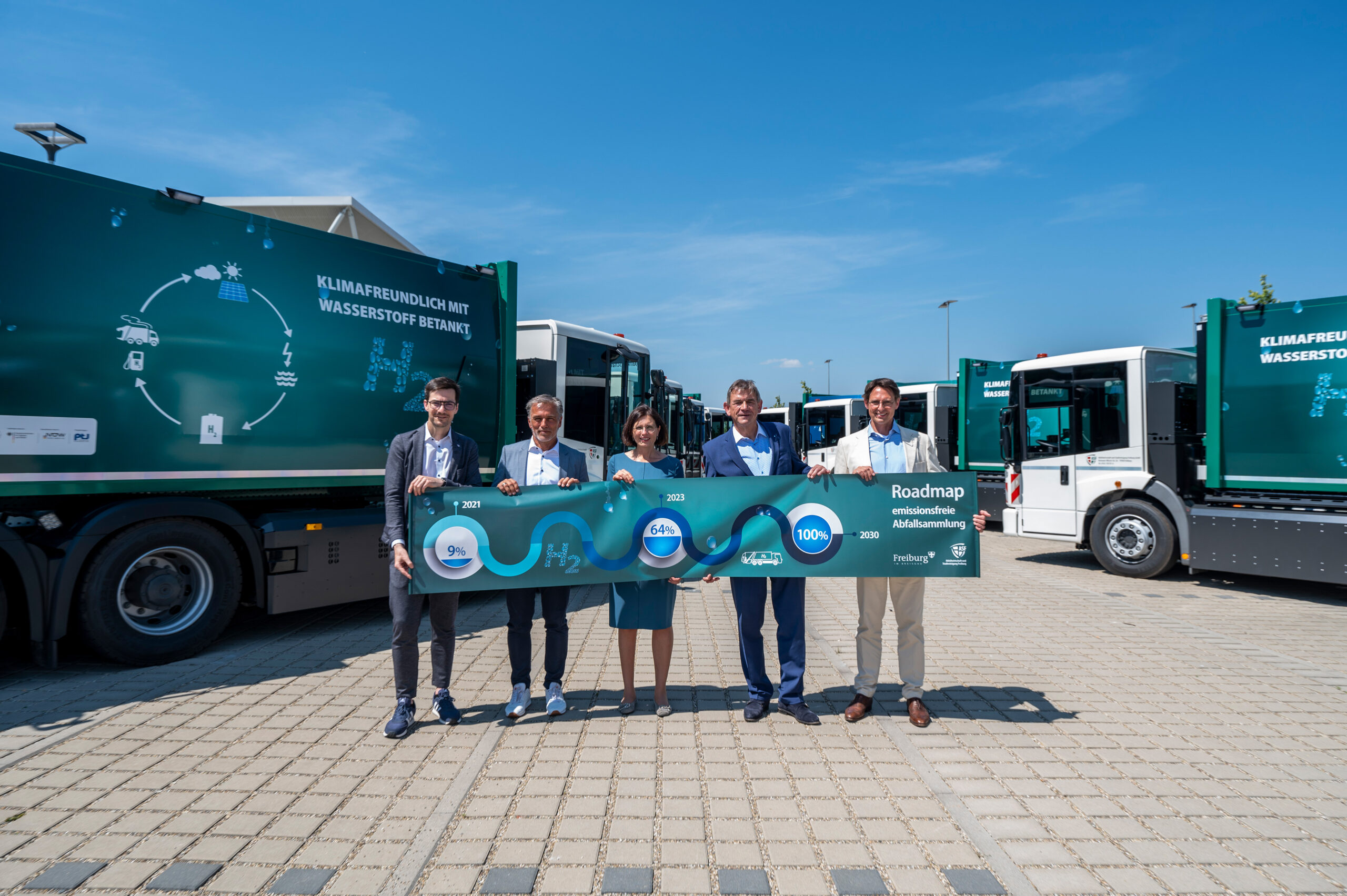 Mayor Martin Horn, ASF Managing Director Michael Broglin, Environment Mayor Christine Buchheit, Johannes Kirchhoff from Kirchhoff Ecotec and Christoph Hebling from Fraunhofer ISE presenting the new additions to the ASF vehicle fleet
Freiburg's way into the future
Mayor Martin Horn is impressed by the speed of the changeover: "We are on the right path into the future. Measured by its size, our city currently has the largest fleet of environmentally friendly collection vehicles in the whole of Germany. This makes us a nationwide pioneer. This will be a further contribution to achieving our climate protection goals. Our new vehicles will be on Freiburg's roads without emitting harmful exhaust gases and engine noise. In future, they will be fuelled with green hydrogen, which we want to produce ourselves using renewable energies. This is ambitious and challenging at the same time, but we need courage for new climate-friendly solutions. Many thanks go to the federal and state governments for their active support.
"We are very pleased to be able to present these six additional fuel cell vehicles as part of the 'Hydrogen Week'. We are currently making great steps towards our goal of emission-free mobility. Assuming appropriate investment grants from federal and state funds, we will have a total of 14 climate-friendly collection vehicles on Freiburg's roads by the end of 2023."
Michael Broglin, Managing Director of ASF
Like classic electric vehicles, fuel cell vehicles are powered by an electric motor and a battery. This makes the new vehicles not only emission-free, but also significantly quieter than their conventional counterparts. Unlike purely electric vehicles, fuel cell vehicles can also produce their own electricity while driving by reacting hydrogen with oxygen. This extends the possible driving time and increases flexibility. The built-in battery system also makes it possible to store recovered braking energy and partially recharge the battery.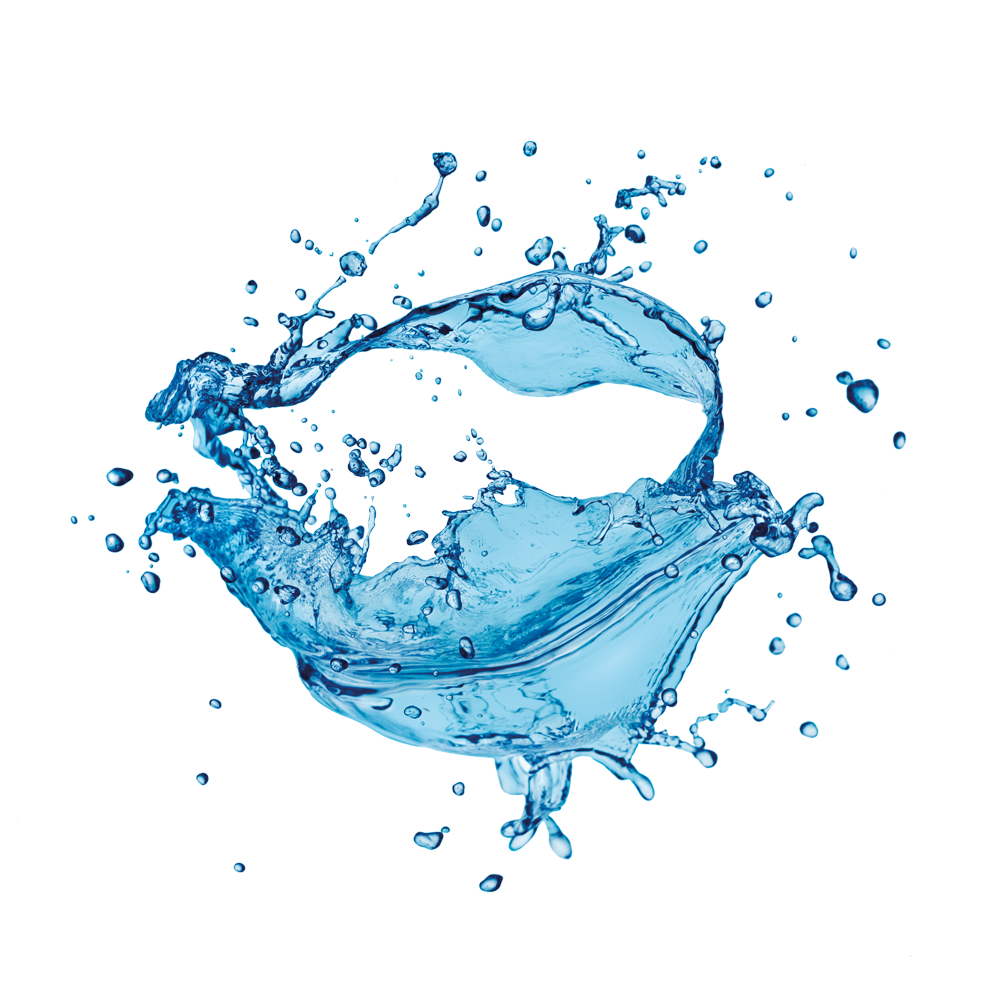 The company Kirchhoff Ecotec, from which the vehicles were purchased, has developed a reliable technology for fuel cell vehicles that is suitable for everyday use. However, for this alternative drive technology to make ecological sense, refuelling with so-called green hydrogen is indispensable. For this reason, ASF is planning to build its own production plant for green hydrogen on the site of the former Eichelbuck landfill. A combination of PV plant, electrolyser and refuelling facility is to ensure the refuelling of at least 50 municipal and commercial waste collection vehicles from 2025.
The Federal Ministry of Digital Affairs and Transport has funded the acquisition of the six hydrogen-powered waste collection vehicles as part of the National Hydrogen and Fuel Cell Technology Innovation Programme with a total of around 4.1 million euros. The funding directive is coordinated by NOW GmbH and implemented by Project Management Jülich (PtJ). Thus, the funding covers 72 per cent of the acquisition costs of around 5.7 million euros (net) for the six vehicles.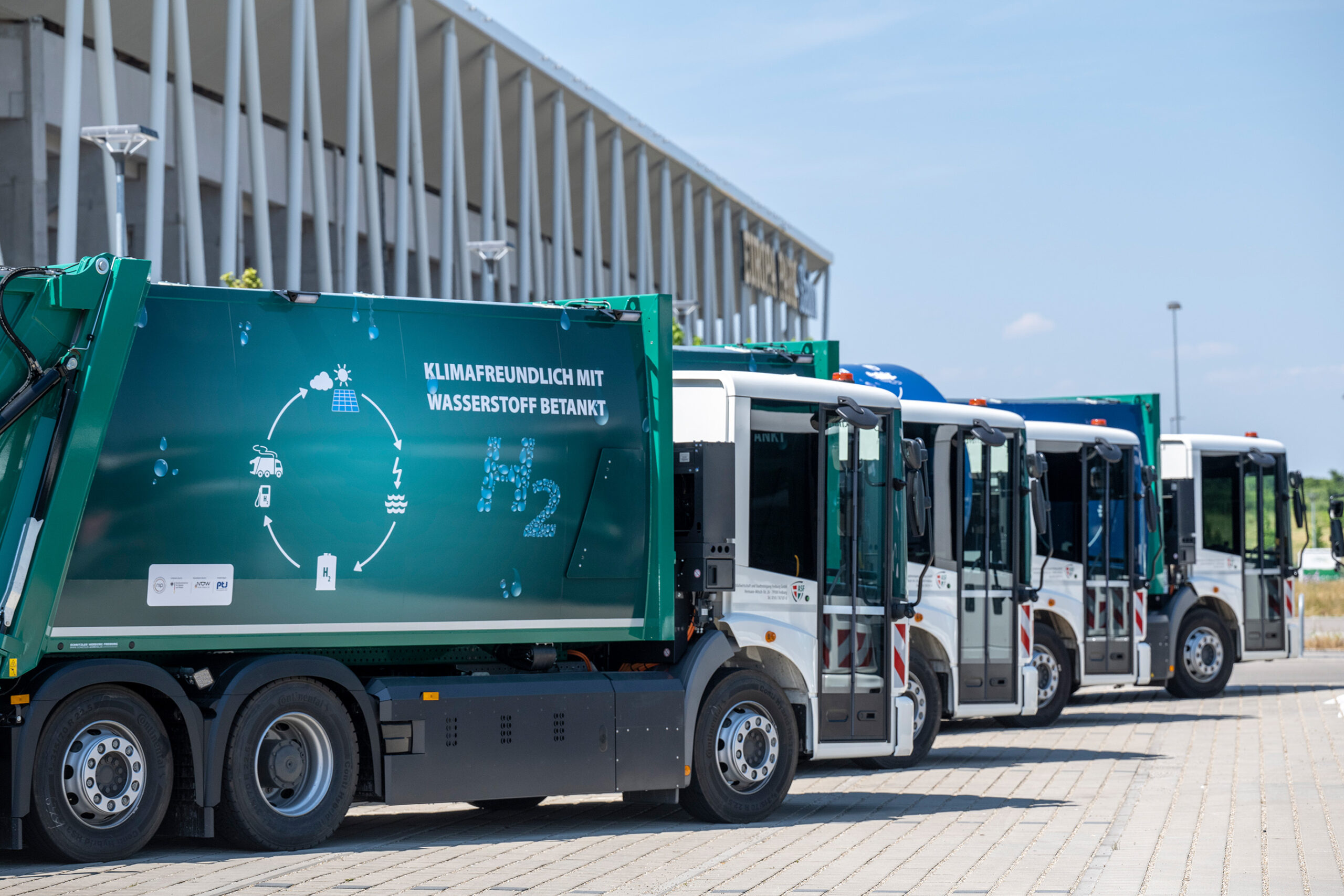 Image credits: Seeger/Stadt Freiburg