More and more municipalities are pushing climate protection measures and advocating alternative fuels. In inner-city transport, compressed biogenic gas, also called bio-CNG (Compressed Natural Gas), can help to significantly reduce CO2 emissions. This is exclusively gas of non-fossil origin that is obtained from waste and residual materials. Together with the recycling company REMONDIS, Westfalen is now planning to build a bio-CNG filling station in Coesfeld, Germany. It is expected that REMONDIS' waste collection vehicles will be able to fill up with climate-friendly bio-CNG there from next summer.
Climate-friendly waste logistics
"During the production of bio-CNG, almost the same amount of CO2 is absorbed that is emitted again during subsequent combustion. Due to this cycle, the total amount of CO2 in the atmosphere remains constant and does not increase," explains Julian Janocha, Head of Gas Mobility at Westfalen. In addition, the pollution caused by particulate matter and nitrogen oxide is also very low.
REMONDIS is also aware that the use of bio-CNG contributes to a climate-friendly future. The company will be gradually converting its fleet of vehicles in Coesfeld from diesel to the low-carbon biogas and has already been using some biogas-fuelled waste collection vehicles in the Münsterland region since 2021. "By switching to bio-CNG, we are not only offering citizens, but also commercial and industrial customers in the Coesfeld district a climate-friendly waste collection service. In addition, we are also reducing our dependence on the global fuel markets," said Peter Brunsbach, Managing Director of REMONDIS Münsterland.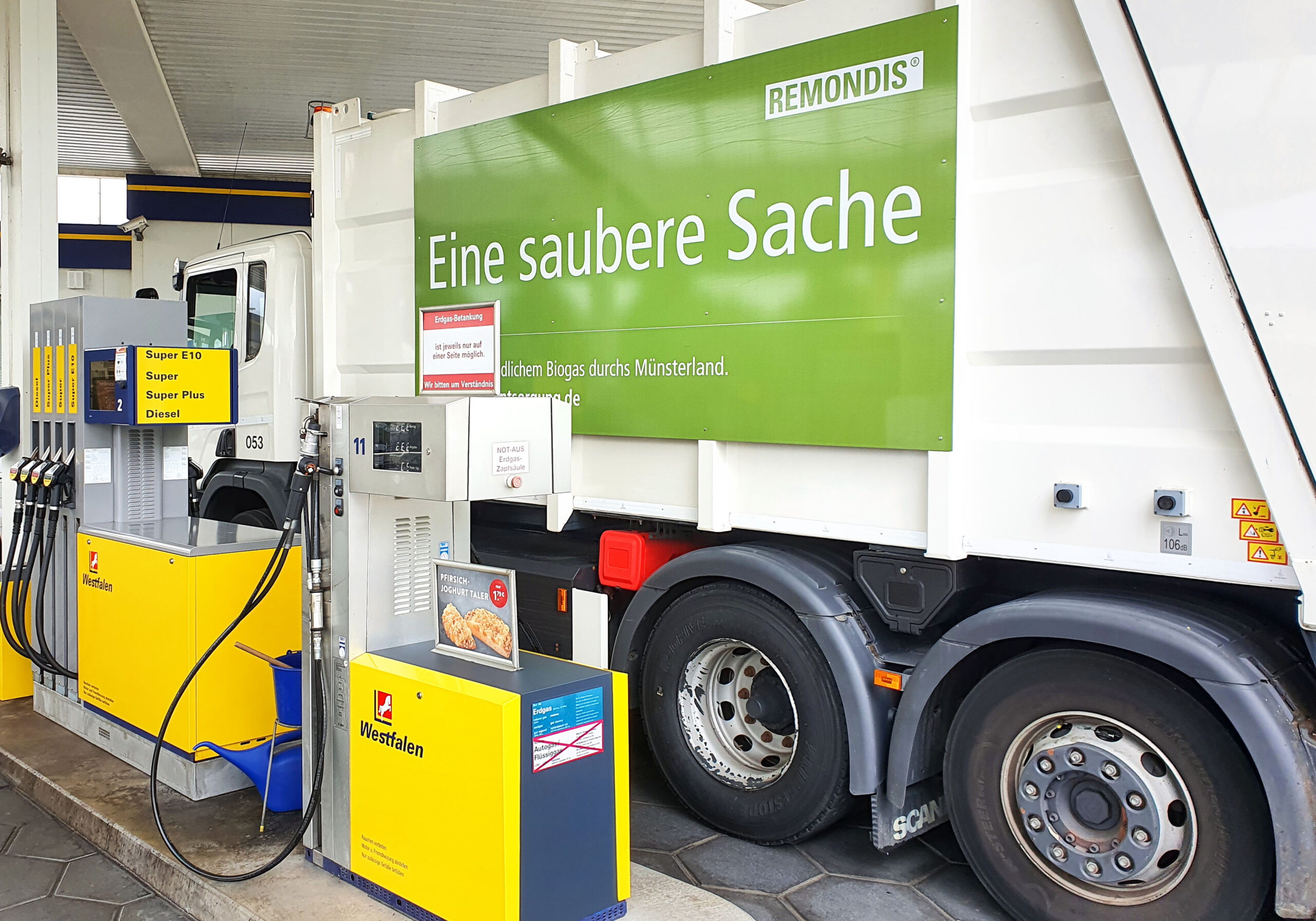 Westfalen and REMONDIS want to make waste collection climate-friendly and are planning to build a bio-CNG filling station in Coesfeld to this end
Benefits for the environment and economy
The public bio-CNG filling station to be built at Dreischkamp 38 on the EIWO Truckwash site will be open 24 hours a day and equipped with two lanes and weather protection. A service hub for trucks, trailer cooling technology and trailer technology is also to be built at the site shortly. In addition, there will also be a truck tyre service including a MOT facility, hydraulic and lifting platform service as well as a year-round truck wash hall with integrated underbody washing. Westfalen is planning a corresponding amount of biogas for the site, which is sufficient to enable the refuelling of many trucks and commercial vehicles one after the other.
Andre Stracke, Head of Mobility at Westfalen, sees advantages for all sides in this cooperation: "We are looking forward to being able to initiate a promising project in Coesfeld together with a strong partner such as REMONDIS. The main advantage of bio-CNG is that ecological and economic objectives can be combined in an excellent way: As fuel prices are not so dependent on geopolitical volatilities due to the local production of biogas, standard vehicles can be used economically. The environment and the economy thus benefit equally from bio-CNG."
Long-term cooperation, role model for other municipalities
The project is to be the starting point for a long-term cooperation between the two companies. Their common goal is to expand sustainable and climate-friendly transport and to set up bio-CNG filling stations in many other municipalities, similar to the pilot project in Coesfeld.

Image credits: image 1: © REMONDIS, image 2: © Westfalen AG