Waste and recycling management in Ukraine still has a lot of catching up to do. To date, only a small proportion is recycled, and most waste ends up unsorted in landfills. The Russian war of aggression has made waste management even more difficult in parts of the country. In the city of Korssun, for example, the amount of waste is now piling up, as the number of inhabitants continues to rise due to internally displaced persons and the additional stationing of soldiers. The two existing collection vehicles, which are prone to repairs, can hardly cope with the resulting increase in waste volumes.
On the way to a more orderly waste management, Korssun has knocked on the door of the twin town of Gifhorn and asked for support. Together with the Gifhorn branch of REMONDIS, the City found an uncomplicated solution: Korssun is to receive a TÜV-certified lorry which has been collecting paper, residual and organic waste in Gifhorn since 2010. The associated dumping equipment for bins can also be removed so that the collection of sacks – as is usual in Korssun – is also possible.
Handover of the vehicle in Gifhorn
The two mayors, Mykola Berezovy (Korssun) and Matthias Nerlich (Gifhorn), the Korssun councillor, Volodymyr Bondar, as well as REMONDIS branch manager, Kay Schwarzer, were present when the used vehicle was handed over. As well as giving the Ukrainian partners a technical briefing on the vehicle, they also exchanged views on the current challenges.
A good cooperation between the two twin cities and a sign that even in the difficult times of a war, the pressing issues such as sustainability and circular economy should not be underestimated.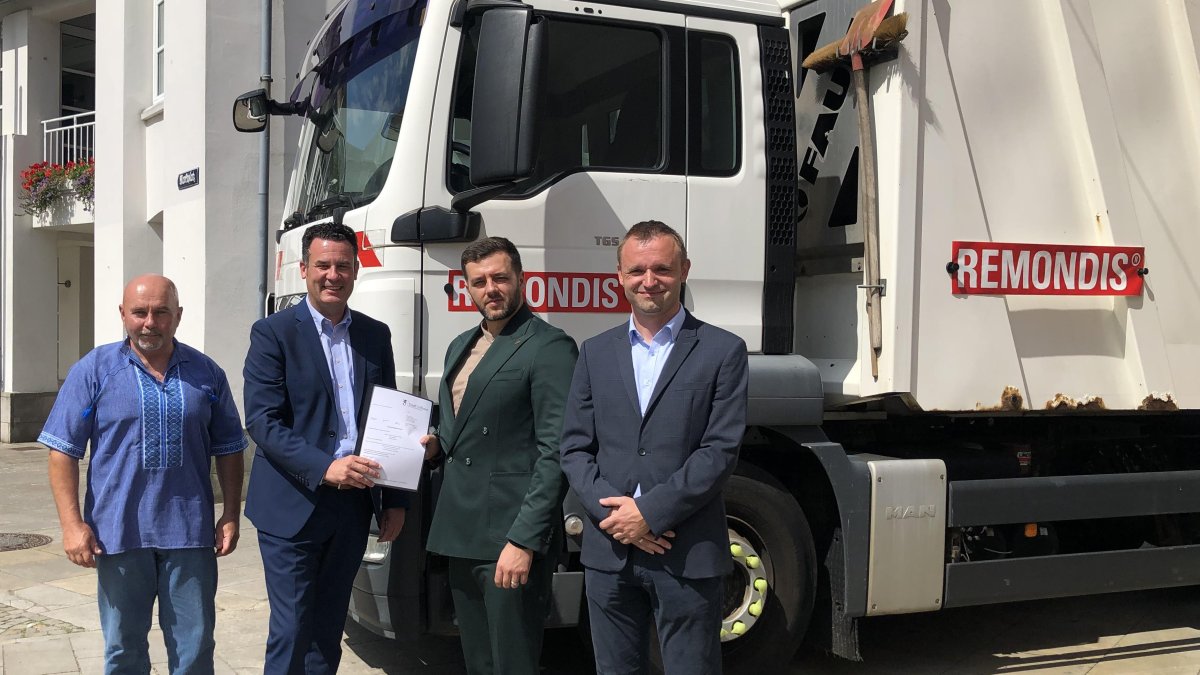 From left: REMONDIS branch manager Kay Schwarzer, Korssun's mayor Mykola Berezovyi, Gifhorn's mayor Matthias Nerlich and Korssun's councillor Volodymyr Bondar
Image credits: image 1: © REMONDIS; image 2: © Christian Franz / FMN