This is what smart city cleaning could look like: Stadtentsorgung Potsdam (STEP) wants to ensure cleaner streets in the state capital with the help of an AI-supported measuring system. On 1 June, five STEP sweepers will be upgraded accordingly. An integrated camera will then record not only the extent of the pollution but also the various types of waste that contribute to it, such as cigarette butts, broken glass or paper.
Test phase & cleaning strategies
The measuring system, which originated in Switzerland, is called CORTEXIA and is operated in Germany by REMONDIS Digital. It was already tested in Potsdam from September last year until the end of March using a small sweeper. The data collected during this test phase is currently still limited to the city's cycle paths and pavements. With the expansion to four further sweepers, a comprehensive analysis of the entire city area as well as a year-round period is now to be tackled.
The results of the data collection can be used to develop individual cleaning strategies for the different areas of the city. For example, the cleaning frequency can be increased for particularly dirty hotspots and reduced for very clean streets. With a view to the whole year, seasonal litter bins in conurbations would also be a conceivable measure to reduce littering (carelessly discarded waste).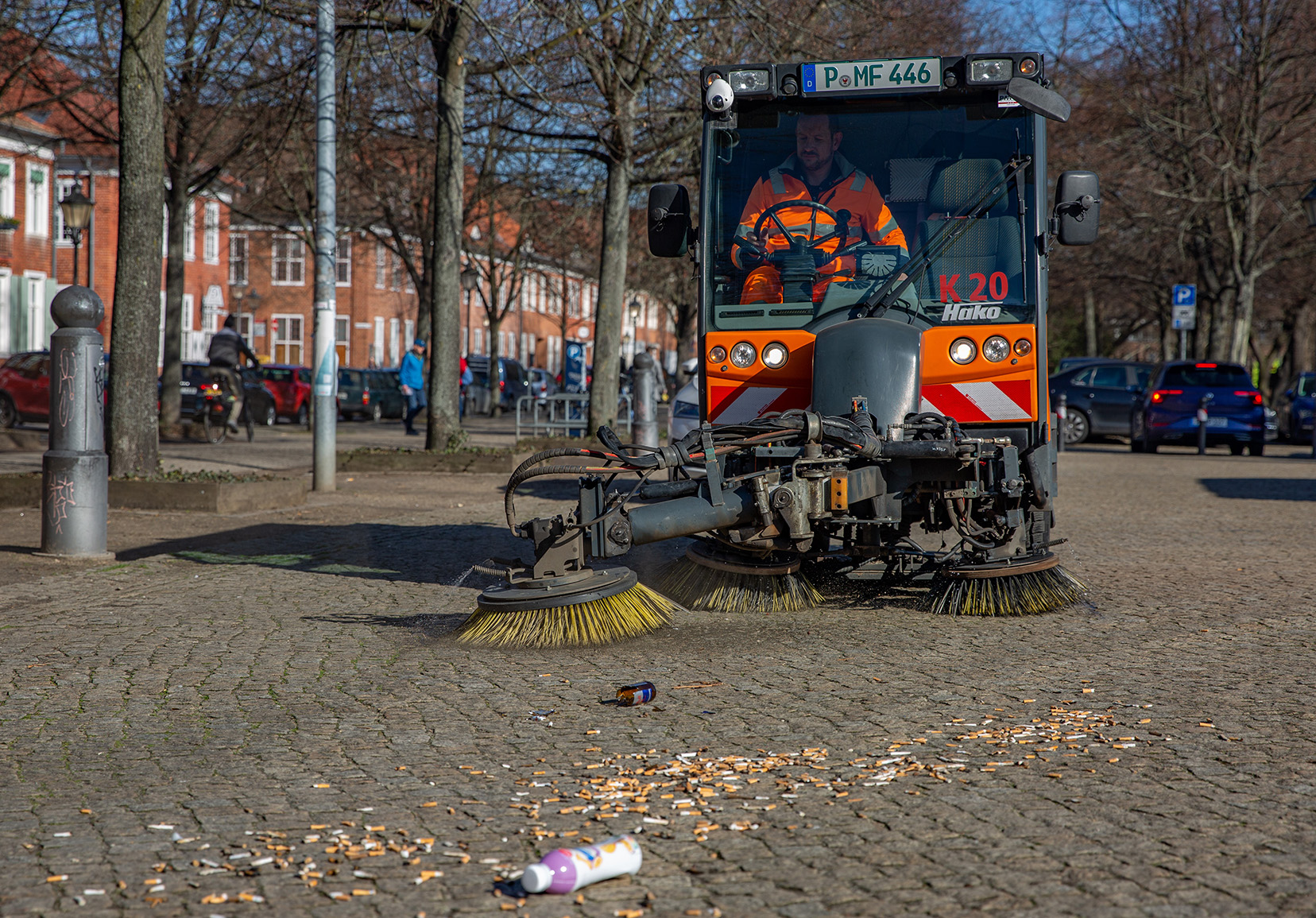 The sweeper records waste on the Bassinplatz in Potsdam
"With the new AI-supported system, we are creating a win-win situation for the municipal economy," explains Mayor Mike Schubert. "Through the on-demand street cleaning that it enables, we can use our resources in such a way that our streets are cleaner overall, while at the same time saving unnecessary effort and costs."
STEP Managing Director Florian Freitag: "If we know which streets are dirty, when and in what way, we can practically deploy the resources in street cleaning with pinpoint accuracy. The improved efficiency in turn leads to higher cleanliness while using less energy, manpower and time."
Johannes Schön, Managing Director of REMONDIS Digital: "In order to be able to clean cities and municipalities really efficiently, they need to know exactly what dirt accumulates where and when. CORTEXIA offers a unique system for this, which solves this complex task without any significant additional effort."
Image credits: image 1-2: © Stadtentsorgung Potsdam