The safety expert for a group of e-scooter rental firms
At the beginning of September, the "Shared Mobility" platform – which unites the seven firms renting out e-scooters in Cologne – asked companies to join them in recovering e-scooters from Rheinau Harbour in Cologne. REMONDIS' division RETRON were immediately on board – or rather in this case on the riverbank – to help out. Specialising in the safe handling and transport of lithium-ion batteries, this division was there as a safety expert to support the mobility providers' project. What many people are unaware of: devices containing Li-ion batteries are highly dangerous and must be handled and transported with the utmost of care – to protect both people and the environment.
Dubious likes for irresponsible behaviour
People filming themselves throwing rented e-scooters into rivers and lakes would appear to be one of the latest trends on social media. The young people uploading these films onto TikTok are obviously getting a lot of likes. This thoughtless and irresponsible behaviour is causing a number of issues for those not caught up in the trend. The companies renting out the e-scooters are particularly impacted by this latest craze and have to solve the problem of how to get these scooters out of the water as quickly as possible and in one piece. An event recently organised by the companies to recover their e-scooters took place with much media hype and involved an impressive mobile crane being set up in front of the well-known chocolate museum. But that's not all. It was also very important for the Shared Mobility organisers to have the e-scooters transported safely and recycled once they had been recovered. Which was why they had REMONDIS' RETRON division at their side to provide them with specialist staff, purpose-built tools and secure storage and transport containers.
Highly dangerous batteries
Following the stringent safety measures put in place, two safety specialists were at the harbour bank to take the e-scooters as soon as they were pulled out of the Rhine so that they could dismantle them straight away. One of them was Carsten Koch, a fire protection expert and firefighter from REMONDIS, whose main area of expertise is dealing with fires caused by lithium-ion batteries. "We separate the base or the deck – where the lithium-ion batteries are found in most e-scooters – from the handlebars," he said explaining the procedure. While the handlebars containing harmless electronic and metal components were placed in a normal e-waste box, the decks with their Li-ion batteries were carefully stored in the special RETRON containers – before being sent on for recycling.
The decks with their Li-ion batteries were stored in special RETRON containers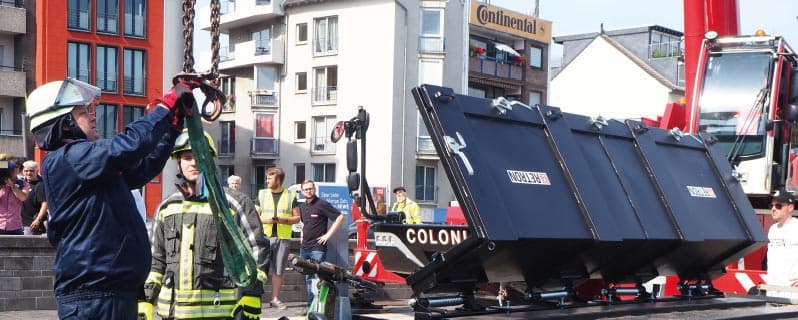 To date, a total of 61 e-scooters have been recovered. "Shared Mobility" does not intend to give up its battle against this latest indescribable TikTok trend
The dangerous nature of lithium
The RETRON containers were specifically developed as a safe system to transport potentially damaged lithium-ion batteries. "Every electronic device that contains a lithium-ion battery brings with it a high risk of self-combustion. Especially here where we can assume that the batteries have been damaged either from smashing against the bottom of the harbour basin or some other reason," explained Lukas Wiedenmann, who was on site at the event on behalf of RETRON. Batteries that are damaged or still partially charged can also catch fire here on land and, in the worst case scenario, explode. "It would be completely irresponsible to store and transport the e-scooters in open containers with no further safety measures in place, as they pose a risk to both humans and the environment," Wiedenmann continued. No one is quite sure what damage the e-scooters might cause under water. Li-ion batteries contain substances that are harmful to people's health and to the environment – and these should never be allowed to escape either on land or in the water.
Companies operating in the circular economy often find themselves having to deal with explosions and fires caused by damaged Li-ion batteries. These put their staff at risk and destroy their vehicles and facilities. In many cases, the fires are almost impossible to keep under control as there are not enough extinguishing agents on hand. Which is why RETRON developed a UN-certified, high-temperature-resistant container for storing and transporting damaged and faulty Li-ion batteries that provides ideal protection in the case of an explosion or fire. Thanks to the special insulation material, the temperature of the container's outer walls remains below 100°C even when the temperature inside reaches 1,000°C – and this for over a period of three days.
No matter, therefore, whether it involves an e-scooter recovered from the Rhine, an e-bike or an electric drill from a DIY store – many individuals, commercial traders and industrial businesses are often unaware of the danger posed by Li-ion batteries. Just like the large e-scooter batteries, small empty household batteries must also be transported to recycling plants safely when they reach the end of their useful life. One thing is true for all these batteries: they should never be carelessly thrown into the residual waste bin; on the contrary, they should always be handled, transported and processed with the greatest of care.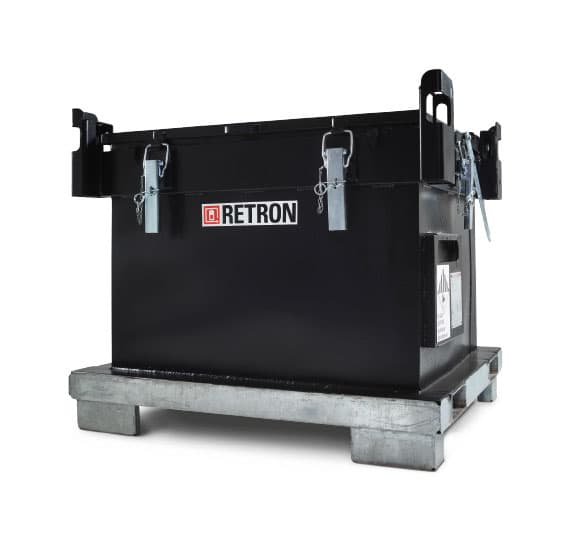 Every scooter counts – for the environment
To date, a total of 61 e-scooters have been recovered. The work performed by the two divers was not easy as they had to stand in mud up to their knees and use only their feet to search for the scooters. Even though it was difficult going, they are determined to continue doing this work in other German cities as well. It is just too uncertain what damage the e-scooters' batteries may cause under the water, they said.
Were you not aware of the danger posed by Li-ion batteries? Are you interested in finding out more about the RETRON system? Then simply go to retron.world
Image credits: image 1: © Dipl. Des. Uta Schmitz-Esser; image 2–4: © REMONDIS