Setting up a well-functioning circular economy
REMONDIS is a well-known name in Poland and has been helping the country to set up a well-functioning waste management and recycling sector since entering the Polish market in 1989 after the country changed its political course. A number of new milestones have been reached this year with the extension of the successful collaboration in the Poznań region and the acquisition of a company in the Łódź region.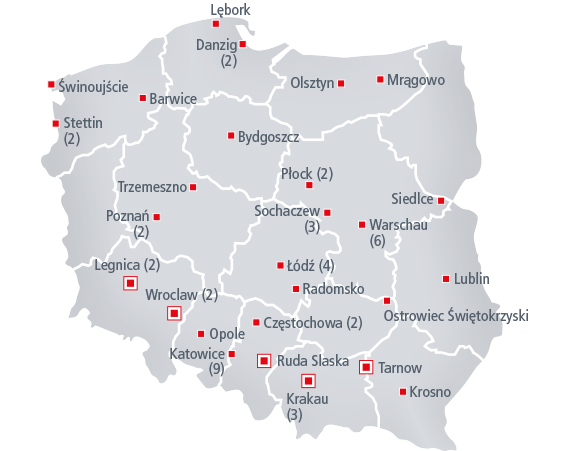 The public private partnership (PPP) between the company, the City of Poznań and eight neighbouring districts is to continue its successful work. REMONDIS has been awarded a new two-year contract that puts it in charge of five of the seven waste management districts and gives it a role in the consortium responsible for the sixth district. All in all, it will be managing residual waste from 400,000 households – a volume of around 170,000 tonnes per year. A strong relationship of trust has been built up between the waste management association GOAP and REMONDIS Sanitech Poznań over the last 28 years but this was not the only reason for them opting to work with REMONDIS. The investments that the company has made – and intends to make in the future – in state-of-the-art technology also played a crucial role. It currently operates, for example, 110 modern vehicles equipped with camera systems to ensure it can deliver a reliable service. Moreover, REMONDIS is also planning to continue to invest in safety, IT and digitisation.
In the meantime, REMONDIS has further strengthened its market position in the Łódź region by acquiring the firm, Sanator. Founded 20 years ago, Sanator focuses primarily on collecting waste in two districts north of Łódź, namely in Aleksandrów Łódzki and Głowno, which have a total of 36,000 local residents. "Our strategy has remained unchanged for years now. We wish to diversify our customer base and to offer them top quality services. Our fundamental principle here is to deploy standardised work processes – irrespective of whether we are serving a small town or the largest city in the region," commented Leszek Pieszczek, a member of REMONDIS Polska's board of directors.
REMONDIS Polska currently employs around 3,600 people. In 2019, it collected and treated over one million tonnes of waste from a whole range of different categories. In addition to this, it collected more than 680,000 tonnes of waste materials as part of logistics tender contracts. 670,000 tonnes of residual materials were treated in the company's own plants and facilities.
Image credits: image 1: © REMONDIS