Highly specialised services for onshore and offshore wind turbines
This summer, REMONDIS began serving the wind energy sector. Its newly founded company XERVON Wind offers a full range of highly specialised services that cover the whole life cycle of onshore and offshore wind turbines. Combined with the Group's portfolio, these range from installing the wind turbines, to ensuring they run safely and reliably, all the way through to dismantling and recycling them.

XERVON and its sister company BUCHEN make up the REMONDIS Group's 'services' division.
Being part of the XERVON family, XERVON Wind is also able to call on the expertise of a Group that serves a whole range of industrial and business sectors and is one of the world's leading providers of technical services. One of the reasons for the Group's success is its in-depth know-how of the different sectors – something that allows XERVON to draw up bespoke industry-specific solutions to meet their customers' exact requirements. A successful formula that XERVON Wind will also be making the most of.
Technical services for each and every need
XERVON Wind's operational business links maintenance and plant construction expertise with the specific set-up of the wind energy sector. And, by doing so, it plays a direct role in helping to increase turbine availability, enhance electricity output and extend the service life of the wind turbines. The individual services delivered by XERVON Wind cover all relevant areas. These include general servicing and maintenance work as well as repairs, engineering projects and complex specialist tasks such as replacing main components and performing retrofits to boost performance.
By collaborating with other REMONDIS Group companies, it is also able to cover additional areas – for example recycling wind turbine components that have reached the end of their service life, in particular the towers, nacelles and gearboxes. Additional options are available as well thanks to its cooperation with REMONDIS' sister company Rhenus Logistics, which delivers supplies to offshore wind farms and transports components and crews to the platforms. Over 31,100 wind turbines are currently being operated in Germany
There has already been great interest in XERVON Wind's services. The company had its first projects just a few days after it officially began operating. Its first two assignments saw it travelling to offshore wind farms with 6MW wind turbines in Germany's Exclusive Economic Zone in the North Sea, i.e. in the area of water off the German coast. Further offshore projects soon followed as did maintenance tasks for onshore wind turbines.
There are currently around 31,000 onshore and offshore wind turbines in Germany. According to the plans set out in the EEG 2021 [Renewable Energy Sources Act], Germany's wind power capacities should have increased from the current 55,000 MW to 71,000 MW by 2030 – a growth of around 30%. This will require great effort from the industry, which can now turn to XERVON Wind for sustainable support.
"Companies all around the world benefit from the REMONDIS Group's services. Delivering our expertise to the wind energy sector is a strategic addition to our portfolio that fits in perfectly with our operations and once again underlines what REMONDIS is all about: working tirelessly for a sustainable future."
Thomas Breitkopf, Board Member at REMONDIS SE & Co. KG
Helping safeguard supply security
XERVON Wind's activities are a further component in the REMONDIS Group's portfolio, which is geared towards curbing climate change and protecting natural resources. This winter has shown just how important it is to contribute towards having a sustainable supply of energy. The upsurge in economic activity around the world following the coronavirus lockdowns has led to a global shortage of raw materials – something that has also had a major impact on the energy sector. This high demand coupled with short supplies has pushed up electricity, gas and fuel prices to record levels. With this in mind, reinforcing renewable energies is not only contributing towards ensuring the energy transition and climate neutrality are a success but also towards decreasing dependency on global markets.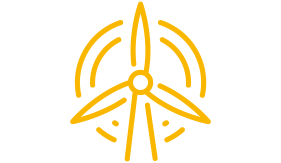 Efficient operations and the best possible electricity output: XERVON Wind focuses on the fundamentals to ensure wind energy can be successfully produced.

Image credits: image 1: Adobe Stock: sidorovstock; image 2: Adobe Stock: Fokke