Protecting the environment – growing safety
Airports play an essential role in a country's infrastructure. Passengers, however, very rarely get to see what happens behind the scenes. The system on the ground is like a well-oiled machine and all of the cogs must work together smoothly for the planes to be able to take off and land. And, of course, there are the important issues of having a reliable waste management system and environmental protection measures in place.

Major inspection every 5 years
It is inconceivable nowadays to operate an airport without a wastewater management system and separator units installed below the sealed surfaces. These systems need to be checked regularly to make sure that they are working properly and that they meet all water management requirements. The same is true, therefore, for Frankfurt-Hahn Airport, which has to have its waste management infrastructure inspected every five years. This work was put out to tender in 2020 and the contract was awarded to REMONDIS AS-CONTROL GmbH. Three of the company's certified inspectors travelled to the airport in August where they spent eight days checking 19 large-scale light liquid separators and four fat separators, all of which are located below ground.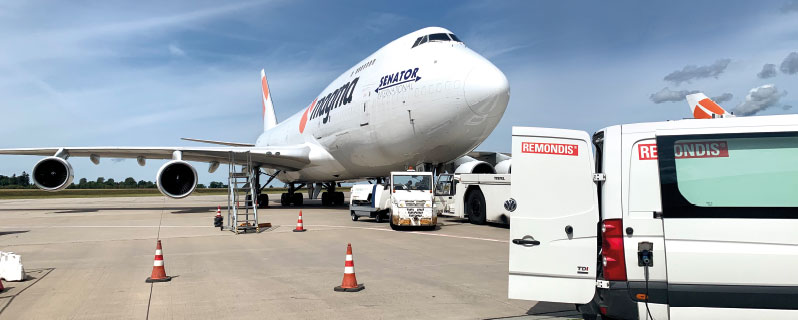 An extremely complex task. All of the containers, which together can hold up to 400,000 litres of liquid, had to be fully emptied and cleaned before the inspectors could assess their condition and carry out the necessary leak checks. "One of the more unusual challenges here was having to climb down the narrow, seven-metre-deep shafts and place the pipe stoppers in the inlets and outlets of the pipes which have a diameter of up to 60 centimetres," explained Tim Uphues, branch manager of REMONDIS AS-CONTROL GmbH.
Not quite the same as other jobs
REMONDIS AS-CONTROL's managing director Thomas Korba emphasised just how important this project has been as it is such a great reference for the company's capabilities: "We carry out such inspections around 2,500 times a year which means it is part of our everyday work. This was a particularly unusual project, though, simply because of its size. Thanks to the enthusiasm and qualifications of our employees and our excellent technology, we were able to complete the project much earlier than planned."
Built as a military air base in 1951, Frankfurt-Hahn Airport is located near Hunsrück, approx. 125 kilometres (by road) west of Frankfurt am Main. It has been used for civil aviation since 1993. Currently the sixth-largest cargo airport in Germany, it has also made a name for itself over the last twenty years as being a central hub for low-cost passenger flights.
Image credits: image 1: iStock: 156457037, creator: sharply_done; image 2: © REMONDIS