An essential element for all forms of life
Valuable and vital substances can sometimes be found in places where we might not expect to find them: sewage sludge at municipal sewage treatment plants contains large volumes of phosphorus. This element is essential for all forms of life on Earth – for example, for our bone tissue, our teeth and even our DNA. It is vital for energy metabolism in human cells. Plant growth is impossible without it. What's more, with the world's population continuously growing, the importance of phosphorus can only increase as it is a central chemical element in food production.
Europe is dependent on imports
In nature, this element is found as phosphate and around 260 million tonnes are mined every single year. Not in Europe, however, which is almost fully dependent on imports. Which is why the EU Commission added it to its list of 'critical raw materials'. Two years before this, the German government had included it in its German Resource Efficiency Programme (ProgRess) and, in 2017, it determined that phosphorus will have to be recovered from sewage sludge in the future.
Do you know how important phosphorus is for human life? It is vital. Find out why in this video
Successful participation in a Europe-wide tender
REMONDIS Aqua Stoffstrom GmbH & Co. KG has been working with local authorities and water and wastewater associations for decades now and is well-known both in Germany and Germany's neighbouring countries for its expertise in the field of sewage sludge recycling. From 2021 onwards, the company will be responsible for managing and recycling around 30,000 tonnes of sewage sludge from the sewage treatment plants located in the Rhine-Neckar District.
Cutting-edge technologies
This contract was awarded to the company after it submitted the most cost-effective bid during the district's Europe-wide tender process. "We deploy state-of-the-art technologies, innovative processes and cost-effective concepts to manage and treat sewage sludge," commented Ralf Czarnecki explaining the company's approach. "We help to conserve natural resources and ensure important raw materials can be returned to production cycles for reuse. We also believe that there is great potential here to further develop this partnership, which can be extended until 2030." "Sewage sludge contains large volumes of phosphorus. Recovering this resource from the sludge on a regional and ultimately national basis will help cover local demand for this product and reduce our dependency on imported material," said Peter Mülbaier, looking ahead into the future. He is the spokesperson for the management team at Rhein-Neckar-Phosphor-Recycling GmbH & Co. KG, the company commissioned to carry out this work. REMONDIS sees this project as a smart blueprint for future sewage sludge recycling operations.
Putting their signature to the new partnership: (from left to right) Ralf Czarnecki (Managing Director of REMONDIS Aqua Stoffstrom GmbH & Co.KG), Peter Mülbaier and Thomas Brümmer (Managing Directors of Rhein-Neckar-Phosphor-Recycling GmbH & Co. KG)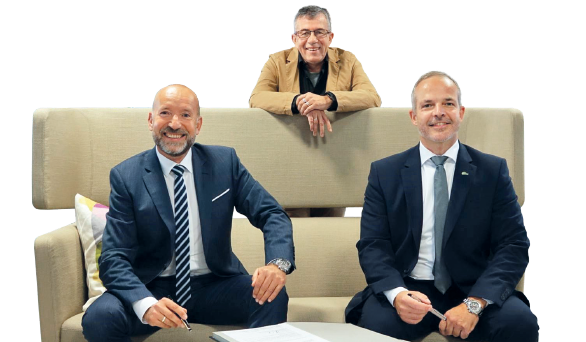 Moving towards the future with a cost-effective & resource-friendly system
Phosphorus must be recovered from municipal sewage sludge in Germany from 2029 onwards. This is where the TetraPhos® process comes into play, a system developed and patented by REMONDIS. This physical-chemical process recovers several kinds of marketable secondary raw materials – all of which are permanently available and always of the same high quality. These include the vital substance phosphorus, iron and aluminium salts, which can be used to eliminate phosphates at the sewage treatment plant, and gypsum and minerals for the building supplies industry. Moreover, producing RePacid® cuts carbon emissions by 60% compared to imported phosphoric acid – giving it a very good environmental footprint.
Background information
Natural reserves of phosphate ore can be found in just a few countries: Morocco, China, USA, Algeria, Jordan, Russia and South Africa mine this raw material. Europe is dependent on imports and is facing a growing problem: increasingly, the virgin raw material is contaminated with heavy metals and uranium, which are imported as 'by-products'.
Image credits: Image 1, 3: iStock: 182719058, creator: cunfek, image 2: © REMONDIS