Entering the market with several major contracts
This success story began with a plan and the subsequent foundation of a firm in Lünen, a town situated in the German region of Westphalia, before heading to the other end of the world. Having begun its operations in Australia, REMONDIS Aqua has now been commissioned with a number of key projects in the country. The Gladstone region, which surrounds the town of Gladstone with its 62,000 local residents, has opted, for example, to make the most of REMONDIS Aqua's international pioneering role. The Regional Council recently commissioned these water and wastewater specialists to operate and maintain two wastewater treatment plants. This is, therefore, the first water management partnership that REMONDIS has concluded with a local authority in Australia. An exciting and challenging project in a region that is home to many businesses operating in the heavy industry and transport sectors.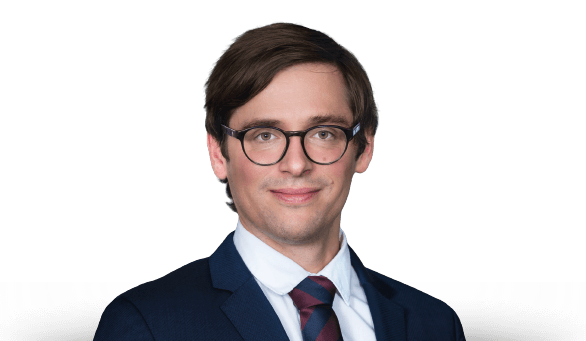 "We are global leaders when it comes to delivering efficient, innovative and high quality wastewater treatment. Our customers benefit from the fact that REMONDIS is able to deliver both water management and recycling services. We have the expertise and the resources to offer our customers exactly what they need while still putting sustainability and cost efficiency at the top of the list."
Sebastian Weil, General Manager of REMONDIS Aqua Australia, believes the Aurizon and Gladstone contracts represent an important business breakthrough
A flagship project for other towns
At the heart of this new contract are two wastewater treatment plants. While innovative technology (so-called membrane bio reactors) is being deployed, they are no longer the newest of plants. This is not a problem for REMONDIS Aqua's experts – on the contrary: they took up their work in September and are now introducing measures to consolidate both the plants' infrastructure and operating costs.
They have begun by professionally servicing both wastewater treatment plants. Their next step will then be to upgrade them over the coming years to extend their operating life and sustainably cut costs. Something that shall benefit both the town and its local residents. And, of course, the company shall continue to deliver a high quality service – helping to conserve water supplies and natural resources and protect the environment.
In addition to this, the local team of experts are in charge of a further important installation: a stand-alone water recycling facility. This unit produces recycled water for washing vehicles using a process that complies with the stringent standards set out in law. This law, for example, stipulates that all biologically hazardous solid material, that may contain invasive weeds and thus pose a threat to the region's fauna, must be completely removed. By the way, a local REMONDIS team is also responsible for ensuring this organic waste is treated safely. This team recently extended its partnership with a major commodities firm to take over all recycling management tasks at Boyne's aluminium smelting plants. Queensland – Australia's second-largest state following Western Australia – is home to around 4.7 million people and covers an area five times the size of Germany
Collaborating with the recycling sector
Aurizon, Australia's largest rail logistics firm, is also making the most of collaborations between the recycling and water business. REMONDIS has been working with the company for over ten years – handling a whole variety of residual materials and providing recycling services across the whole of the country.
Aurizon has now brought REMONDIS Aqua on board as well. The water supply and wastewater treatment specialists have been given the task of operating, servicing and maintaining Aurizon's sewage and pollution treatment plants at Toowoomba, Gladstone, Rockhampton, Mackay, Bowen and Townsville over the coming years.
Furthermore, REMONDIS Aqua is also in charge of operating Aurizon's various pumping stations, water storage facilities and oil separators in the state of Queensland as well as of continuously testing water quality at and modernising and expanding the sewage treatment plants. A story of growth at the other end of the world – and a story that certainly has more chapters to come.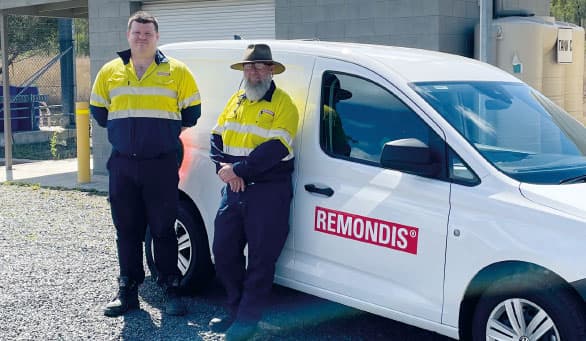 Thomas Hallam (left), who is in charge of operations and contract management at the wastewater treatment plants in Gladstone, and Daniel Lewis, who works in operations, are a strong team. They meet regularly to discuss and plan their work – such as here at the water processing plant in Aldoga.
Image credits: image 1: Adobe Stock: Michael Evans; image 2–3: © REMONDIS