It is often small steps that lead to revolutions – and, added together, they are a huge benefit for everyone. The use of sensors in the water management sector could also be labelled as a small revolution. Whether it be smart flood protection or systems to monitor sewage treatment plants. These technical aids help to make operations considerably more efficient by using the internet of things – or IoT – to link and process the data recorded by the sensors.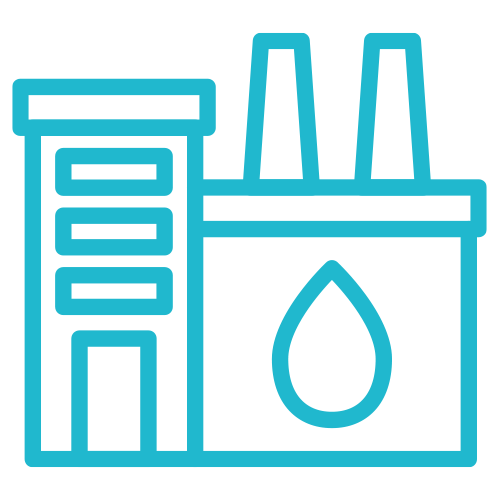 Modernising ageing wastewater treatment plants with smart sensors – using the IoT to more closely observe and better control processes
Sensors could also be said to be intuitive about the future. Deploying them to manage complex or older facilities makes it possible to better understand the performance of the facilities as well as to control them better and grow their efficiency levels.
Modernising with smart sensors – a better picture and more control with the IoT
A food-processing business in north Germany is an excellent example of just how much potential sensors have – of how they can be used within a water management system to measure, monitor and control processes. REMONDIS Aqua is responsible for operating the wastewater treatment plant owned by this firm.
With a daily flow rate of 500 cubic metres and a COD level* equivalent to that of a sewage treatment plant serving a town with around 50,000 inhabitants, this wastewater treatment plant falls into the medium-sized category. Even though it is a good 50 years old, it still meets all the latest statutory and operational requirements. The company, however, did not wish to invest large sums of money in this plant as it is planning to replace it with a new one over the medium term.
*The value given here for the chemical oxygen demand (COD) helps to evaluate the pollutants that have been added to wastewater or that have been removed from wastewater within a specific period of time.

Wastewater treatment plants with smart sensors
20 new sensors have now been installed at the plant to help measure its physical and chemical properties. This data is being used to grow the efficiency levels of the current facility as well as to gather information that will be useful for the new plant. These small, technical, multi-talented devices are linked to one another via radio networks. They record key data such as the water levels in the various stages and tanks, the flow rate, the temperature and any possible leaks inside the wastewater treatment plant as well as the oxygen levels in the aeration tanks.
All this information converges in a secured environment in the IoT where the processes can be safely and easily controlled with the help of software. The data is used to manage the treatment process as well as to pick up malfunctions.
The data is then presented on an online platform that has been adapted to the customer and its requirements: the traffic light colours – green, amber and red – show how the operations are running and where action may need to be taken. This all happens in an uncomplicated way via laptops, tablets and smartphones.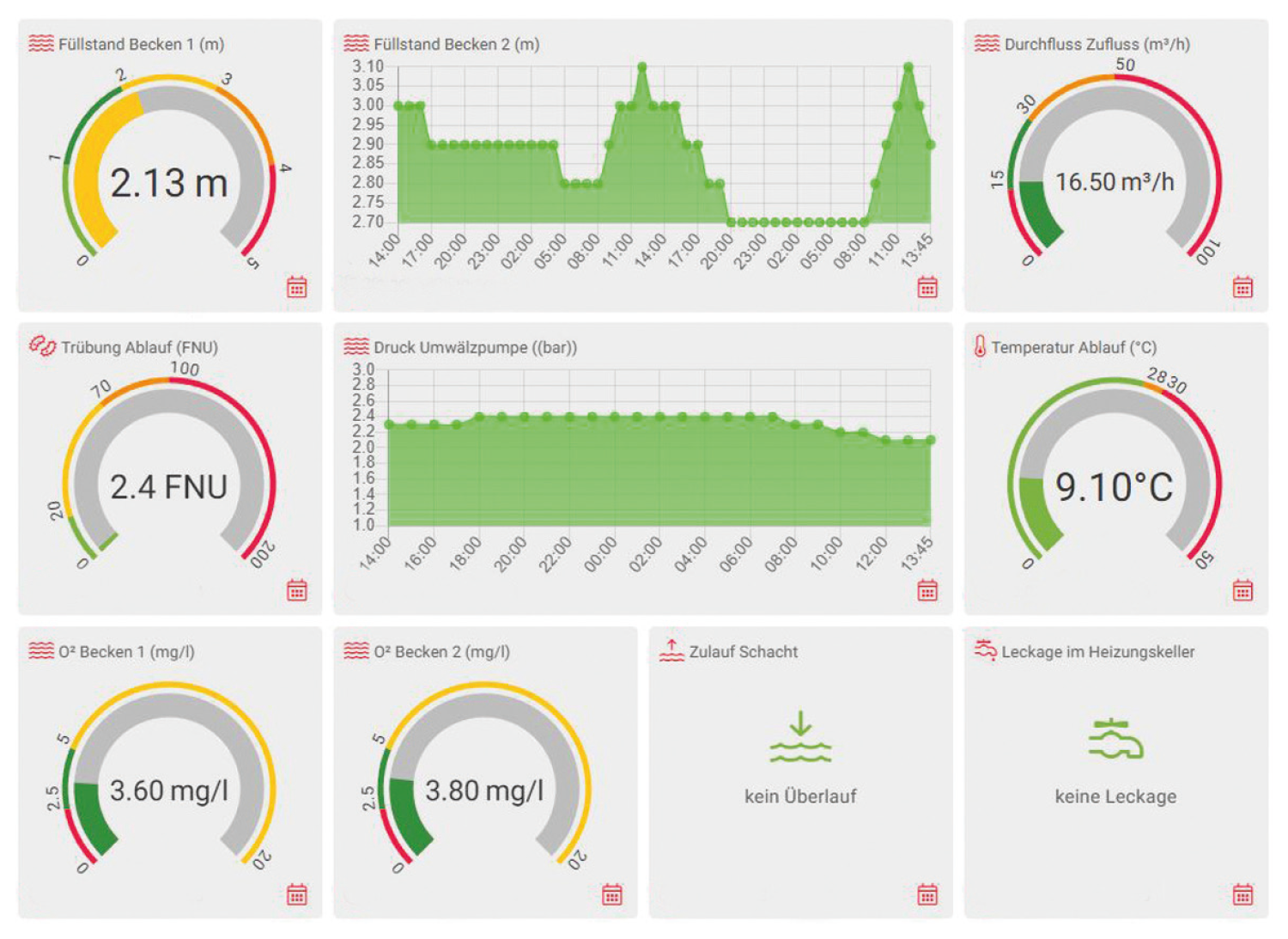 Sensors in wastewater management
Sewage treatment plants are important facilities for treating wastewater from households, commercial businesses and industry. They must be serviced and renovated at regular intervals to ensure that they can treat wastewater safely and efficiently at all times.
Sensors are technical components that measure various physical and chemical properties and then pass on this information so it can be processed. They are an important tool in the wastewater management sector for monitoring and controlling wastewater quality in sewage treatment plants.
They can measure a whole variety of parameters (such as pH values, conductivity, temperature and redox potential) and, by doing so, provide information about possible pollutants or disorders in the wastewater. Sensors can also help to improve a sewage treatment plant's energy consumption levels and operating costs by enabling it to fine-tune its aeration, sludge treatment and nutrient removal processes.
What's more, these technical aids help make wastewater treatment safer and more secure as they detect and report any damage within the plant in good time. Sensors promote, therefore, efficient and environmentally friendly wastewater treatment.
All this means that water, energy and material cycles can be monitored and controlled in a targeted manner using this inexpensive technology.
Manageable investments for old facilities
This solution was able to be installed in the plant without large numbers of cables having to be laid. An additional control unit was not necessary either which meant the new system takes up very little space. Compared to the building measures that were required in the past, this development is also a small revolution.
This was also true for the amount of time needed to set up the system. Less than a week was required to fix the IoT sensors to the existing measuring equipment, to install new sensors, to set up the platform and to program defined alarm signals in consultation with the plant manager. It will also be easy to retrofit and integrate additional sensors should they be needed as every gateway can process signals from thousands of sensors. Moreover, the recorded data is not only able to be graphically evaluated on the online platform but can also be exported and processed using other software.
This technology is an uncomplicated way to record data about water, energy and material cycles. Connecting the sensors to existing and mobile measuring devices is a simple process and reduces the workload required to record data that is indispensable for ensuring that new-build and renovation projects are cost effective.
As a result, the company's facility, which no longer met the latest standards, now has a solution that delivers everything it needs: it avoids malfunctions, enhances the water treatment performance, allows the facility to operate more efficiently and enables key data to be collected that will be relevant for the new plant. REMONDIS Aqua is convinced that there is still a great deal of as yet untapped potential in this technology to help existing plants and facilities.
Predicting and managing once-in-a-century events
From the very north of Germany to deep in the west of the country – a picturesque region famous for its rolling hills, vineyards and historical city centres and dominated by the Rhine and its tributaries.
It is by no means an idyll though. It was here, in the summer of 2021, where the Ahr and Erft rivers and many other rivers in the west of Germany broke their banks and had such a devastating effect. The floods resulting from this were so catastrophic for Germany that they are already being called a 'once-in-a-century' event.
That summer made it very clear just how much work still needs to be done to better protect towns and districts against extreme weather events. Using cutting-edge technology will play a key role here.

The number of heavy rainfall events has increased by around 20% since the middle of the 1980s.
Innovations: a reaction to heavy rainfall events caused by climate change
Sensors and the IoT are able to help against flooding as well. REMONDIS is spearheading this field in Goslar am Harz by participating in a flood protection project. This project is delivering key information about heavy rainfall and flood events.
In 2017, the city – a UNESCO World Heritage Site with its many historical half-timbered buildings – was hit by flash flooding. After several days of non-stop heavy rainfall, the rivers and streams burst their banks causing water to sweep through Goslar and many other towns and villages across the region.
As the effects of the climate emergency make themselves felt, such events can certainly still happen today. The region, however, is much better prepared. Thanks to some new technical solutions, more data can now be gathered, more time is available to warn the local communities and, in some cases, timely action can even be taken to prevent the region actually being flooded. All this helps to limit the damage.
The goal of this project is to enable the existing systems to be controlled more precisely and, by doing so, make them more resilient to heavy rainfall. More and more solutions are now being used that involve artificial intelligence.
Besides the information delivered to improve the way the systems are controlled, it is the time series recorded by the sensors that are particularly useful: they make it possible to detect changes in the way bodies of water flow – caused, for example, by long periods of drought or by soil sealing. And they are now easier to predict.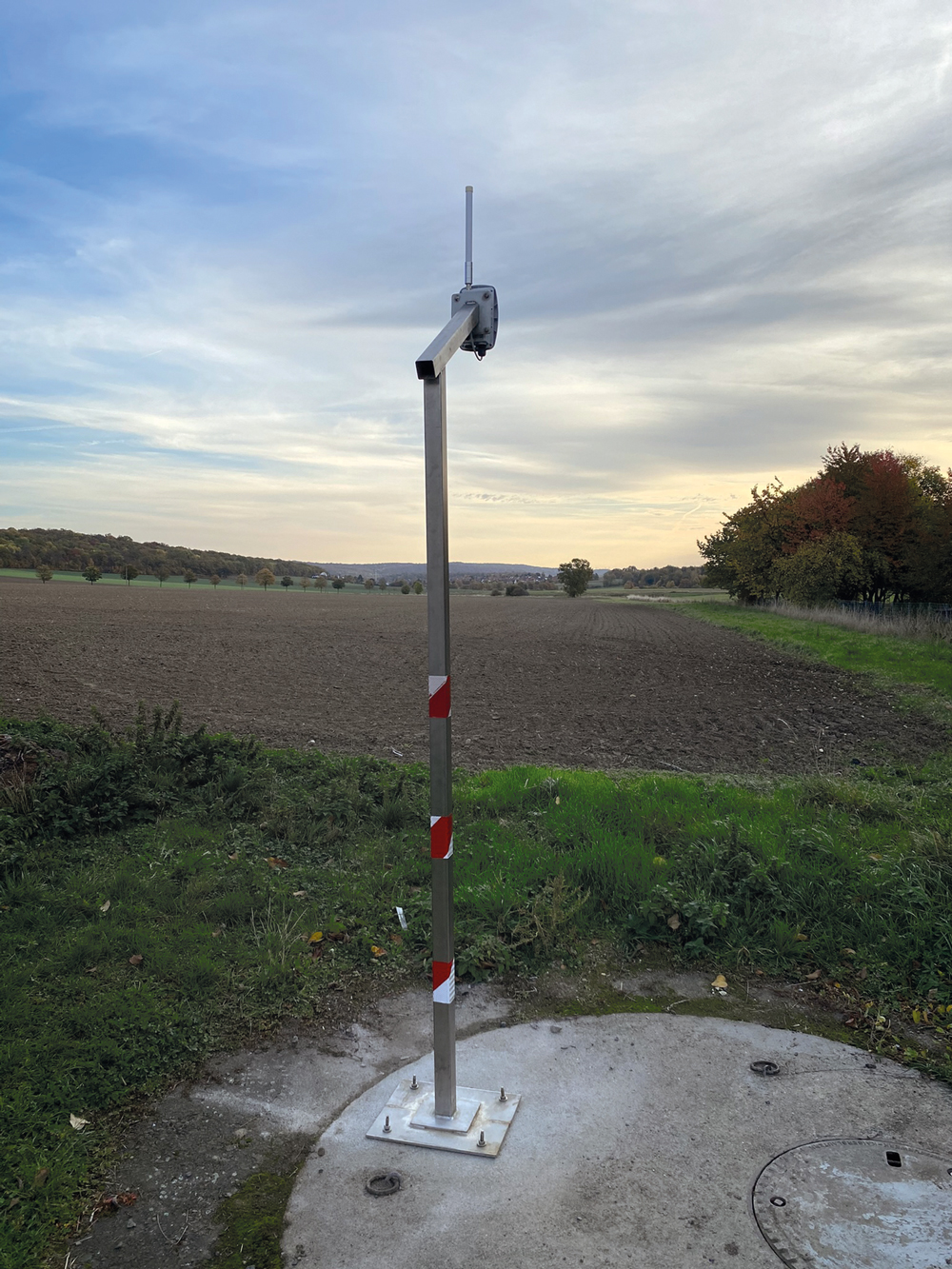 The water levels of rivers, sewers and flood-control reservoirs outside Goslar are fed into its flood management systems in real time using low power sensors

The internet of things encompasses all devices that are connected to the internet. Physical objects are depicted and connected to one another virtually. As a result, they can perform various tasks for their owner. The data situation is more transparent as the devices are able to communicate with each other, which enables better decisions to be made. The IoT is used in a whole range of areas – from the provision of general information, to simplified visualisation, all the way through to automated warning and emergency functions.
Smart flood protection thanks to sensors
The number of heavy rainfall events has increased by around 20% since the middle of the 1980s. With the weather station network in Germany being fairly dispersed, it is still not possible for rainfall to be detected early in small geographical areas. This, in turn, makes it very difficult to predict flooding. The IoT – and low power sensors in particular – help make life safer for people living in flood-prone areas: new early warning systems are being created by using data from a variety of measuring devices (such as ultrasound sensors and rain gauges) that are directly connected to the internet.
As a result, these new flood management systems can monitor the water levels of rivers, sewers and flood-control reservoirs in real time, detect critical conditions quickly and reliably and adjust the controls of the impacted water facilities accordingly. By doing so, they play a key role in helping to prevent flood damage and to initiate protective measures.
The data recorded in Goslar am Harz's complex drainage network is used to help control the town's water management system. The town can even adjust the capacity of its flood-control reservoirs for up to three days in advance when faced with extreme conditions.
Using these interconnected technical solutions will allow people to react more quickly and more efficiently to extreme weather events and, as a result, to initiate protective measures in good time.
One of the consequences of the climate emergency will be that extreme weather events such as the one in Goslar cannot be avoided. Sensors and the IoT, however, are already improving safety levels today and at relatively low cost. Looking at the positive impact they have already had on installations such as those in Goslar, this can most definitely be called a small revolution.
The IoT projects being carried out by REMONDIS Aqua are already helping to protect people against floods today and are driving forward digitisation in the water management sector.
Image credits: images 1, 3: Adobe Stock: pickup; images 2, 4: REMONDIS