Hours of heavy rainfall in the middle of the summer
Many people in Germany are still in a state of shock: a period of constant heavy rainfall this summer caused severe flooding, people lost their lives, houses were swept away. The lives of tens of thousands of local residents were turned completely upside down within just a few hours. Even the people who "only" had to deal with flooded basements still look at the skies with trepidation whenever there is persistent rain.
The low pressure system named "Alfred" led to Goslar, a city in the German state of Lower Saxony, being hit by heavy rain and flash floods in July 2017. The normally harmless River Abzucht broke its banks, flooded the old city, destroyed bridges and damaged houses and streets in the town, which is home to 40,000 people.
New early warning systems detect critical conditions quickly and reliably
The number of heavy rainfall events has increased by around 20% since the middle of the 1980s. With the weather station network in Germany being fairly dispersed, it is still not possible for rainfall to be detected early in small geographical areas. This, in turn, makes it very difficult to predict flooding.
The so-called Internet of Things (IoT) – and low power sensors in particular – could help make life safer for people living in flood-prone areas: new early warning systems can be created by using data from a variety of measuring devices (such as ultrasound sensors and rain gauges) that are directly connected to the internet. Interfaces linking the system to meteorological databases can further improve the performance of the early warning systems.
As a result, these new flood management systems can monitor the water levels of rivers, sewers and flood-control reservoirs in real time, detect critical conditions quickly and reliably and adjust the controls of the impacted water facilities accordingly. By doing so, they play a key role in helping to prevent flood damage and initiate protective measures.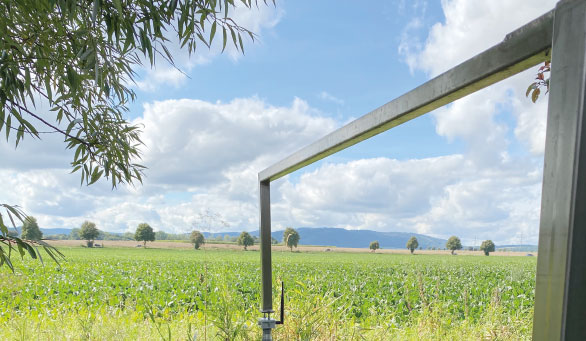 The water levels of rivers, sewers and flood-control reservoirs are fed into the flood management systems in real time using low power sensors – as is the case here outside Goslar
Energy-efficient sensors transmit data from buildings and shafts
REMONDIS Aqua also deploys this technology. Be it in the south of Lower Saxony, at Lake Constance or in the Lausitz region: rain sensors and sensors in sewers and town drainage systems gather data that is fed into an early warning system on the Internet of Things helping people to forecast potential flooding. The company's branch in Goslar, a city situated in the Harz region, also uses data recorded in the town's complex drainage network to help manage the system. The team can even optimise the capacity of the flood-control reservoirs for up to three days in advance when faced with extreme conditions. The IoT technology, though, can also benefit areas of water management that are less risk-prone – such as in the following case:
Data from the sewer conduits help the company in Lindau (Lake Constance) to detect when water has been discharged into the sewer network by third parties. This information helps prevent the system from being overloaded in the future and saves energy. What's more, the data can also be used to calculate what system capacity will be required in the future. By doing so, sewer simulation models can be precisely calibrated making it easier to plan and carry out important building work on the town's infrastructure. The decentralised pumping systems operated by Wasserverband Lausitz Betriebsführungsgesellschaft (aka WAL-Betrieb) are also connected to the internet. As a result, the company's staff do not need to travel long distances to inspect the pumps in person so often – and fewer trips mean fewer emissions helping to protect the environment and curb climate change. REMONDIS Aqua's IoT projects help to protect people against floods and drive forward digitisation in the water management sector.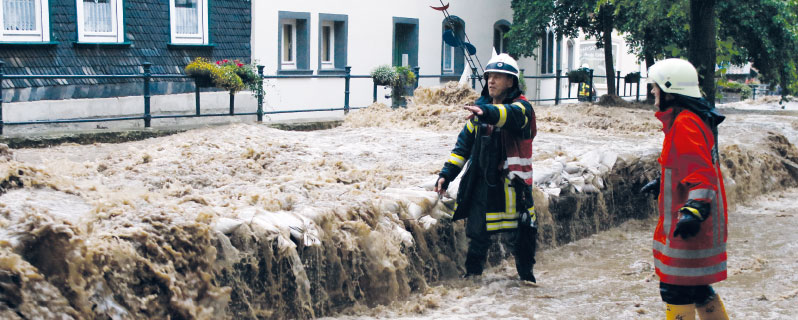 How IoT technology benefits water management:
Processes are more efficient because the plants, facilities and pipes can be monitored constantly and the data generated analysed
The interconnected logistics allows transport routes to be planned in detail helping to conserve natural resources
The sensors and their data make water and wastewater infrastructure more transparent, allow leaks, pump outages, electrical short circuits and supply bottlenecks to be detected much earlier and even for them to be predicted in advance
The sensors, which can be installed in a whole variety of locations, transmit their environmental data using, for example, LoRaWAN radio technology. This has a large operating range, transmits from buildings and shafts and is energy efficient, good value and secure thanks to end-to-end encryption
The Internet of Things encompasses all devices that are connected to the internet. Physical objects are depicted and connected to one another virtually. As a result, they can perform various tasks for their owner. The data situation is more transparent as the devices are able to communicate with each other, which enables better decisions to be made. The IoT is used in a whole range of areas – from the provision of general information, to simplified visualisation, all the way through to automated warning and emergency functions.
Image credits: image 1: Adobe Stock: konstruktor1980; image 2–3: © REMONDIS; image 4: Adobe Stock: konstruktor1980