Examples from two German states
Keeping customers, staff and suppliers safe has been right at the top of REMONDIS' priorities throughout the Coronavirus pandemic. As long as employees have the information they need, watch out for each other and are mindful of social distancing and hygiene rules, then key services can continue to be provided uninterrupted. Two examples from Brandenburg and Mecklenburg-Vorpommern demonstrate how it is possible to deliver essential services and keep everyone safe during such difficult times.
Textbook crisis management
The staff working at EURAWASSER Nord GmbH in the German state of Mecklenburg-Vorpommern reacted very quickly to the Coronavirus pandemic. Its team had already adapted its business processes and entered into crisis mode by the beginning of March. The company's Covid task force has been constantly analysing and evaluating the situation since then – making sure that drinking water has been supplied and wastewater treated throughout this period. This is, of course, simply not possible without a healthy workforce. Every day, EURAWASSER's employees work on delivering services involving the world's most valuable resource: water. Straight away, the company restricted the number of people able to enter its offices and plants, introduced minimum distances between staff workstations, staggered the working times and increased the number of people working from home. Collaborating with others in the REMONDIS Group, Andreas Russ, technical managing director at EURAWASSER Nord GmbH, and his team were able to get hold of the supplies needed to implement the 'hands-face-space' rule as well as additional PPE for the technicians operating in the field.
Digitisation certainly helps
Having work processes digitised has also been very useful. "At the moment, much of my work is carried out by phone or email. Every day, I check out the latest developments and government guidelines so that I can organise customer appointments and building measures and ensure everything continues to run smoothly. The way we procure materials has also changed," said Ronny Genschow, talking about his daily work, which involves planning and preparing the installation of domestic water supply and sewer connections. Andrea Wagenknecht, who plans the household connections with her customers, also believes much progress has been made: "I can now work no matter where I am. The way I plan my appointments and carry out my tasks is really effective. It's no problem for me to work remotely and support the customers in my area."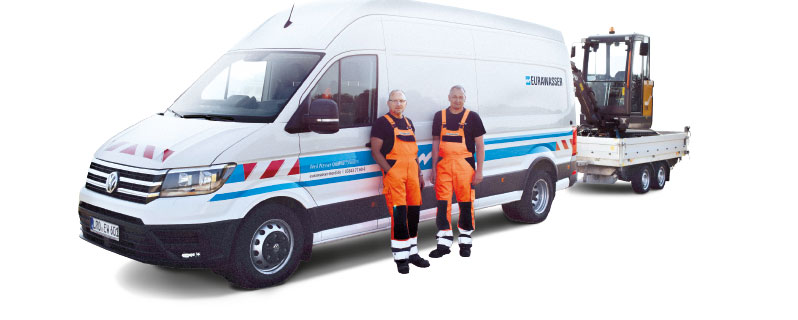 Not everyone is able to work from home. Andreas Kamke and Andreas Wacker are part of the team that has continued to extend and repair the sewer network in and around Bützow
A big 'Thank You' to everyone
The pandemic has been a challenge for each and every employee. The digital processes may well have made their work easier but the tension can still be felt in many places. Especially when it has to do with such an important task as delivering an essential service. Which is why LWG Lausitzer Wasser GmbH & Co. KG decided to give their staff gift tokens for Cottbus shops this year to thank them for all they have done. "Our employees have worked so hard over the last weeks and months to make sure that drinking water supply and wastewater treatment were never put at risk despite the extraordinary situation brought about by the Coronavirus pandemic," explained Marten Eger, technical managing director at LWG. This crisis has caused quite a bit of inconvenience for the workforce with them having to travel separately to work sites, work in separate teams and take on unusual shifts.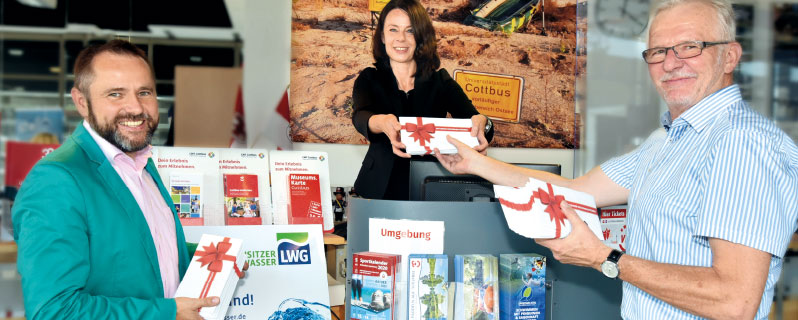 LWG managing directors, Marten Eger (left) and Jens Meier-Klodt, collecting the gift tokens for their staff from Congress, Messe und Technik GmbH, a City of Cottbus business that offers services to tourists. Its managing director, Daniela Kerzel, thought it was "a great idea!"
LWG Lausitzer Wasser GmbH & Co. KG, a public private partnership between the City of Cottbus and REMONDIS Aqua, is one of the largest and most well-known water management businesses in Brandenburg.
By giving their staff gift tokens from local shops, LWG has also succeeded in making a virtue out of necessity – as they are supporting local retailers who have also been badly impacted by the pandemic. "All in all, we've got off lightly so far and presenting these gift tokens is our way of saying a big 'Thank You' to everyone," concluded Jens Meier-Klodt, commercial managing director at LWG.
130,000 people living in and around Cottbus are supplied with drinking water by LWG.
Operating all plants and facilities on behalf of the Wasserversorgungs- und Abwasserzweckverband Güstrow-Bützow-Sternberg (WAZ) water association, EURAWASSER Nord GmbH (a fully owned REMONDIS Aqua subsidiary) is responsible for securing water supply and wastewater treatment across the water association's rural catchment area. This catchment area is the largest in Mecklenburg-Vorpommern in terms of surface area and is home to approx. 50,000 people.
Image credits: image 1: © EURAWASSER; image 2: © REMONDIS