Tackling the challenges together
Self-driving shuttle buses, artificial intelligence and low-energy homes are just a few examples of the many innovations we can expect to see in the future. These will not only open up a whole range of far-reaching possibilities, they will also create some major challenges. Large cities and small towns alike will have to make changes to their infrastructure – starting with making the necessary legislation amendments all the way through to finding cost-effective ways to implement them. The worlds of business and politics will have to work together if these challenges are to be mastered in a sensible way.

Top-class speakers
The 14th REMONDIS Forum, which was held in the City of Schwerin for the second time on 26 September, created a perfect platform for politicians, business leaders and scientists to discuss this issue. The keynote speakers – such as TV journalist and physicist Kristina zur Mühlen, CEO of Microsoft ScaleUp Iskender Dirik and the futurologist Kai Arne Gondlach – shone a light on the current and future challenges faced by society as well as on some exciting innovations.
Transdev's self-driving shuttle bus is an excellent example illustrating innovation. Transdev's employees answered all the questions that the REMONDIS Forum guests had about self-driving technology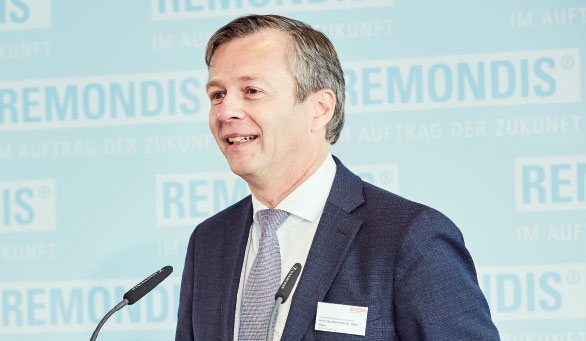 Undersecretary Dr Heiko Geue welcomed the guests to the Schwerin Chamber of Commerce in the morning
Benedikt Winkelmann, managing director of Walter Tecyard, spoke about the promising innovations that are already available to us and how these could be implemented cost effectively and without too much effort. For example a reliable sensor solution by setting up a LoRaWan radio network. In the morning, Undersecretary Dr Heiko Geue welcomed the guests to the Schwerin Chamber of Commerce and, in the evening, the Mayor of Schwerin, Dr Rico Badenschier, greeted the approx. 250 guests at a networking event held in the Orangery at Schwerin Castle. This proved to be an excellent opportunity for everyone to continue discussing the topics looked at during the day.
A town with ties to REMONDIS
Schwerin is home to Wasserversorgungs- und Abwasserentsorgungsgesellschaft WAG, a company that has been successfully running a public private partnership with REMONDIS since 2003. The city – the capital of the German state of Mecklenburg-Vorpommern – has held a number of events this year to celebrate 20 years of stable drinking water supplies, which included the Mühlenscharrn waterworks opening its doors to the public. A very good reason, therefore, for the REMONDIS Forum to be held in Schwerin as well. WAG and REMONDIS Aqua provide a number of vital services including supplying drinking water and treating wastewater.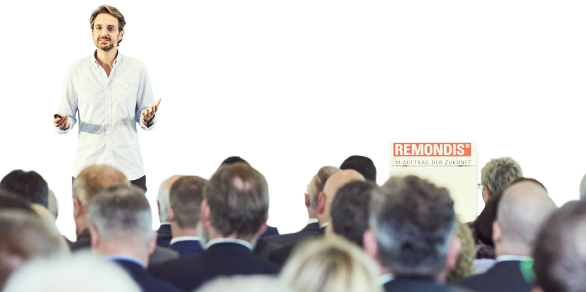 Iskender Dirik, CEO of Microsoft ScaleUp, took the guests on a journey into the future – under the motto "How Artificial Intelligence Will Change Our Everyday Life"
Image credits: image 1: Adobe Stock, 190863203, creator: tostphoto, image 1–4: © REMONDIS