As part of her Circular Economy Tour, Mona Neubaur, Minister for Economic Affairs, Industry, Climate Action and Energy of the State of North Rhine-Westphalia, is currently visiting pioneering projects for more circular economy. One of her stops was the "Circular Island" in Duisburg, where she visited TSR Recycling GmbH & Co. KG. Bernd Fleschenberg, COO TSR Recycling, Christian Blackert, Regional Manager TSR Recycling, and Roswitha Becker, Press Officer of the project partner thyssenkrupp Steel Europe, presented the REDERS joint project, which lays the foundation for the new processing plant at the TSR site in Duisburg.
The innovative technology that will be used at this new facility was developed as part of the REDERS research project, which aims to both further intensify iron and steel recycling as well as to reduce CO2 emissions caused by steel production (REDERS is a German acronym for 'reducing CO2 emissions by increasing the rate of recycled materials in steel production'). This new recycling system will play an important role as the steel industry transitions towards climate-neutral production processes.
The groundbreaking ceremony took place in April, and the state-of-the-art plant is scheduled to go into operation as early as the end of the year, producing the new recycling product TSR40 on an industrial scale. Used again in steel production, TSR40 significantly reduces CO2 emissions, saves a considerable amount of energy and thus makes an important contribution on the way to climate-neutral steel production and a living circular economy.
Visit to the construction site
During the tour of the construction site, the participants discussed the current challenges on the way to a consistently implemented circular economy and the role of the recycling sector as a supplier of high-quality recycling raw materials for industry – especially in times of fragile supply chains.
Mona Neubaur also had an intensive exchange with the employees on the site who will be responsible for the plant in the future and emphasised how significant the work of each individual is as a contribution to circular economy.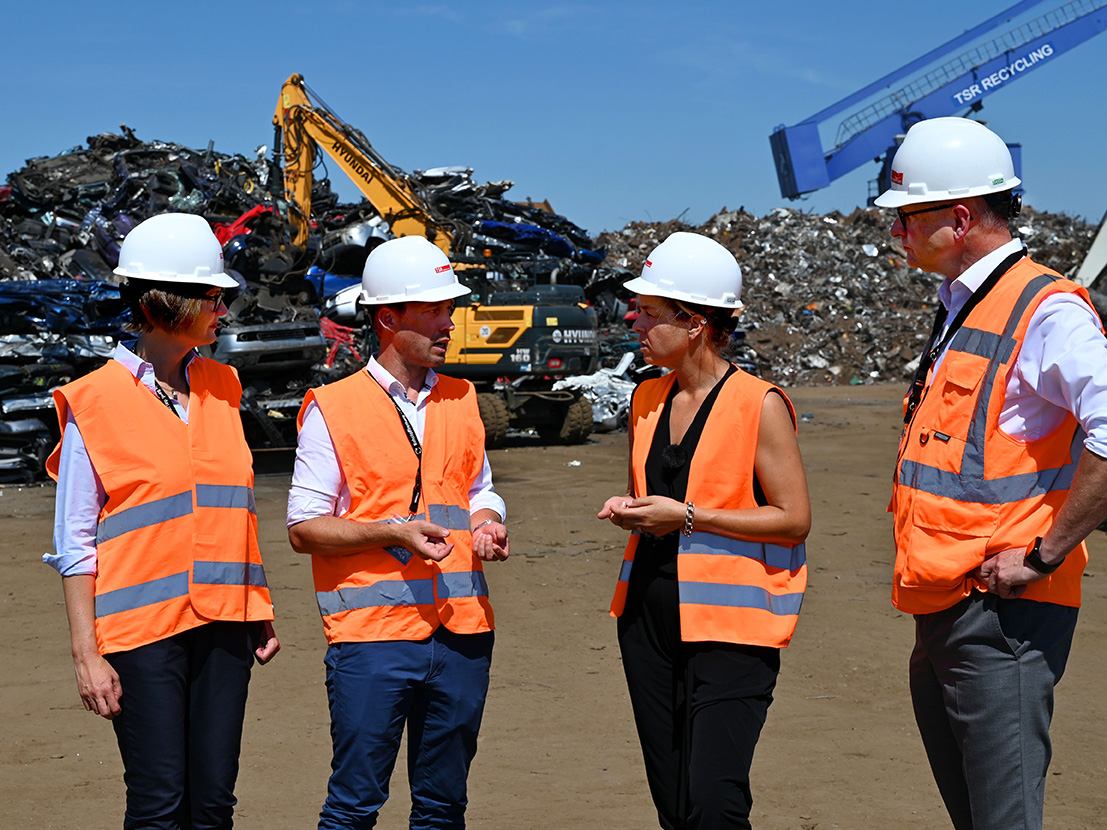 From left: Roswitha Becker, Christian Blackert, Mona Neubaur and Bernd Fleschenberg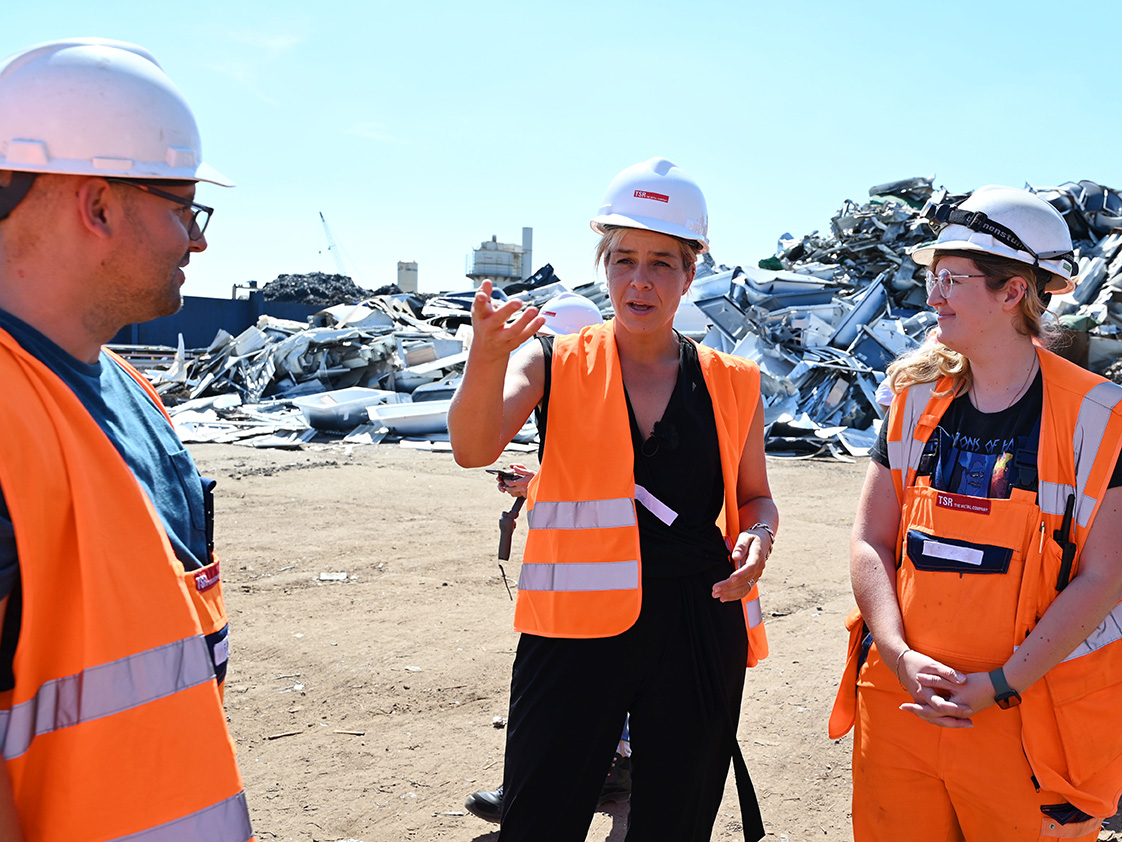 Mona Neubaur talking to the employees who will be responsible for the new plant
"Much of what ends up as unused waste today can be reprocessed into valuable raw materials with little effort. And these are precisely the raw materials of the future. Our understanding of waste must therefore change fundamentally: They are potential recycling raw materials. North Rhine-Westphalia's industry, with its dense cross-sectoral networking, has particularly great potential here for new value creation, greater competitiveness and more climate protection. These opportunities must be seized."
Mona Neubaur, Minister for Economic Affairs, Industry, Climate Action and Energy of the State of North Rhine-Westphalia