The battery is one of the most expensive individual components in modern electric vehicles (EVs). For the most part, these batteries are very reliable and last for a good number of years, allowing drivers to use their vehicles for many kilometres. At some stage though – at the very latest when the vehicle has to be scrapped – the question needs to be asked: what should be done with the battery? Handling these devices is a considerable challenge as lithium-ion batteries can cause fires if they are damaged or no longer work efficiently. Having said that though, they contain valuable raw materials which need to be recovered when the batteries reach the end of their useful life so that they can be recycled and reused.
And so, while using green fuels is certainly good for the climate, the EV boom is creating a new challenge: finding the best way to handle the lithium-ion batteries. Chiresa AG has been focusing on this subject for a long while now. Being part of the integrated waste management sector, this Swiss firm is always looking to develop eco-friendly and economically viable ways to recycle hazardous waste.

Alternative fuels in Switzerland
Alternative fuels are becoming ever more popular in Switzerland. The latest figures published by auto-schweiz (association of official automobile importers) confirm this trend: around 54% of the new cars bought in Switzerland during the first quarter of 2023 were equipped with engines run on alternative fuels. With 10,250 new EVs registered during this period, these vehicles now have a market share of 17.4% and make up more than one-sixth of the market. According to auto-schweiz, this was the very first time that the number of new EVs exceeded the 10,000 mark so early on in the year.
Storage, transport and recycling from one and the same company
Chiresa has many years' experience of recycling waste from garages. A part of REMONDIS Schweiz AG since 2022, it now has access to the extensive know-how of the many companies within the REMONDIS Group. This wealth of experience has enabled the company to develop a comprehensive solution for storing, transporting and recycling EV batteries – a solution that is available locally in Switzerland and that has been adapted to meet the exact requirements of the Swiss automobile industry.
The first step is to collect both damaged and undamaged batteries from the customers. Chiresa uses the container system offered by RETRON GmbH to do this work. Made of hot-dipped galvanised steel and lined with fire-resistant material, the RETRON containers prevent a potential battery fire from spreading. Even if the temperature inside the container reaches 1,000°C, the outer walls remain below 100°C for up to three days. This ensures that maximum levels of safety are guaranteed while the batteries are being transported to the recycling facilities.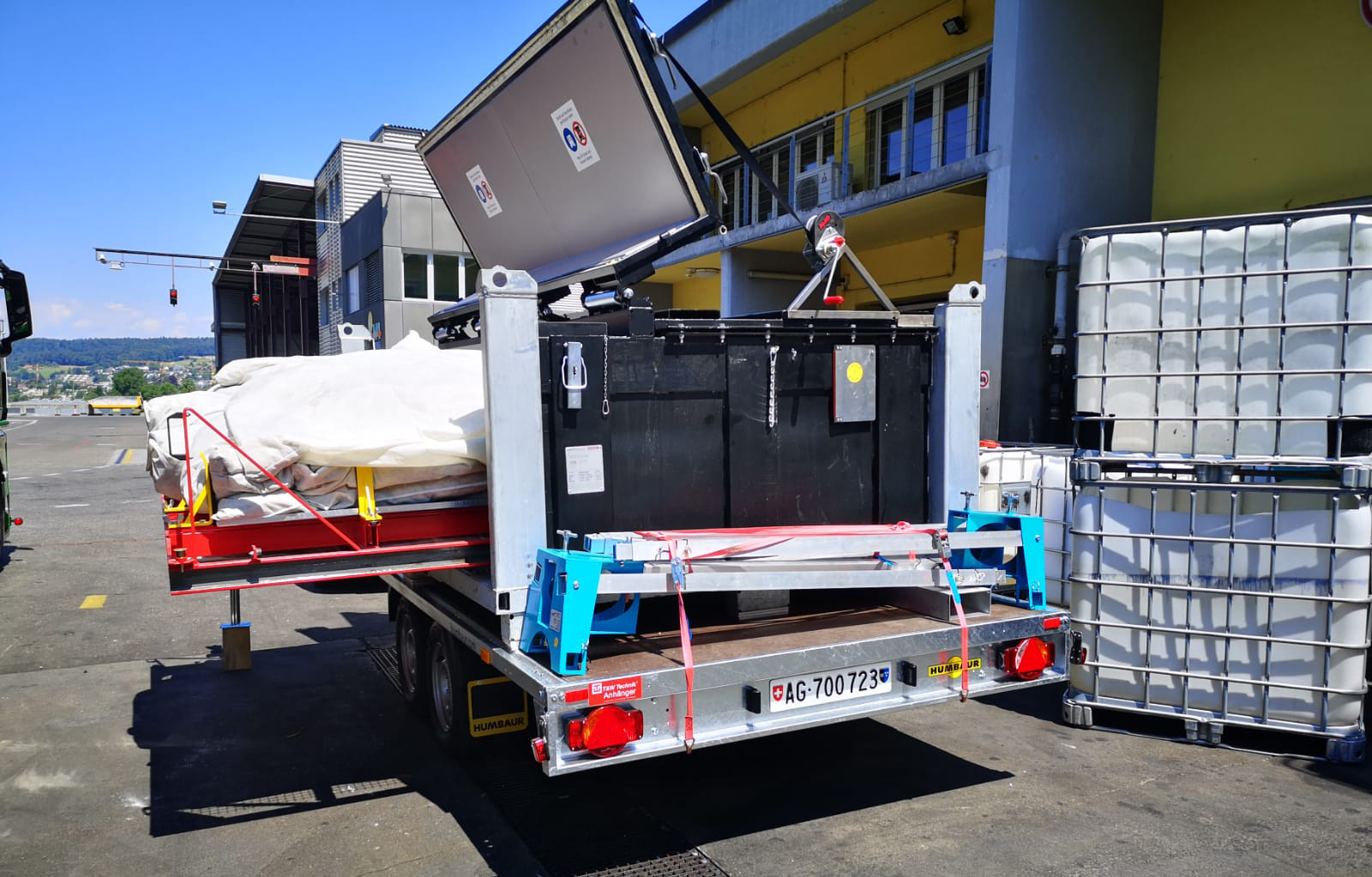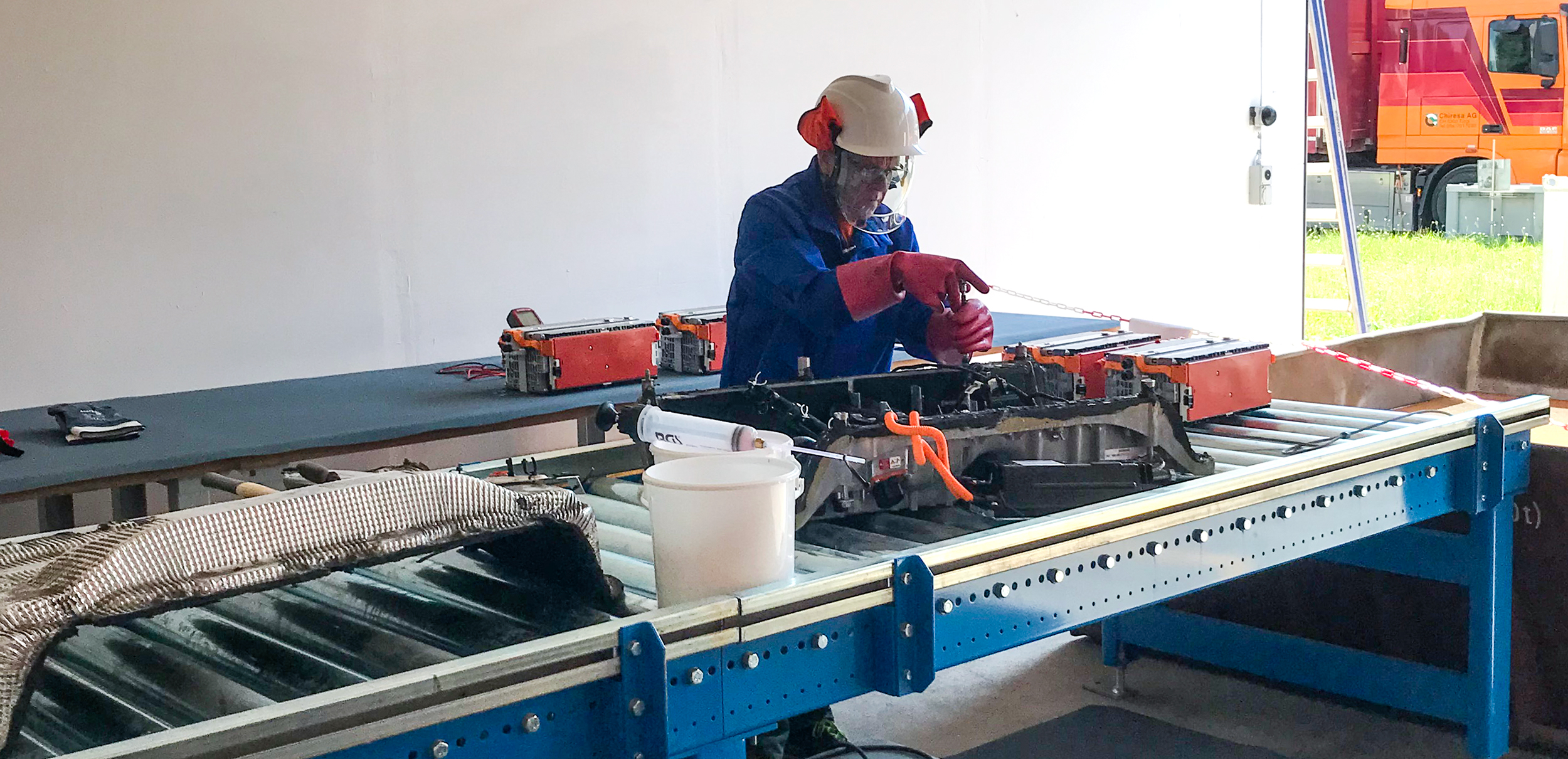 Capacity is key
Having developed, designed and built their own battery dismantling line, Chiresa began dismantling and discharging batteries in June 2023. One important step here is to ascertain the batteries' residual capacity and so the battery modules are first removed individually and analysed.
The housing is first opened up so that the individual components can be extracted. The cables are then taken out, followed by the cooling system and the high voltage module and finally the battery module. Using a variety of electrical testing methods, the company is able to establish which of the modules can continue to be used. Once all the modules have been removed and tested, the cooling system, peripheral devices and cables are taken away and sorted.
If a battery module has a capacity of over 80%, then it can be sent to one of Chiresa's partners where it can continue to be used. This is known as giving batteries a 'second life'. Just because batteries can no longer be used in EVs because their capacity has dropped below a certain level doesn't necessarily mean that they are "empty". In many cases, they have plenty of capacity even if it's not enough for an EV.
And so what happens if the capacity is less than 80%? In such cases the batteries are deep discharged, stored safely and then sent on to partner businesses for recycling. The energy recovered during the deep discharge is fed into Chiresa's electricity network.
The raw materials from the battery housing (such as steel, aluminium and plastic) can also be sent on for recycling. This work is carried out by Chiresa's partners at home and abroad. The individual recyclable materials from the cell module (Ko, Li, Mg, graphite, electrolyte etc) are reused by industrial businesses. As a result, Chiresa's operations enable valuable raw materials to be recovered and returned to market for reuse.
As this dismantling work is carried out in a highly sensitive environment, it is only performed by specially trained staff. Insulated tools and protected working stations prevent the risk of them getting an electric shock. What's more, the batteries are checked before the dismantling work begins to see if they are damaged or punctured to reduce the risks right from the start.
And this is how it works: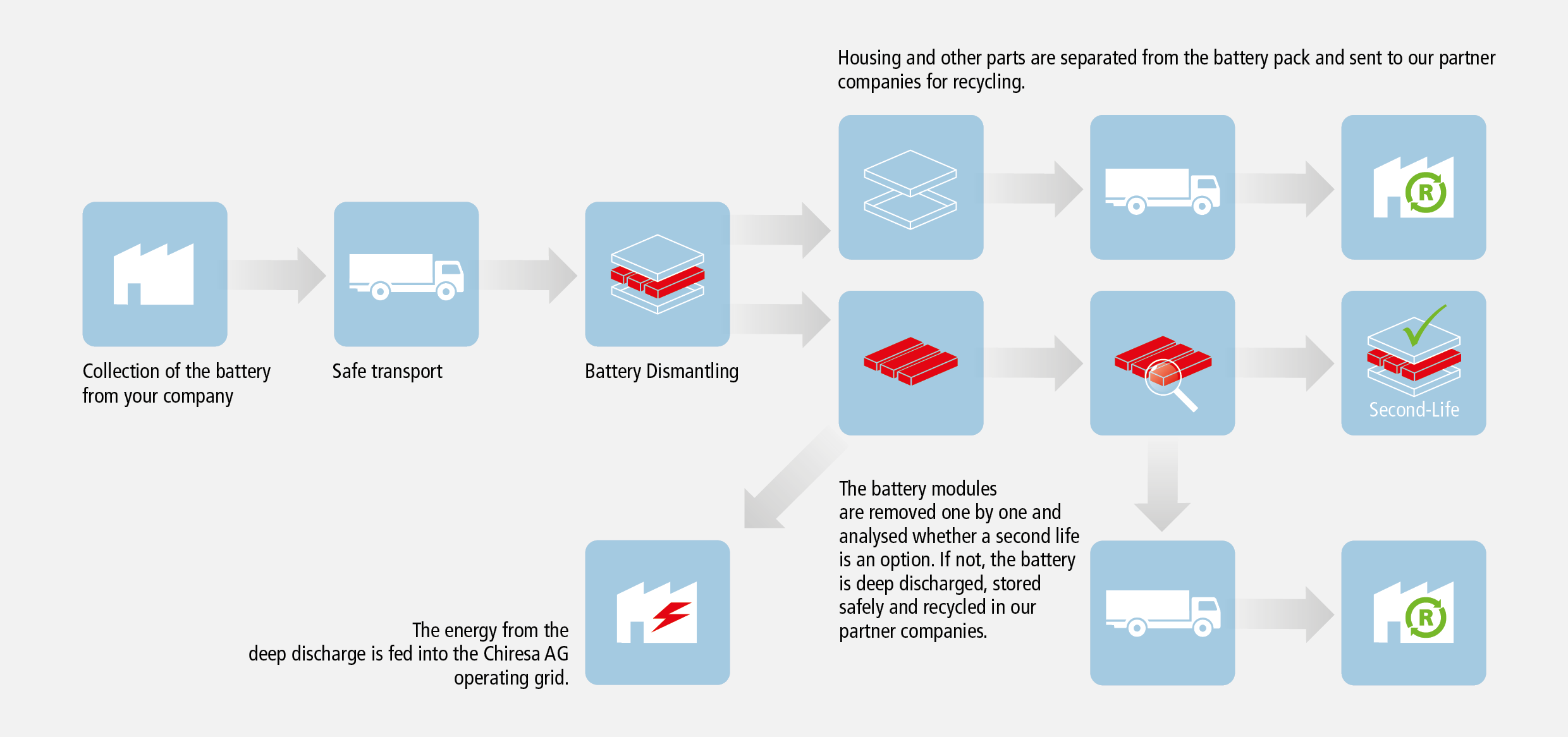 A solution for the Swiss market
No matter whether it's in an e-bike, a battery-run vacuum cleaner or an EV – lithium-ion batteries can be found in all areas of our lives nowadays. While they certainly make our everyday lives easier, they need to be treated with extra special care. Businesses handling lithium-ion batteries urgently need safe and
eco-friendly solutions – especially the automobile sector where the numbers of batteries will continue to grow rapidly over the coming years. Chiresa AG is now able to offer just such a solution that is available locally in Switzerland, involves short transportation routes and is delivered by one and the same company – from collecting the batteries from the customers', to transporting them safely, all the way through to professionally recycling them. A solution that has safety and sustainability as its two main cornerstones.
Hazardous waste experts
Founded in La Chaux-de-Fonds in 1977, Chiresa AG is an integrated waste management company with several business locations in Switzerland. When it comes to hazardous waste, the company focuses on drawing up eco-friendly and economically viable solutions that cover the prevention, recycling and disposal of hazardous substances. Delivering individual tasks all the way through to full service solutions, Chiresa AG offers its services to a whole range of different customers – including businesses operating in the chemical-pharmaceutical industry, commerce, retailing and wholesaling as well as households and municipal firms. Chiresa became part of REMONDIS Schweiz AG, in 2022 in order to grow its logistics and recycling network, to offer new services as well as to further increase the quality of its offering.
Image credits: image 1: Adobe Stock: Александр Марченко; image 2: Adobe Stock: matis75; image 3, 4: Chiresa; image 5: Adobe Stock: Huebi