Alternatives to the internal combustion engine
Since its first move towards using clean refuse collection vehicles run on carbon-neutral biogas (as reported in the last issue of REMONDIS AKTUELL), the company has steadfastly continued its efforts to make its fleet of waste collection trucks as climate-neutral as possible. It has, for example, introduced its first battery-run refuse collection vehicle in the City of Cologne. A similar test has been up and running in Switzerland since the middle of the year. And the possibilities of running trucks on hydrogen and fuel cells is being looked into in Gifhorn, a town in the German state of Lower Saxony. One thing is very clear: the days of the internal combustion engine in the circular economy are numbered as well.
A new project testing an all-electric truck
REMONDIS has begun trialling a battery-run Mercedes-Benz eActros in Cologne. This 25-tonne lorry has a range of around 200 kilometres and REMONDIS is initially using it to transport new, damaged and/or repaired waste bins. This all-electric eActros should also be driven in areas that conventional trucks are not permitted to use. The eActros's batteries are recharged overnight at REMONDIS' maintenance depot in the city district of Rodenkirchen.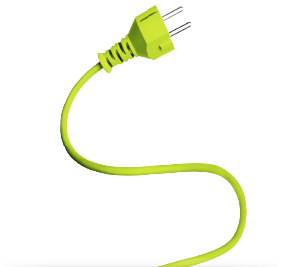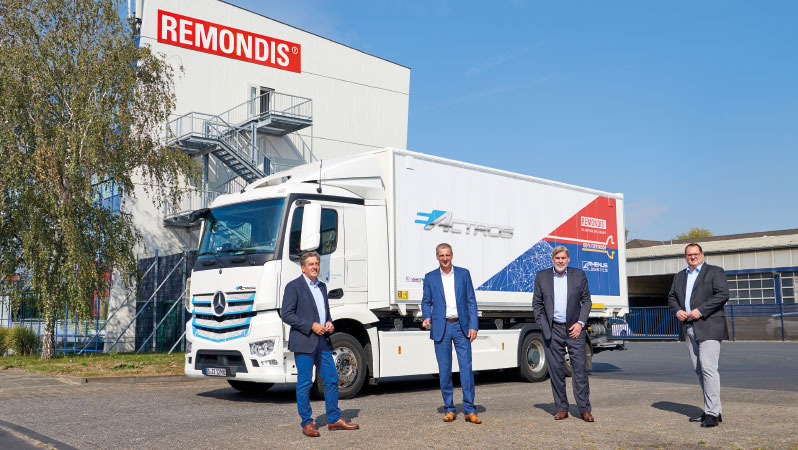 (from left to right) Heinz Uliczka, Sales Manager at LKW Mercedes Benz Dortmund, Wuppertal, Cologne, Stephan Krings, Managing Director REMONDIS Rhineland, Sascha Hähnke, Managing Director Rhenus Transport GmbH, and Peter Lindlar, Managing Director REMONDIS Wertstoffrecycling GmbH (Cologne), at the handover of their new eActros
"The eActros is proving to be a local carbon-neutral alternative for urban traffic."
Sascha Hähnke, Managing Director Rhenus Transport
Trials in Cologne's city centre
REMONDIS is testing the eActros in collaboration with its sister company Rhenus, a logistics specialist, as a joint project looking into alternative fuels. Cologne is the ideal setting for putting the battery-run eActros through its paces as these urban trips can be precisely planned and involve a great deal of stopping and starting. Stephan Krings, managing director of REMONDIS Rhineland, explained: "Being the biggest waste management business in Germany, sustainability and resource conservation are essential cornerstones of our company's philosophy and influence all of REMONDIS' activities. In line with this philosophy, the eActros in Cologne should perform its municipal tasks quietly and protect the environment at the same time – also on the roads where diesel-run vehicles are banned. Both we and our sister company Rhenus are really looking forward to seeing the eActros carry out its work in Cologne's city centre and to hear the feedback from our drivers."
A 200-kilometre range
Sascha Hähnke, managing director of Rhenus Transport, commented: "At Rhenus, 'green logistics' is a reflection of the company's core values and of how it sees itself as a global logistics provider. Protecting the environment and handling resources responsibly, therefore, are an integral part of our corporate strategy. Which is why we feel it is so important to try out alternative fuels and use the best technology available on the market." The many findings from the first test phase have shown that the eActros's approx. 200-kilometre range is absolutely realistic – no matter what the load, stretch of road or topography. When it comes to availability and performance, the eActros is just as good as conventional diesel-run trucks in the cities, on motorways and on country roads – as well as in hot and cold weather. The drivers benefit as the truck is so much quieter and the ride much smoother. Electrical energy is harnessed by recuperation, which also reduces wear and tear on the brakes. The eActros is, therefore, proving to be a local carbon-neutral alternative for urban lorry work. The batteries are fully recharged within two hours with a 150kW charging point.
REMONDIS Gifhorn – Hydrogen a further alternative
Hydrogen, though, should also be included in a company's long-term strategy to decarbonise its fleet of trucks. Which is why REMONDIS has joined forces with FAUN, a manufacturer of refuse collection vehicles. The two firms began holding test runs in September to record data and get the information needed to enable hydrogen-run vehicles to be deployed. The test runs are due to have been completed by the end of the year. The recorded data should help to both plan logistics and provide details about what vehicle technology will be required. REMONDIS North's associated company BEG has also been working with FAUN since 2017: together, they have been successfully trialling an all-electric refuse collection vehicle in Bremerhaven as part of a government-funded pilot project. The hydrogen alternative would, in fact, involve this technology combined with a fuel cell and hydrogen tank so that the trucks can travel greater distances in rural environments. Deploying hydrogen-run vehicles in the waste management sector can, therefore, help local regions to achieve their climate targets.

REMONDIS Switzerland is also trialling electric vehicles
Initial trials also began on an all-electric, battery-run refuse collection vehicle in Switzerland this summer. This prototype, owned by Futuricum, is being tested in Wallisellen at K. Müller AG, a REMONDIS subsidiary. The operational performance of the truck as it carries out a 'normal day's work' has certainly been positive so far. However, it is not possible to ignore the maths. It costs considerably more to purchase such a truck in Switzerland compared to other vehicles, which means large numbers are unlikely to be bought in the near future.
Transdev invests in electric buses in the Netherlands
In the meantime, Transdev has been continuing to grow its fleet of electric buses in the Netherlands. Having built up a fleet made up exclusively of electric buses in Eindhoven, REMONDIS' associated business Transdev will be launching a fleet of 74 battery-run buses in the Gooi and Vecht region on 11 July 2021. Moreover, the company intends to add a further 156 electric buses to its operations in Haarlem and Amsterdam at the end of 2020.
An electric bus in action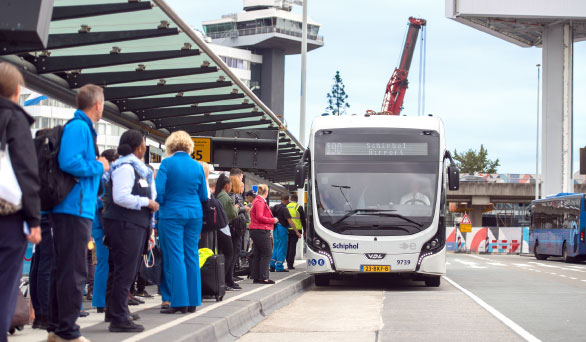 Image credits: image 1: Adobe Stock: 119602105, creator: Rawen Vision, image 2: Adobe Stock, 211360851, creator: by-studio, image 3: © REMONDIS, image 4: © Newmore Photography