Key workers in the spotlight
They were hardly mentioned until just recently. Now – with our country plunged into the Covid-19 crisis – everyone is talking about them: the front-line professions in Germany. People are now expressing their huge gratitude for the work being carried out by firefighters, the police, doctors, nurses and carers, those working in the legal system, IT and logistics, food and hygiene suppliers as well as all those involved in supply and waste management. Marcel Beier and Manuel Schoppe, both truck drivers working at REMONDIS, are, therefore, a little bit prouder than they might otherwise be of the job they are doing.
Residents show their appreciation
"Just last week, a complete stranger waved at me and thanked me for doing my job," commented Marcel Beier from Kiel. "Children, in particular, seem to be thinking of us. Every day, we find their colourful chalk drawings on the roads – especially around the bins," added Manuel Schoppe from Olpe. Which is why residents are now standing on their balconies or at their open windows at 9pm every evening to applaud these front-line workers and show their gratitude for all the extra work they are carrying out at the moment. Applause that they have, in truth, always deserved – not just now.
"Just last week, a complete stranger waved at me and thanked me for doing my job."
Marcel Beier, REMONDIS driver from Kiel
More waste, more parked cars
The coronavirus pandemic has had an impact in other ways as well – one that both drivers have noticed: the volumes of waste in the residual waste, organic waste and recycling bins are much bigger than normal. Hardly surprising, considering that around half the working population are currently working from home. "Panic shopping and the increase in online purchases are also playing a role here. We're handling up to one-third more sacks than normal," the two explain. Parked cars have always posed a problem for drivers of refuse collection trucks but the situation is worse than ever at the moment. "We rely on a number of turning areas to manoeuvre our trucks and these are more often than not full of parked cars," Manuel Schoppe continued.
Both REMONDIS drivers are also well aware of the danger of catching the virus. Which is why they are both wearing considerably more personal protective equipment than usual and are well equipped with disinfectant. The different shifts have also been staggered to reduce contact between employees to a minimum. "The public health authorities have confirmed that it's very unlikely that Covid-19 sticks to the surfaces. You can't completely get the thought out of your head, though, that you might get infected from touching the overflowing bins and sacks," Manuel Schoppe said.
Recycling sector growing in importance
No one knows how long this crisis will go on for. The importance of the recycling sector, however, will continue to grow after it is over. An assessment will be made of what front-line services were provided during the crisis and the significance of recycling and the sector's recovery of resources will remain as high as ever, even if the pandemic has given the climate a short breathing space. Marcel Beier and Manuel Schoppe certainly hope that people will continue to be grateful for and appreciate the work they do after the crisis is over as well.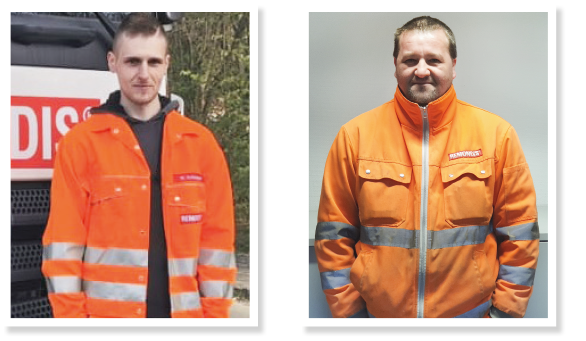 Manuel Schoppe and Marcel Beier
Image credits: image 1–2: © REMONDIS