Shell and REMONDIS Recycling GmbH, a member of the Rethmann Group, have today signed a Memorandum of Understanding (MoU). Therefore, both companies agree on a long-term, strategic cooperation which will initially focus on developing a closed loop for raw materials in the Shell Energy and Chemicals Park Rheinland in the south of Cologne. The aim is to meet the growing demand for more sustainable energy and chemical products.
As strategic partners, Shell and REMONDIS want to accelerate the creation of holistic, sustainable and competitive circular economy value chains in North Rhine-Westphalia (NRW), Germany and Europe by linking the waste collection, sorting and recycling, chemicals and energy sectors with each other, using each other's strengths.
Both companies believe that the rapid and comprehensive realisation of a circular economy is of great importance for the decarbonisation of the sector and for society. It will enable both companies to reach the net zero emissions target of the Paris Agreement.
Jürgen Ephan, Managing Director of REMONDIS: "We are firmly convinced that Germany and NRW offer attractive conditions for successfully shaping the energy transition. There is hardly anywhere else where the conditions are better with globally recognised research facilities, industrial know-how, political determination and social will. With the cooperation that has now been signed, REMONDIS and Shell are setting out together to make an exemplary contribution to the German energy transition."
Fabian Ziegler, Chairman of Shell's Management Board in Germany, said: "With REMONDIS, we have found a strategically important partner to help us move forward with the transformation of our site into an Energy and Chemicals Park. Instead of crude oil, we want to use more hydrogen, circular waste and biomass in the future to produce alternative energy and chemical products. This is another step in our Powering Progress strategy to become a net-zero emissions company by 2050 or sooner, in line with society.
Visiting the REMONDIS Lippe Plant in Lünen
To underline the importance of the MoU, which is set to extend far beyond the borders of the Rhineland in the medium term, Shell's downstream director, Huibert Vigeveno, came to Lünen to sign the contract together with REMONDIS' CEO, Ludger Rethmann.
In the future, both companies will be working together to intensify their efforts to achieve climate-neutral energy, production and logistics.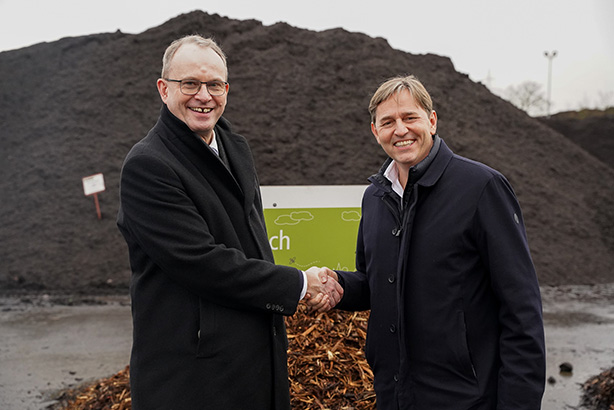 Ludger Rethmann and Huibert Vigeveno agree on the cooperation between REMONDIS and Shell
Transformation towards climate-neutral energy production
In the course of the so-called Powering Progress strategy, Shell announced that it would operate only five refineries worldwide in the future and transform all of them into Energy and Chemical Parks. As a result, Shell's global production of fossil fuels is expected to fall by 55 percent by 2030. Shell's site in the Rhineland is playing a pioneering role in this. The partnership with REMONDIS in the area of environmental services will further accelerate the transformation process towards climate-neutral energy production.
Only recently, Shell in Germany announced plans to cease crude oil processing at the Wesseling plant of the Energy and Chemicals Park Rheinland in 2025. Previously, Shell had commissioned a 10 MW electrolyser for the production of green hydrogen at the site. A 100 MW electrolyser and a bio-PTL plant, which will produce synthetic aviation fuels and raw gasoline from green electricity and biomass, are at an advanced stage of planning but are still awaiting a final investment decision. The construction of a plant to produce bio-LNG for heavy goods transport, on the other hand, is due to start shortly. REMONDIS is already using biogas produced from green waste for a growing part of its vehicle fleet in the Rhineland.
Image credits: images 1-2: © REMONDIS