Is it really possible to reinvent something seemingly so specialised as the 'Dual System', the scheme used in Germany to collect, sort and recycle used packaging? Yes, it is – and this is something that really needs to be done. At least this is the opinion of EKO-PUNKT, REMONDIS' Dual System. Back on the market since 2020, this Cologne-based business is, of course, continuing to deliver what the Dual System scheme was originally set up to do:
to organise the collection and recycling of its licensees' packaging materials in line with all statutory regulations. However, with these regulations becoming ever more stringent and with consumer expectations changing, a number of new activities are coming to the fore in this particular field of business.
"If a company wishes to offer a product that is sustainable or carbon-neutral, then this has to be reflected in their packaging as well if consumers are to take them seriously."
Dr. Florian Dühr, Managing Director EKO-PUNKT
For a good 30 years now, Germany's packaging law has reflected producer responsibility and made it obligatory for manufacturers and distributors to collect their used packaging materials from households and ensure they are recycled. On top of this, many companies have also been taking a closer look at the design and composition of their packaging – a development that EKO-PUNKT's Managing Director Dr. Florian Dühr has also been following: "If a company wishes to offer a product that is sustainable or carbon-neutral, then this has to be reflected in their packaging as well if consumers are to take them seriously."
EKO-PUNKT has responded to these developments and expanded its range of services for packaging materials over the last two years. These changes are also reflected on the company's new website, which is very different to the sites offered by similar businesses both when it comes to the language used and the choice of colours.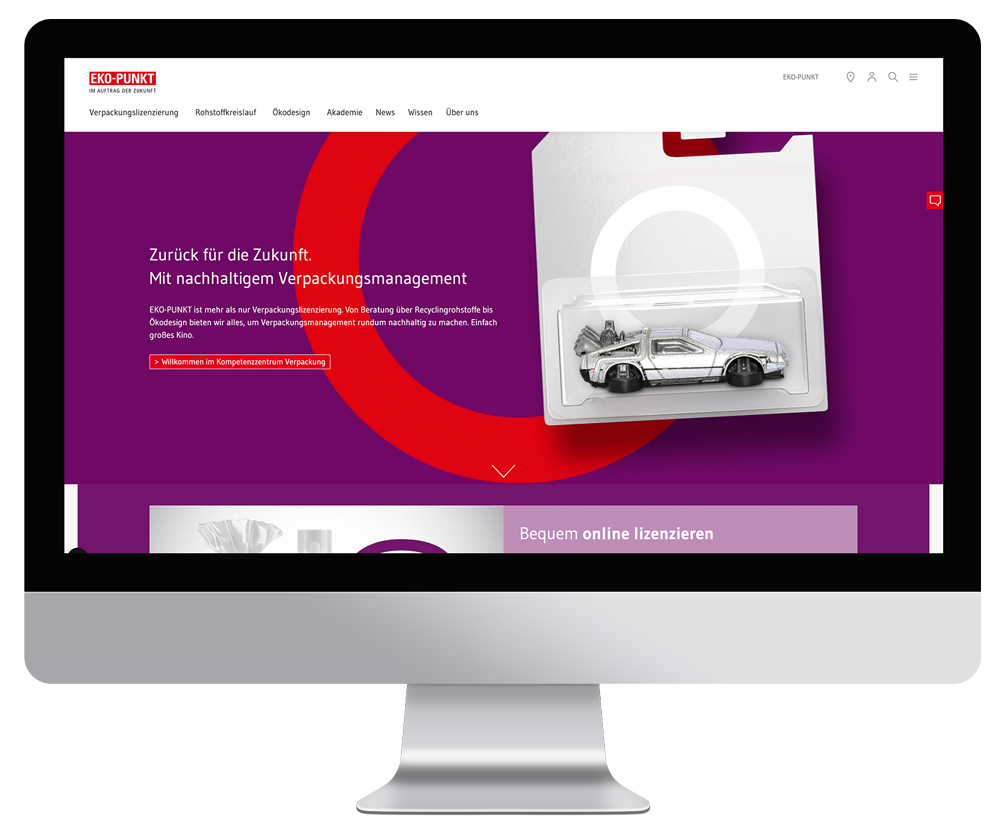 A centre of excellence for packaging
Using recycled plastic (so-called recyclate) to produce new packaging closes the life cycle of plastic and is, therefore, an example of genuine recycling. EKO-PUNKT offers its clients its so-called 'Circular Contracting' option to make it as easy as possible for them to manufacture their packaging with recycled plastic. This concept enables them to purchase recyclate – produced from EKO-PUNKT's licensed packaging volumes – from its sister company REMONDIS Recycling. The recycled material comes from the contents of the recycling bins and recycling bags collected and has the relevant certification.
This is a real plus as consumers respond very positively to the idea of recycled plastic being reused. This concept has already been successfully implemented with EKO-PUNKT signing cooperation agreements with both baby skincare producer Bübchen and Werner & Mertz, both of who are being supplied with recycled plastic by REMONDIS Recycling.
The company's 'Ecodesign' division takes a look at the recyclability of the packaging on behalf of its licensees, identifies how the packaging could be improved and certifies its findings. This enables its clients to promote sustainability and, ideally, to improve their carbon footprint. They can also make these improvements known to both their own customers and the general public. At the same time, EKO-PUNKT is looking to anticipate future developments on the packaging market. As in Germany, the EU will gradually extend its regulations regarding the recyclability of packaging – for example, by introducing penalties for non-recyclable packaging made from composite materials. Minimum recycled content requirements are also conceivable. If businesses drop the ball now, then they may find themselves being forced to redesign large parts of their packaging or face costly financial penalties in the future.
And, as EKO-PUNKT is a staunch believer in the transfer of knowledge, it is setting up an "Academy" so that it can share its packaging know-how. People responsible for designing packaging should be given new tools to help them do their work; new developments will be explained and categorised. The Academy will offer both virtual and in-person events. The know-how should come from all sections of the REMONDIS network as well as from other companies, public administration and the world of academia.
Besides these three pillars offered by its centre of excellence for packaging, EKO-PUNKT also set up EASY LIZE in 2022 – a licensing platform for online shops and small and medium-sized businesses. With the number of companies looking to license their packaging growing rapidly all the time, this online tool provides a quick and easy solution. The number of firms signed up to the Central Agency's 'Packaging Register' grew from around 175,000 to almost 600,000 in the period between the beginning of 2020 and the end of 2022 alone. Industry experts are well aware that the reason for this is not a sudden increase in the use of packaging in Germany but rather a legalising of small volumes of packaging that had previously not been licensed correctly – from restaurants offering take-out services to market stalls selling olives. To make things as easy as possible for these small businesses, this platform offers detailed but easy-to-use help for those looking to register their volumes of packaging for the first time. All other businesses can license their volumes with just a few clicks.
There is, therefore, a great deal happening at EKO-PUNKT at the moment as Managing Director Dr. Florian Dühr confirmed, "Our ambitious project is being helped along by the fact that we are part of REMONDIS. This is where the know-how that helped shape our centre of excellence for packaging is to be found."
Image credits: image 1: REMONDIS; image 2: Freepik: Graphictwister; image 3: Yellow Images: Snap Wrap, Yellow Images: Sergey Bagretsov, Yellow Images: Nikolay Verin, Yellow Images: Packaging Mockups, Smart Mockups