A project involving hazardous materials
The commissioning of a state-of-the-art climate wind tunnel test centre at Ford's development centre in Cologne-Merkenich meant that two of its old wind tunnels were no longer needed. BUCHEN was put in charge of removing the hazardous substances from these old systems. A particularly challenging project as this involved extracting thermal oil as well as a refrigerant containing sodium dichromate – two substances that require both high levels of expertise and an individual approach if they are to be handled safely.

A state-of-the-art test centre
Ford operates a cutting-edge test centre in Cologne that is home to three climate wind tunnels. It is the most modern of its kind in Europe and unites the world's different weather conditions under one roof. Whether it be the Sahara or Siberia – each and every type of weather found on earth can be simulated on an area the size of a football pitch: high-speed winds up to 250 km/h, altitudes of 5,200 metres (the equivalent of the base camp on the north side of Mount Everest) as well as temperatures ranging from -40°C to +55°C.
Every type of weather found on earth can be simulated on an area the size of a football pitch.
This highly modern 'Weather Factory' replaces two separate test facilities that had been used for many years to expose Ford's vehicles to extreme weather conditions. No longer needed, these old wind tunnels now had to be dismantled. A task that was no less challenging than the extreme conditions the wind tunnels had themselves created as all hazardous substances had to be first removed and the systems chemically cleaned before they could be taken apart.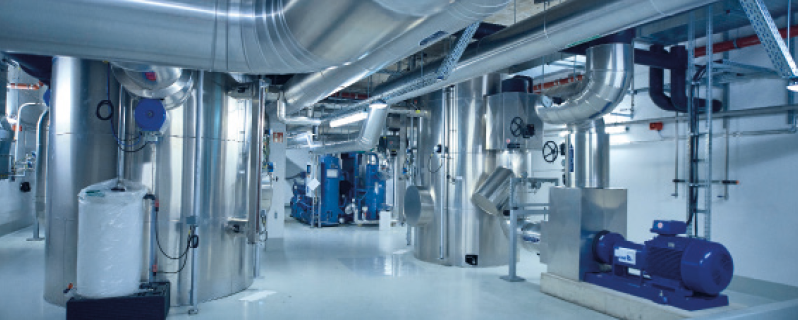 A particularly difficult chemical
All traces of the thermal oil – a highly inflammable mixture of hydrocarbons, isoalkanes and aromatic compounds – had to be removed before these old test facilities could be safely dismantled. Once extracted, the oil was then sent on for further processing or thermal treatment. As far as the refrigerant was concerned, it was its sodium dichromate content that was of particular concern. While this environmentally hazardous substance made up just one percent of the refrigerant, it can have both a toxic and oxidising effect. This chemical is no longer used today and is particularly difficult to dispose of. As it was technically impossible to fully remove the sodium dichromate from the ammonia solution, re-using the refrigerant or parts of the refrigerant was out of the question.
A bespoke concept
Faced with this complex situation, BUCHEN developed a bespoke concept for dismantling the climate wind tunnels that combined the company's in-depth knowledge and experiences it had gathered from similar projects. Its next step was to discuss this concept in detail with its customer, in particular with Ford's safety officers and engineers.
In fact, for the refrigerant alone, BUCHEN put forward four alternative solutions for chemically cleaning the facilities and disposing of the hazardous substances. In the end, Ford opted for the proposal that involved separating the ammonia from the ammonia solution and using a mobile treatment unit on site to incinerate and transform it into nitrogen and steam. Following this, the remaining watery solution – now only containing traces of ammonia – could be filled into a separate container and sent for disposal.
A vacuum vehicle in action
The thermal oil systems were first emptied and then chemically cleaned. To be able to do this, BUCHEN injected an oil-soluble emulsifier into the facility while it was in operation so that it could spread throughout the whole of the system. Once this had been completed, a vacuum/cleaning vehicle was deployed to empty any oil-containing pipes and vessels at their lowest point and then fill them with water. The result: this combination of water and thermal oil residue displaced by the emulsifier created an oil-in-water emulsion, which was pumped around the system for a while before being vacuumed off into the vehicle. The results of this cleaning work were so good that the original additional and final step of cleaning the system with clear water was no longer necessary. This considerably reduced the amount of wastewater that the customer had to have treated.

BUCHEN developed a concept for Ford that went far beyond the norm. The result: high levels of safety, rapid completion times, highest possible volumes of recovered materials and minimised waste management costs.
Thanks to its meticulous planning work, BUCHEN needed just a few days to remove the hazardous substances. Once this essential work had been completed, the facilities were then able to be dismantled safely and without incident. Ford's facility engineers can now focus fully on their new climate wind tunnel test centre and Ford drivers can rest assured that their vehicles will be able to cope with all weather conditions, no matter how punishing they may be.
Image credits: image 1–2: © Ford