Huge volumes of green hydrogen required
The vision of "green steel", which sees all steel production energy requirements being covered by renewable hydrogen, is one that we are perhaps unlikely to see in the near future considering the huge volumes of green electricity that would be needed to achieve this. And yet "green steel" has been around for ages – its potential is simply not being sufficiently exploited. Actually, using hydrogen in industrial production processes is not really a novel idea. German industry already consumes around 1.7 million tonnes of pure hydrogen either as a raw material or as energy every year. The snag here: producing this hydrogen also creates over 5 million tonnes of CO2 emissions each year. If this volume is to be replaced with green hydrogen in the future, then an additional 24 TWh/a of renewable electricity would be needed to produce it. This is the equivalent, for example, of the output of approx. 18 large-scale offshore wind farms. You just need to look at the sea around Borkum, which currently has only two wind farms and a total of 72 wind turbines, to predict how difficult such a development will be. A red tape nightmare and a project that would be impossible to reconcile with nature and species conservation. With this in mind, it makes perhaps more sense to focus on climate-friendly metal recycling.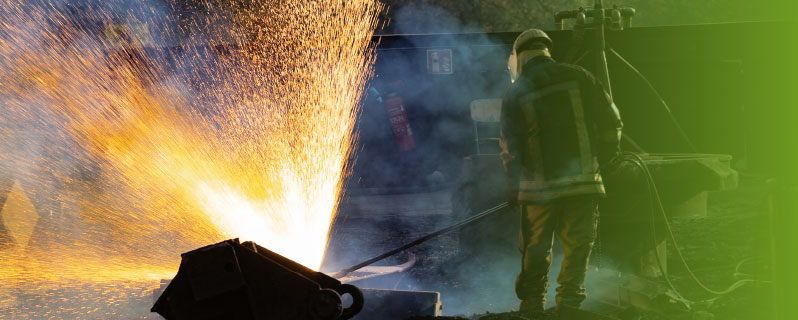 Metal recycling: a long-standing tradition
Metal recycling has been around since the ancient times. While TSR Recycling's history certainly doesn't stretch back that far, the company's contribution to promoting climate-friendly steel production is growing all the time. This REMONDIS Group firm currently returns around 8.5 million tonnes of recycled metal to production cycles – without having to use additional natural resources or long transport routes. Two aspects that would appear to be very important considering the way climate change is progressing at the moment. And yet public discussions are heading in a different direction.
Coal and coke are not an option
Here in Germany, people are primarily looking at so-called "green steel" as a way to decarbonise steel production. While there is as yet no official definition for "green steel", it is seen as being steel that is produced (both during the smelting and processing stages) with preferably no CO2 emissions whatsoever. To be able to achieve this, companies cannot use coal and coke as their source of energy or as a reducing agent in the smelting process and all of the electricity they need must come from renewable sources. Which brings us right back to the previously mentioned problem of supply.
Almost 40m tonnes of raw steel are still being produced in Germany
100% green steel production is highly unlikely
Approx. one-third of all steel produced around the globe is made using electric arc furnaces – a figure that is growing all the time. This process is primarily deployed to melt down metal scrap and to produce high quality specialty alloys. A major step towards achieving climate neutrality would be made if the electricity needed for this process were to come exclusively from renewable sources. However, looking at the numbers (almost 40 million tonnes of raw steel are still being produced in Germany and almost 160 million tonnes in the EU) and at the problem of generating the required volumes of green hydrogen, it would seem unlikely that it will be this route that will enable all steel production processes to become climate neutral.
Achieving the Green Deal with more recycling
If the objectives of the Green Deal are to be fulfilled and if steel is to become a far more climate-neutral product, then one solution is to not only systematically use high quality scrap steel in electric arc furnaces but also to increase the volumes used in integrated steelworks. According to figures published by Georgsmarienhütte, producing steel from high quality scrap steel using electric arc furnaces emits around 0.12t of CO2 per tonne of raw steel. Even when the carbon footprint of the current electricity mix is added to the equation, the amount of CO2 from direct and indirect emissions is approx. 0.4t of CO2 per tonne of raw steel.
The Fraunhofer Institute for Ceramic Technologies and Systems (IKTS) in Dresden has calculated that ca. 28% of all steel produced around the world is made using recycled steel. Estimations from serious sources believe this figure could be increased to approx. 50% – which would be a huge step towards tackling climate change and conserving natural resources.
This would require the introduction of comprehensive metal collection schemes across the globe, the use of efficient mechanical recycling systems to guarantee the quality of the recycled material as well as to use as few – and preferably no – fossil fuels in the smelting process. TSR is already heading down this path and is making a major contribution towards climate-neutral steel production with its ca. 8 million tonnes of scrap steel.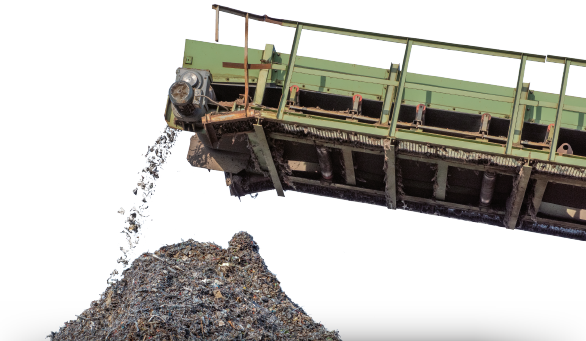 Approx. 28% of all steel is made using recycled steel
Estimations from serious sources believe this could be increased to ca. 50%
A combination of different approaches
Instead of trying to produce as much green steel as possible using already established scrap metal smelting processes, focus is, therefore, being put on generating green hydrogen as a climate-neutral fuel. A step that, it would be appear, cannot realistically be realised before 2035 according to industry experts and in light of the slow-moving development towards renewable electricity generation. It is, however, also an undeniable fact that the quality of steel produced in electric arc furnaces – which are becoming ever more popular – can only match the quality of steel from conventional furnaces, if the input quality of scrap steel is improved. Electric arc furnaces already use up to 100% scrap steel.
The decarbonisation of steel production can only be fully achieved by deploying a combination of different approaches. First of all, steel producers that deploy furnaces fired with coke and other fossil fuels must not only shift towards climate-neutral fuels but must replace their plants with systems based on green hydrogen. This will not only involve large investments but also smart political regulations to steer the direction of the market to make this technology cost effective and sustainable over a long period of time. Secondly, natural gas should be allowed to be used as a fuel as an interim solution, as around 65% of carbon emissions can be cut when gas is deployed to reduce iron ore and produce sponge iron. This transitional technology is already making a major contribution towards curbing climate change and is an alternative until, some point in the future, sufficient volumes of green hydrogen are available from national production activities and/or can be imported from partner countries.
"'Green steel' is already being supplied today – by using high quality recycled scrap steel in steel production processes. With the right targeted support and quality assurance measures, recycled raw materials can cover a considerable amount of the raw materials needed by European industrial businesses today."
Bernd Fleschenberg, Managing Director of TSR
Politicians must show the way
Thirdly, more scrap steel needs to be collected, more high quality recycling systems need to be operated and more recycled raw materials need to be used to produce steel. One environmental plus that is often overlooked and underestimated here is the regional availability of the recycled raw materials. Producing recycled steel requires fewer and shorter transport routes and hardly any land is needed – two factors that further increase the carbon and environmental footprint of high quality scrap steel. The goal here, therefore, must be for this material to be used by local industry and not for it to be exported. Politicians are called on here to support all of the processes and solutions mentioned above so that the climate goals can be reached. At the end of the day, more CO2 savings can be achieved this way than with electromobility or hydrogen cells for private transport.
With its 3,000+ employees and 80 recycling facilities at 150 business locations across 13 countries, TSR is already contributing towards achieving the common goal of climate-neutral steel production based on high quality recycled metal raw materials, even without green hydrogen.
TSR: a few facts & figures
Image credits: image 1: © T. Luettgen, image 2–3: © REMONDIS